A scientist dismissed an unvaccinated audience member's claims about the COVID vaccine live on-air in a video that has gone viral across social media.
The clip was from the program Question Time that aired in the U.K. on TV channel BBC One on Thursday night. In the panel discussion show, the Head of Imperial College London's COVID vaccine research, Professor Robin Shattock, confronted an unvaccinated audience member's claims on vaccines.
The clip has been viewed over 2 million times on Twitter after being shared by various accounts.
In the video, the unnamed audience member argues that the coronavirus vaccines were dangerous and that it was important to discuss the side effects of taking them.
"This lady just said there is misinformation about blood clots and other side effects but the truth is that this vaccine does have some fairly horrific side effects," he said.
"We are operating with incomplete data so we don't know how widespread those effects are but for young healthy people I think there is a fairly reasonable argument to say that the side effects or potential side effects are worse than the possibility of harm from the disease."
He added: "I don't feel like there is an open conversation about the side effects and potential risks, especially to young people and children."
Professor Shattock began by saying he respected those that questioned the vaccine because science is about questioning evidence.
However, he clarified it was important to note that all the vaccines were not the same and the chances of severe side effects are considerably small.
"We have far more safety data based on the current vaccines because they have now been in billions of people," the professor said.
"The evidence is there and accessible, so if you want to do a data analysis and look at the risk ratio and hazard ratio you can get those numbers, there is no secrecy around. If we talk about serious adverse events, they are extremely rare."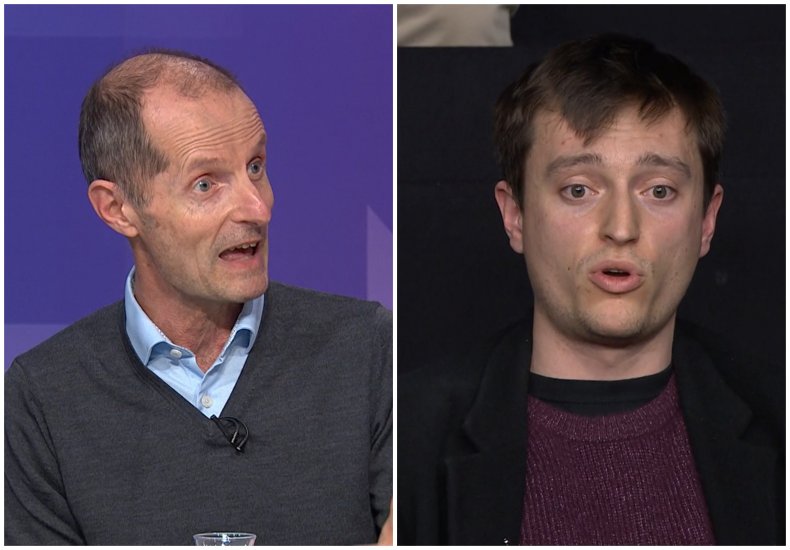 After hearing the professor's comments, the audience member insisted he had looked at the data and Yellow Card system. The Yellow Card scheme is used in the U.K. for collecting and monitoring information on safety concerns such as suspected side effects or adverse incidents involving medicines and medical devices.
The Question Time host then interrupted to ask whether any of the points Professor Shattock made had resonated with the audience member.
He responded by saying that he studied philosophy at university and then claimed that the man who invented the vaccine was Robert Malone, a physician who has been accused of spreading misinformation about the COVID-19 vaccines.
"It is nonsense. He didn't invent mRNA vaccines," Professor Shattock said in response.
"The people who developed the vaccines, the two RNA vaccines are BioNtech, the company invented RNA vaccines.
"The other group is Moderna, it is based on their research, it is not based on an individual, you are wrong."
The host then moved on to her other panel guest members and asked them about vaccine mandates and persuading people to take their vaccinations.
The incident on British television has now gone viral on social media, with the tweets of the video being viewed more than 2 million times and receiving over 25,000 likes and retweets.
Robert Malone has also been the focus of recent outcry against Joe Rogan, after musicians such as Neil Young quit Spotify over the podcaster interviewing vaccine skeptics. Malone, who claims to played a key role in the creation of mRNA vaccines, said in one episode of Rogan's show that Americans had been "hypnotized" into wearing masks and getting vaccinated.
About 270 U.S. doctors, scientists, health care professionals and professors wrote to Spotify in an open letter accusing the podcaster of "repeatedly spread[ing] misleading and false claims."