Vaccine Donations to Taiwan Strengthened Democratic Partnerships | Opinion
The United States sent 2.5 million doses of COVID-19 vaccines to Taiwan on Sunday—more than triple its initial commitment—as Taiwan fights off an upswing in cases. The U.S. donation represents one of the largest batches of vaccines it has sent abroad, accounting for over a third of its announced donations to Asia.
The U.S. donation followed a separate shipment of 1.24 million doses from Japan on June 4, the Suga administration's first donation of vaccines abroad.
Despite its initial success containing the coronavirus, Taiwan has recently instated lockdowns and more stringent travel bans for the first time during the pandemic. From a 200-day record of zero domestic transmission cases, Taiwan's daily caseload has jumped to the triple digits and remained there since mid-May. Deaths have also increased to more than 500, from just 12 before the recent upswing started.
Yet compared with many neighboring countries, Taiwan's symptoms are mild. On a per capita basis, Taiwan still fares better than Japan, which is set to host the Olympics next month. It is also seeing fewer cases and fatalities than most of Southeast Asia, where a COVID-19 resurgence under the Delta variant has taken place.
Clearly, the U.S. and Japan's willingness to donate was not simply a matter of public health.
One of the challenges Taiwan has faced over past months is vaccine access. So far, it has received less than 6 percent of the 20 million vaccines it ordered from abroad. Another 10 million vaccines, due to be supplied by domestic pharmaceutical firms, have not yet been manufactured, as one of the companies applied for emergency use authorization just last week.
Taiwan has also accused China of blocking its attempts to buy Pfizer-BioNTech vaccines. Taiwan claims that Beijing played a role in rerouting its order for five million doses through a Chinese partner, Fosun Pharma. Taiwan law restricts the importation of Chinese-made vaccines, although it was not clear whether the shots would be manufactured in Germany or China.
Despite quiet U.S. support for Taiwan's vaccine orders, the complexities of the global vaccine supply chain have made prospects for rapid deliveries slim. Vaccine rollouts in South Korea, Japan, Vietnam and a number of other Asia-Pacific countries have all fallen short of public expectations, following missed vaccine delivery timelines amid a global shortage.
Taiwan's lack of vaccines has also exacerbated citizens' vulnerabilities to disinformation. Taiwan is one of the top targets of gray zone tactics from China, which include attempts to influence domestic politics and undermine trust in governance. Vaccines have become the latest front for information warfare, with Beijing vying to cast blame on the current Tsai administration.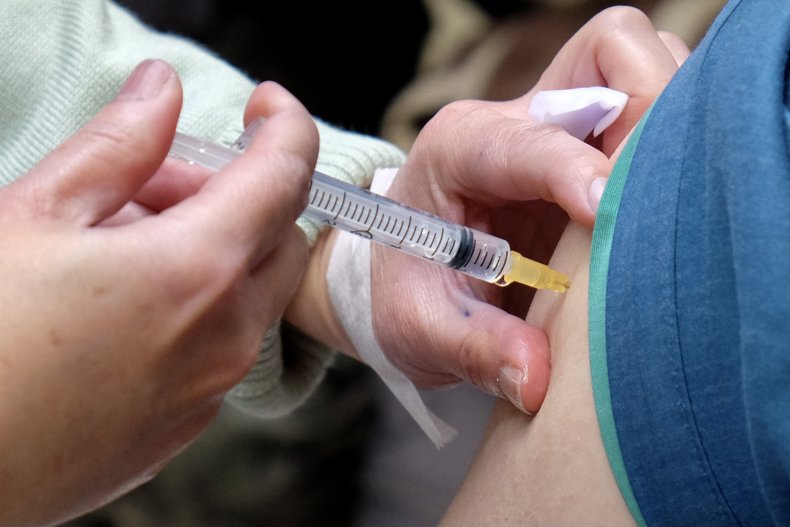 The Chinese state-run Global Times accused the Tsai administration of "abadon[ing] morality" and "indulg[ing] in political games" by not accepting Chinese vaccines, despite Taiwan's legal restrictions. Opposition parties in Taiwan have also joined the fray, urging the Tsai administration to accept the Chinese offer. One senior lawmaker said that Minister of Health and Welfare Chen Shih-chung should be "shot dead" for failing to contain the latest outbreak.
Additional rounds of disinformation followed Japan's donations of AstraZeneca vaccine doses. Posts claiming the vaccine had killed scores of elderly people have proliferated on Taiwan social media, despite there being no evidence of any such cases. The Global Times weighed in, of course, suggesting that Taiwan suspend the vaccine "for the sake of public health."
U.S. and Japanese policymakers likely also had in mind Taiwan's lack of international representation in their decision to donate vaccines. Taiwan is not a member of the World Health Organization and, because of Chinese opposition, its officials have been blocked from attending the World Health Assembly for the past five years.
Both the U.S. and Japan have been deeply supportive of Taiwan's attempts to participate in the international health body. In May, following a virtual meeting between Secretary Xavier Becerra and Minister Chen, the Department of Health and Human Services tweeted that "The U.S. supports Taiwan's ability to access vaccines, its contributions to health security, [and] its return to observership at the WHA."
Tokyo has adopted similar language, with Foreign Minister Motegi Toshimitsu saying last month that Taiwan's inclusion in the WHA would benefit international public health.
While there may not be a direct link between vaccines and international participation, the U.S. and Japan's calculated move lessens Taiwan's diplomatic isolation. It also bolsters confidence in democratic partners—crucial, given Taiwan's choice between like-minded partners and authoritarian China.
The donations may have inspired other countries to follow suit. Lithuania announced its donation of 20,000 vaccines on June 22, with Foreign Minister Gabrielius Landsbergis saying, "freedom-loving people should look out for each other."
So far, the donated vaccines account for over three-quarters of the doses Taiwan has on hand. With further deliveries inbound from both domestic and foreign sources, there is every expectation that Taiwan's dire situation will start turning around.
But months and years from now, after the pandemic subsides, the U.S., Japan and other global partners will be remembered for stepping up during a time of need. As Taiwan's Foreign Minister Joseph Wu stated following the arrival of U.S. vaccines: "Taiwan's people will keep this moment in their hearts forever."
Vincent Chao is former director of the Political Division, Taipei Economic and Cultural Representative Office in the United States.
The views expressed in this article are the writer's own.