Monkeypox Vaccine Orders Skyrocket, U.S. Getting 500,000 Doses
A drug company that makes one of the few licensed vaccines against monkeypox has said it is confident it can meet global demand amid the ongoing outbreak.
Monkeypox, a disease that usually spreads only in West and Central Africa, has infected thousands of people around the world in recent months, particularly in Europe. The disease was first detected in research monkeys decades ago, hence the name, but its exact origins are still unknown.
As of Wednesday this week there had been 3,308 confirmed cases of monkeypox from 42 countries around the world according to the U.S. Centers for Disease Control and Prevention (CDC), with hundreds more being reported each day. The top three countries in terms of cases currently are the U.K. with 793; Germany with 521; and Spain with 520. In the U.S., 155 cases have been reported.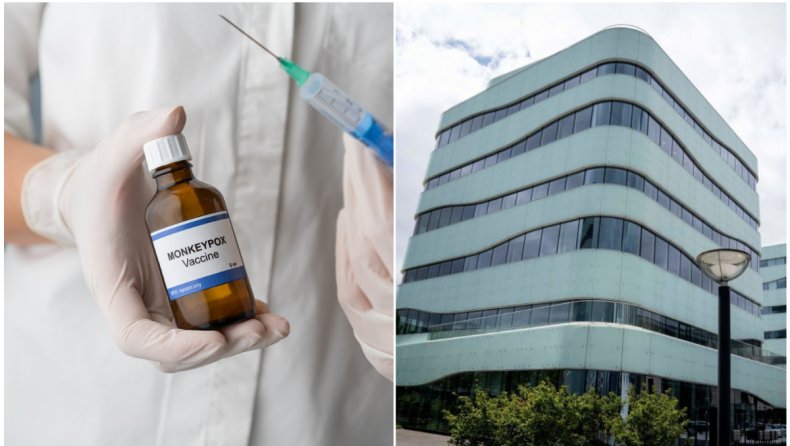 Against this backdrop of increasing cases, Rolf Sass Sorensen, vice president of Danish company Bavarian Nordic, said his company could "easily supply the global market" according to press agency AFP—even though he was caught by surprise with this year's sudden outbreak.
"The [U.S.] approval we got in 2019, when we only sold maybe a few hundred doses, all of a sudden became very, very relevant for international health," Sorensen was quoted as saying.
Revenue predictions are now between 1,900 million Danish kroner (about $267 million) and 2,100 million Danish kroner (about $295 million), up from 1,800 million Danish kroner and 2,000 million Danish kroner just weeks ago.
Bavarian Nordic's vaccine, which is actually a smallpox vaccine that also works against monkeypox, is marketed as Imvanex in Europe, Imvamune in Canada, and Jynneos in the U.S.
Notably, the vaccine can be used to protect people even after they are exposed to the virus as long as they take it within a few days.
Although the shot has been licensed in Europe since 2013, it was first granted approval in the U.S. by the Food and Drug Administration (FDA) in 2019.
Orders have flooded in for the vaccine, with the European Health Emergency Preparedness and Response Authority having bought around 110,000 doses for 27 EU countries while the U.S. bought half a million this month.
Monkeypox is caused by a virus of the same name that can be spread between people and between animals and humans. It can be spread via direct contact with an infectious rash or bodily fluids; prolonged, face-to-face contact or intimate contact; touching items that have come into contact with an infectious rash or fluids; being bitten or scratched by an infected animal; or using meat or products from such an animal, according to the CDC.
Although many cases in the current outbreak have been linked to sexual transmission, it is not yet known if monkeypox can spread via semen or vaginal fluids.
Symptoms include fever, headache, body aches, swollen lymph nodes, chills, exhaustion, and a body rash that can look like pimples. The disease usually lasts two to four weeks and is rarely fatal though severe cases can occur. In recent times the case fatality ratio has been around 3 to 6 percent according to the World Health Organization (WHO).