Vaccine Mandate Protesters Turned Away From Trump Tower Restaurant Requiring COVID Shots
Protesters of vaccination mandates went to a restaurant inside Trump Tower in New York City this week in an attempt to be seated at the establishment, which requires proof of vaccination for entry.
Freelance journalist Oliya Scootercatser was first to share video of the protest with FreedomNews TV. In a description accompanying the video that FreedomNews posted on YouTube, protesters said they were curious to learn whether they would be required to show proof of vaccination against COVID-19 after photos spread on social media earlier this month indicating there were signs inside the Trump Tower in Manhattan alerting guests of the requirement.
The video shared by FreedomNews showed the protesters walk through Trump Tower to Trump Grill, where an employee asked those within the group if they had proof of receiving doses of a COVID-19 vaccine. A police officer eventually arrived to inform the group that they were allowed to remain inside the hotel but would not be seated at the restaurant.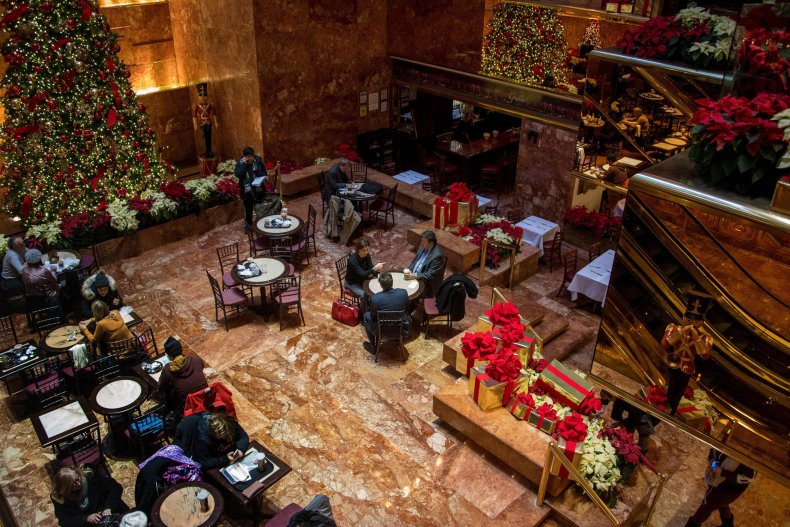 One Trump Grill employee later told the protesters that the restaurant was closing early due to what he described as "a problem with the food in the kitchen."
The protesters expressed frustration at being refused entrance to the restaurant, suggesting it was "a little hypocritical" of former President Donald Trump to enforce New York City's vaccine mandate within his businesses instead of pay any fines that might result from rejecting the requirement.
"The Trump Organization strongly opposes mandates on restaurants, especially when we see Florida, which has no such mandates, is managing Covid better than New York," a spokesperson for the Trump Organization said in an emailed statement shared with Newsweek. "However, we have and will comply with local law."
Trump has in recent days said he received a booster shot of the COVID-19 vaccine. But during an interview with Fox News earlier this week, the former president reiterated his opposition to vaccine mandates.
"You have to embrace it," Trump said of the vaccine. "You don't have to do it, and there can't be mandates and all those things, but you have to embrace it."
New York City became the first city in the country to require proof of vaccination against COVID-19 for indoor dining earlier this year, according to The New York Times. On Dec. 6, Mayor Bill de Blasio described vaccination as "the way out of this pandemic" and expanded the city's requirements for indoor dining, with children ages 5 to 11 required to show proof of at least one vaccine dose by Dec. 14 and all individuals 12 and older required to show proof of full vaccination by Dec. 27.
Trump Hotels says on its website that its Manhattan location near Central Park is requiring guests to show proof of vaccination "in accordance with the most recent local government mandate." Trump Hotels identifies indoor dining as one of the areas covered by the requirement.
Update 12/24/21, 1 p.m. ET: This article was updated to include comments from a Trump Organization spokesperson.