Vaccine Mandates, Contact Tracing: What to Know About Biden Admin's New Air Travel Rules
International air travelers will be allowed to enter the United States starting on November 8, if they follow a new set of rules outlined Monday by the Biden administration.
Passengers will be required to show proof of vaccination before boarding a flight headed to the U.S.
"These are strict safety protocols that follow the science and public health to enhance the safety of Americans here at home and the safety of international air travel," a senior administration official told reporters.
Airlines will need to match the name and date of birth to confirm the passenger is the same individual reflected on their vaccine card, and check that the vaccine record was issued by an official source—such as a government agency or public health department. The U.S. will accept digital or paper vaccination certificates.
Children under the age of 18 will be exempt from the vaccine mandate, as well as people with certain medical conditions. Non-tourist visitors from nations with low vaccine supplies and limited availability will also be spared from the requirement.
Administration officials said exemptions will represent a "very, very small number of actual travelers."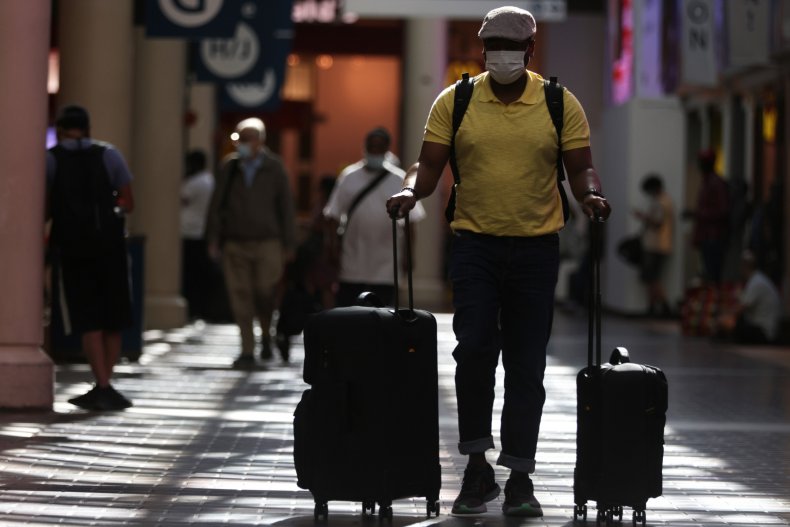 Unvaccinated passengers, including U.S. citizens, lawful permanent residents, or foreign nationals granted exemptions, will now have to test negative for the virus within 24 hours of their departure date.
Americans who are fully inoculated against the virus will have to follow the same testing requirement currently in place: Producing a negative test result within three days of travel.
Children under the age of 2 will not need to undergo virus testing. There are also testing accommodations for people who have a documented recovery from a case of COVID-19 in the past 90 days.
Air passengers to the U.S. will be required to submit valid contact information to airlines so public health officials can contact those who are potentially infected or have been exposed to someone infected with the virus.
More than 6.8 billion vaccine doses have been administered globally, according to the Our World in Data project at the University of Oxford, with approximately 25.74 million doses administered each day
Roughly 48 percent of the world population has now received at least one dose of a COVID-19 vaccine, the tracker last reported. But just 3.1 percent of people in low-income countries have received at least one shot.
To enter the U.S., vaccines that will be accepted include those approved by the Food and Drug Administration (FDA) or those authorized by the World Health Organization (WHO) for emergency use.
Most foreign travelers have been barred from coming to the U.S. for over a year amid the coronavirus pandemic. The rules prohibited most non-citizens from the United Kingdom, Ireland, China and other nations from directly entering the country.
All non-essential travel at land borders with Mexico and Canada has also been restricted since March 2020 to limit the virus's spread. Administration officials said Monday that new guidelines for land travel are to come and will look similar to those enacted for air passengers.