As Vaccine Mandates Face Resistance in U.S., Cuba Says It Doesn't Need Them
Federal, state and local mandates issued by government officials in the U.S. requiring various employees, students and other segments of the population to be vaccinated against COVID-19 have been met with resistance by skeptics, raising the possibility of mass layoffs in critical fields.
But in Communist-led Cuba, having citizens get their shots simply doesn't seem to be a problem.
"People in Cuba are anxious and motivated to get vaccinated," Carlos Fernández de Cossío, director-general for the United States at the Cuban Foreign Ministry, told Newsweek. "We don't have the cultural problem that seems to exist here in the U.S."
Cuba is the smallest country in the world to develop its own vaccine, and the only one in the entire Western Hemisphere to do so other than the United States.
In fact, Cuba's declared vaccination rate has already approached nearly 50%, catching up quickly to the earlier rollout in the U.S. that is now just over 56%. And the contrast in the numbers that have received at least one dose is stark: Cuba has reached 84%, among the highest in the world, while the U.S. sits at 65%.
And Cuba has set an even more ambitious benchmark for next month.
"Today we have close to 50% fully vaccinated," Fernández de Cossío said. "We are aiming to get 92% of the population fully vaccinated by the end of November."
Cuba is also the first country to begin vaccinating children as young as 2 years old in a bid to bring the island past the pandemic.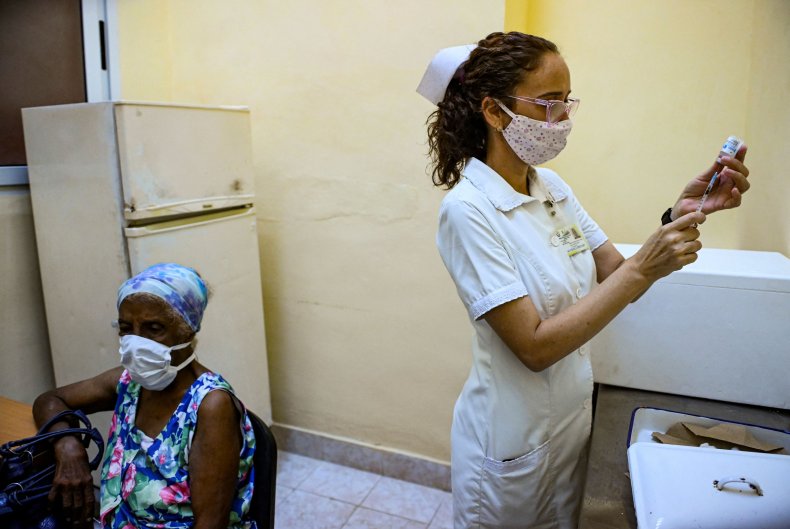 Despite its relatively modest size, Cuba has for some time made strides in healthcare and medicine, including in advanced biotechnology, which proved an especially strategic investment as COVID-19 first began to ravage the world early last year. Even before vaccines were made available, Cuban doctors and health experts were dispatched across the globe, including to poorer states in Africa, Asia and Latin America, as well as to developed nations in Europe, to fight the worsening pandemic.
But Cuba, like many countries around the world, paid a heavy toll. Although infections and deaths have not spiked beyond control as in some other countries, a loss of tourism revenue and other secondhand effects of COVID-19's scourge have wreaked havoc on the nation.
Further compounding Cuba's hardships was a series of measures taken by the Trump administration to tighten an already decades-long trade embargo against the island state that lies just 90 miles off the coast of Florida. Since coming to office in January, President Joe Biden has yet to ease these restrictions, instead adding new targeted sanctions against certain officials and entities accused of cracking down on rare protests that erupted in July over the extenuating circumstances in the country.
Cuban officials have vowed to listen to the demands of peaceful protesters, and have at the same time accused U.S.-based pressure groups of sponsoring the more violent demonstrations. Meanwhile, Miami and other U.S. cities hosted solidarity protests where activists called on Biden to adopt an even tougher line against what they view as an authoritarian government guilty of mass human rights abuses in Cuba.
Cuban Foreign Minister Bruno Rodríguez Parrilla accused Biden on Thursday of carrying on his predecessor's policy toward Cuba.
"Maybe there is an inertia effect. It's a pity that President Biden couldn't implement his own policy toward Cuba," Rodríguez told NBC News. "It's a terrible mistake to continue implementing this kind of cruel sanctions, even sanctions during a pandemic."
Asked by two reporters for a reaction during a press conference later that day, White House Press Secretary Jen Psaki declined to comment.
Sharing a clip of the exchange on Twitter, Fernández de Cossío pointed out that Biden had earlier criticized Trump's strategy toward Cuba during the campaign trail last year. Trump's position was a reversal of the historic warming in U.S.-Cuba ties pursued by former President Barack Obama, whom Biden served as vice president.
"The US gov seems incapable of implementing the policy it commited to when wanting to contrast with Trump during the electoral campaign," Fernández de Cossío wrote. "The choice is to continue to punish #Cuba during the pandemic, while hoping others don't notice."
Meanwhile, in the U.S., where open expressions of contempt toward the government are far more common, a new kind of division has emerged. Rallies, lawsuits and threats of mass resignations have emerged as a result of vaccine mandates being rolled out at every level of government.
Vaccine mandates have been especially controversial in conservative circles, where some have alleged that such measures violate constitutionally guaranteed civil liberties. Most vaccine mandates carry room for exemption on religious or medical grounds, though some degree of proof to substantiate the claim is often required for the exemption to be considered.
A wealth of misinformation disparaging vaccines has also been produced and widely shared within the U.S. Other countries known for hosting large numbers of vaccine skeptics include Russia, France, Germany, the United Kingdom, South Korea, Japan and Australia, as indicated by a poll published Thursday by Morning Consult, in which the U.S. ranked second between Russia and France in terms of respondents unwilling to receive a COVID-19 vaccine.
Amid the backlash at home, the White House released a statement Friday defending the use of vaccine mandates as a helpful measure toward slowing the spread of the disease, bringing down hospitalizations and avoiding lockdown measures.
"As President Biden continues his push to increase vaccinations including through more vaccine requirements, the country is seeing an undeniable truth: these requirements are working — with employers across the country already reaching upwards of 90% compliance," the statement said. "These vaccine requirements are critical to ensuring that not only workers are safe, but businesses stay open."
White House Coronavirus Response Coordinator Jeffrey Zients offered a similar assessment during a press briefing that same day.
"Bottom line: Vaccination requirements work," Zients said. "And driven by the president's requirements, vaccination rates at businesses, healthcare systems, universities and colleges and other institutions across the country will continue to increase."
On Monday, Psaki commended what she described as "strong movement and early action toward vaccine requirements across industries and, importantly, in the airlines industry."