Do Vaccines Work Against Omicron COVID Variant? Here's What We Know
Headlines have emerged this week following an Israeli study suggesting that even a fourth vaccine dose is not enough to prevent people from being infected with the Omicron variant of COVID.
But it does not mean that vaccines do not work against the Omicron variant at all.
The study, conducted at the Sheba Medical Center, involved people being given second booster doses of the Pfizer or Moderna vaccine.
The results from people who did receive a second booster dose—a fourth shot overall—were compared to those of a control group in which people did not receive a fourth shot.
The researchers found that a second booster dose increased the number of COVID-fighting antibodies in recipients even higher than the first booster dose did. But this second booster is still probably not enough to stop people from getting infected with Omicron, they added.
"We know by now that the level of antibodies needed to protect and not to get infected from Omicron is probably too high for the vaccine, even if it's a good vaccine," Gili Regev-Yochay, director of the Infectious Diseases Unit at the Sheba Medical Center, told reporters.
Researchers have known for weeks that Omicron poses a high level of resistance to existing vaccines compared with earlier variants of COVID, and people may still catch the virus despite being fully vaccinated even with a booster.
But while Omicron may put up more of a fight, existing vaccines have still been shown to work when it comes to preventing hospitalization and symptomatic disease.
In a technical briefing on Omicron on December 31, the U.K. Health Security Agency (HSA) cited the results of two studies that looked at the risk of Omicron hospitalization in vaccinated versus unvaccinated people. According to the briefing: "[B]oth studies find a substantial reduction in risk of hospitalisation for Omicron cases after 3 doses of vaccine compared to those who are unvaccinated."
More recently on January 13 the U.K. HSA published data on vaccine effectiveness against Omicron over time, clearly showing how the vaccines plus boosters offer protection against serious illness with Omicron at least in the short term. Graphs outlining the data can be seen below.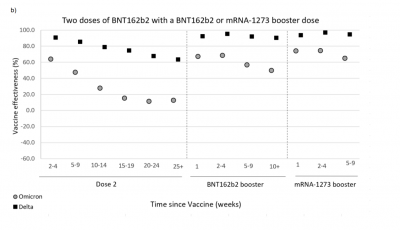 Before all of that, in early December Pfizer reported the results of a preliminary laboratory study that suggested a third dose of the Pfizer-BioNTech COVID vaccine "could still offer a sufficient level of protection from disease of any severity caused by the Omicron variant," BioNTech CEO Uğur Şahin said at the time.
In short, at this stage it seems that some COVID vaccines do work against Omicron in terms of preventing severe disease but a booster may be necessary because their effectiveness can drop off completely over time.