Vaccines Matter: State Laws That Make It Easier for Parents to Opt Out Can Cause Real Damage | Opinion
Measles cases have reached the highest levels we've seen nationwide since the disease was declared eliminated in the U.S. two decades ago. New York City has declared a public health emergency. Two California colleges are quarantining hundreds of students and staff members. And at least six states are proposing legislation to boost vaccination rates by limiting immunization exemptions for school-age children.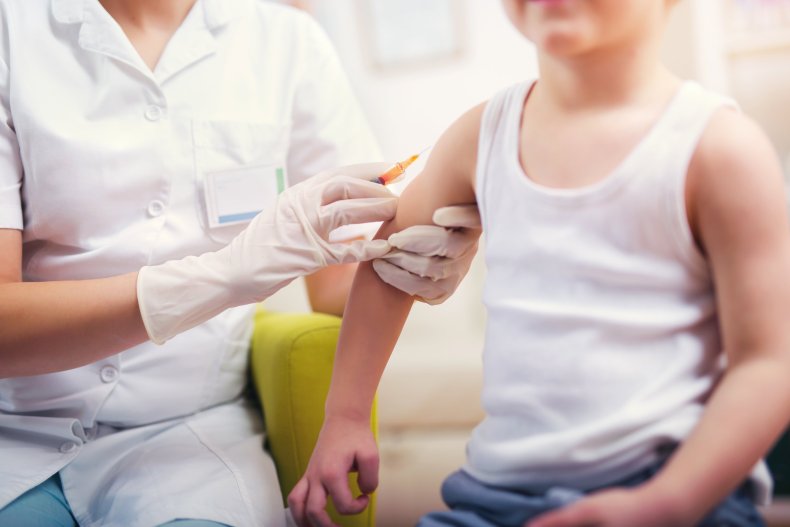 Oddly enough, though, some states—Mississippi, West Virginia and my home state, Ohio—are considering legislation that would probably result in fewer children getting vaccinated. In Ohio, House Bill 132 would require school districts to explicitly notify parents about immunization exemptions, offering a road map for parents wanting to avoid vaccinating their children.
Such a bill would only speed a troubling trend. Ohio immunization rates for measles have steadily declined over the past decade, from 93.6 percent in 2010 to 88.3 percent in 2017.
Ohio should be making it more difficult to seek an immunization exemption, not easier. Ohio's exemption rule is already one of the most lenient in the country, allowing exemptions based on "reasons of conscience, including religious convictions." Notwithstanding the fact that no mainstream religion prohibits vaccination, I believe that conscience—toward one's family and community—should make parents lean toward vaccination, rather than away from it.
This proposed legislation comes amid a resurgence of measles, a highly contagious disease that was declared eliminated in the U.S. in 2000. It has appeared in 26 states this year, for a total of 981 cases nationwide, according to the Centers for Disease Control and Prevention.
It's time that we—health care providers, legislators, parents—ask ourselves some hard questions:
Should parents be given an opportunity to opt out of vaccination requirements for their children based on nonmedical reasons? Do parents' choices for their own children outweigh their duty as a citizen regarding vulnerable members of society?
As a pediatrician and a bioethicist, I argue that the answer to both questions is no.
Vaccine refusal is a serious threat to others—especially those with weakened immune systems, such as older adults, those battling cancer and infants who are still too young to be fully immunized.
I've witnessed the harm firsthand:
A 7-week-old infant developed pertussis (whooping cough) after being exposed by a teenage sibling who was not immunized and contracted the disease at a local market. In spite of immediate treatment in a pediatric intensive care unit, the infant died from severe lung failure.
A pregnant young woman who was not immunized against measles contracted the disease when it spread within her congregation. Her 3-year-old caught the virus, developed encephalitis (inflammation of the brain) and was left with a seizure disorder. Her infant was born prematurely and needed a prolonged stay in the intensive care unit.
An unimmunized 18-month-old suffering from heart failure had his lifesaving heart transplant delayed because he would have been at an unacceptably high risk of dying from preventable infectious diseases when immune-suppressed after the transplant. The family lived in a tight-knit community of parents who did not routinely vaccinate their children. The family changed their views about immunization when one of their own children was suddenly in need of this lifesaving transplant, and agreed to immunize their 18-month-old and his siblings.
A pediatrician had to inform two families whose children were immune-compromised from chemotherapy for cancer that they had been potentially exposed in the office waiting room to another child whose rash turned out to be from meningococcemia, which can cause meningitis.
Though some details have been changed to protect the patients' privacy, each of these episodes illustrates ways in which an individual family's decisions, especially when compounded by the same choices made by numerous other families, pose great risk to their own families and others.
Vaccinations have been the major successful armament against contagious, sometimes deadly diseases in the developed world. Because many such illnesses have been eliminated or vastly decreased, people who were raised after they were controlled through vaccination have not seen the devastating impact that occurs when they surge back in a community.
Choices that may feel individual and protective of one's own child or oneself, such as vaccine refusal, do not only affect individuals—they endanger their families and those around them. In fact, the World Health Organization recently named vaccine hesitancy one of the top 10 threats to global health.
As a pediatrician also working in the field of ethics, I am trained to listen to all stakeholders, and to respectfully consider their views. Still, having cared for children in the intensive care unit in cases similar to each of those above, and having sent those children home with their parents—or not, when they couldn't be saved—I lean firmly toward requiring childhood vaccination for school entry.
Legislative efforts to relax these requirements, especially combined with the spread of misinformation, have no place in current society. If a parent makes a choice not to vaccinate, then it is ethically justified for the state to limit certain shared community liberties, including entry into public schools, to protect others from the dangers of this decision.
Dr. Kathryn Weise is a pediatrician practicing at the Cleveland Clinic Children's Hospital for Rehabilitation and in the Cleveland Clinic Center for Bioethics.
The opinions expressed in this op-ed are the writer's own.