Valedictorian Has Microphone Cut During LGBT Speech, Asked to Remove Pride Flag From Gown
A New Jersey high school valedictorian says his microphone was cut during his graduation speech for mentioning LGBTQ themes and was asked by school officials to remove a pride flag from his gown.
Bryce Dershem, who graduated from Eastern Regional High School in Voorhees, New Jersey, on June 17, claims his speech was interrupted by a technical difficulty because it did not adhere to the school district's guidelines.
Taking on stage during the ceremony, Dershem said, "After I came out as queer freshman year, I felt so alone. I didn't know who to turn to."
In a video of the speech, the school's principal can be seen approaching the podium and bending down to grab something behind the stage before Dershem's microphone is cut off.
The principal then walks up to the valedictorian, takes the microphone and a piece of paper off the podium before he looks for someone to swap in a working microphone.
"Dr. Tull came up to the stage he grabbed the paper I brought and crumpled it in front of me," Dershem told WCAU. "He pointed to the speech he had written for me, effectively, and told me I was to say that and nothing else."
After he was given a new microphone, Dershem picked up where he left off, reciting the speech about his mental health struggles and anorexia treatment from memory.
Robert Cloutier, Eastern Camden County Regional School District superintendent, told Newsweek that all student speeches are coordinated through the high school principal. Cloutier said the principal works with the student in "connecting their educational experiences to a meaningful and inclusive message about the future for all students in the class and the students' invited guests."
He said that all speeches are agreed upon and approved in advance and kept on stage for the principal to conduct the ceremony.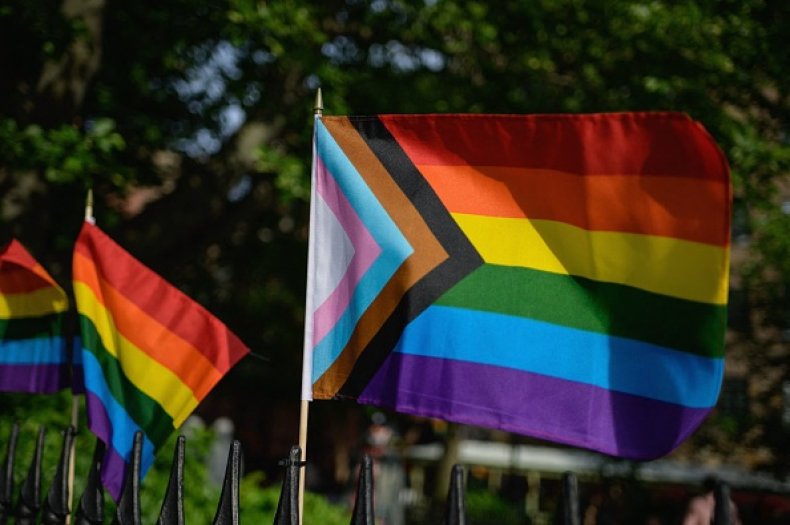 But Dershem said that he was forced to take out all mentions of his queerness and eating disorder treatment during the speech editing process.
"I did feel censored," Dershem said. "I felt as though they were trying to regulate the message I was going to say and take away the parts of my identity that I'm really proud of."
He said he decided to go off the book at graduation when he realized he would not be allowed to deliver the speech he wanted to. He also claimed that he was asked to take off the pride flag he had draped over his gown, but said he refused to do so.
Cloutier wrote in an email to Newsweek that "no student was asked to remove his or her personal identity from any speech at graduation."
He added that the district is committed to the diversity and inclusion initiatives led by the state's department of education.
"The Eastern Board of Education voted in April 2021 to restore the [Gay Straight Alliance] Network as an activity for students for the 2021-2022 school year, after decreased participation resulted in the activity being ended in 2009," Cloutier said.
He did not explain why there was an interruption during Dershem's speech. Dershem said there had not been any other technical issues for other presenters that afternoon.
Despite the pushback he received from administrators, the valedictorian said he was overwhelmingly supported by classmates and family at the event.
"Whether you are going off to college, enlisting in the military, joining the workforce, I hope you believe in how much you needed to overcome to simply be here today. It's incredible and no simple feat," Dershem said during his speech. "Part of our identity, our year, our struggle is 2021. We're still here though. We adopted to something we never thought possible."