Valentina Orellana-Peralta GoFundMe Raises Thousands After LAPD Release Shooting Video
Family members of a 14-year-old girl who was killed when Los Angeles police opened fire on a suspect in a clothing store have launched a GoFundMe page.
Valentina Orellana-Peralta was in a dressing room with her mother when she was struck by a bullet that went through a wall at a Burlington store in North Hollywood on December 23.
"Valentina and her mother went to Los Angeles from Santiago, Chile to be reunited with Valentina's older sister, and with the goal of a better life in California just months before her death," a post on the GoFundMe page said.
"Aside from it being a tragedy to anyone who reads Valentina's story, our hearts ache at the senselessness of her death."
The page has raised over $18,000 ($23,000 CAD) since it was launched on Monday.
"There is no amount of money that can bring our Valentina back, or to comfort her grieving mother, father and older sister, but we want her immediate family to be relieved from any financial restraints that might make this mourning process even harder," the post added. "We want her family to be as comfortable as possible and capable of planning Valentina's funeral without limitations." Newsweek has contacted the organizer for comment.
Orellana-Peralta's parents are expected to appear with civil rights attorney Ben Crump at a news conference outside the LAPD's headquarters on Tuesday morning.
That comes after body camera footage released by the Los Angeles Police Department on Monday showed an officer opening fire at a man suspected of assaulting customers over the body of a bleeding victim.
The department's policy is to release videos from critical incidents, including police shootings, within 45 days.
The edited package included multiple 911 calls, including from store employees, who reported that a man was hitting customers with a bike lock. One caller told a 911 dispatcher that the man had a gun, but no firearm was recovered at the scene.
Surveillance footage showed the suspect, identified as 24-year-old Daniel Elena Lopez, attacking several women with the bike lock.
The footage also showed numerous armed officers entering the store and approaching the suspect. At least one officer opened fire and three shots are heard on the video.
Both the suspect and Orellana-Peralta died at the scene, police said.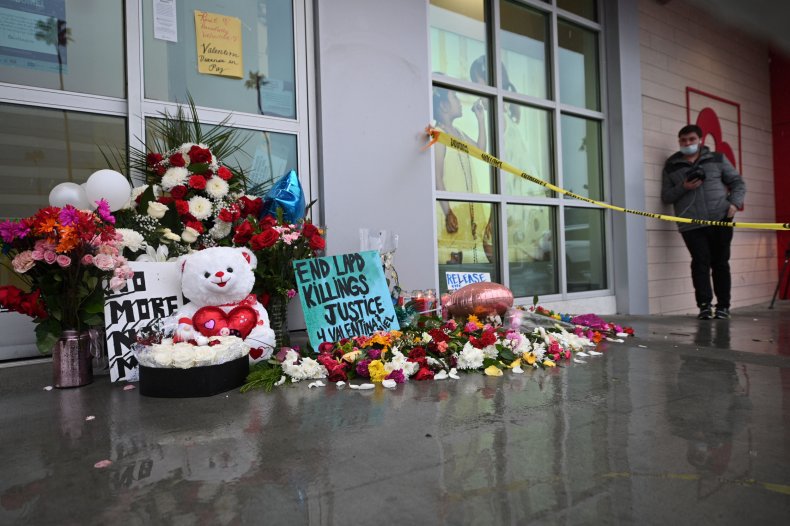 "At this preliminary phase of the investigation, it is believed that the victim was struck by one of the rounds fired by an officer at the suspect," LAPD Capt. Stacy Spell said in the video.
Police believe Orellana-Peralta was struck by a bullet that skipped off the floor and entered the dressing room wall. But the investigation remains in the early stages and could take up to a year to complete, Spell said.
"We at the LAPD would like to express our most heartfelt condolences and profound regret for the loss of this innocent victim, Valentina Orellana-Peralta," he added. "There are no words that can describe the depth of the sorrow we feel at this tragic outcome."
The California Department of Justice is also investigating the shooting.