Valentina Orellana-Peralta's Mother Describes Moment Daughter Shot: 'She Died in My Arms'
The parents of 14-year-old Valentina Orellana-Peralta gave emotional deliveries of statements they prepared for a Tuesday press conference about their daughter, who died last week during an officer-involved shooting at a Burlington Coat Factory in Los Angeles.
Attorney Ben Crump, who is representing Orellana-Peralta's family, said the family's legal team is "dedicated to making sure we get justice for Valentina" but said Tuesday's press conference held outside the Los Angeles Police Department (LAPD) headquarters was intended to provide the parents with an opportunity "to come and tell the world who their daughter Valentina was."
Juan Pablo Orellana Larenas, Orellana-Peralta's father, said in a statement delivered in Spanish that was later translated by a member of the family's legal team that he was "devastated" and "in shock" when he received the call from Soledad Peralta, the teen's mother, about their daughter's death. Orellana-Peralta was his only biological child, he said.
"It is like my whole heart has been ripped out of my body," Orellana said in his prepared statement, which Crump later read in full. Orellana said the pain of receiving gifts his daughter was to have received for Christmas "cannot be articulated."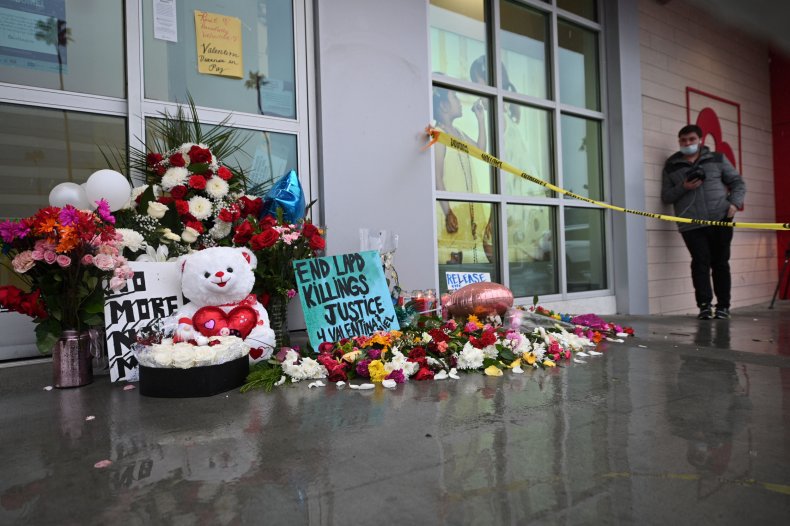 "My daughter was special. She had dreams. And tragically, those dreams have been overshadowed by this nightmare that prevents me from sleeping at night," Orellana's statement said. "We want justice for our daughter. Valentina's life mattered. We demand justice. If it was your baby girl, wouldn't you demand justice, too?"
Peralta, who was with Orellana-Peralta on the day of the shooting, was next to speak. She described shopping for Christmas gifts with her daughter on December 23 and discussing her daughter's dreams for the future, which she said included becoming an American citizen, going to college and studying to become an engineer.
While inside the dressing room at Burlington, Peralta said in a prepared statement later read in full by Crump that she and her daughter began hugging one another when they heard a "commotion" and "screaming" nearby. Orellana-Peralta locked the dressing room door "to try to protect us," her mother said.
"When something impacted my daughter Valentina, it threw us on the floor, and she died in my arms, and there was nothing I could do," Peralta said in comments translated by the family's legal team. "To see a son or daughter die in your arms is one of the greatest pains, and most profound pains, than any human being can imagine."
Orellana-Peralta died as police were responding to calls shortly before noon on December 23 about an assault with a deadly weapon at a Burlington Coat Factory in North Hollywood. Officers said in a Monday press release that they received several calls about the incident, some of which officers said led them to believe there might be a shooting underway.
A video containing security footage captured inside the store and bodycam footage that was released Monday by the LAPD showed a man later identified as Daniel Elena Lopez, 24, attacking multiple customers while inside the store, some of whom escaped. One of the women Elena Lopez attacked near the store's dressing rooms was beaten with a bicycle lock, police said Monday.
When officers arrived at the store, they located Elena Lopez near the woman who had been beaten with the lock. Elena Lopez was "struck by gunfire" and pronounced dead by paramedics at the scene. Police said Orellana-Peralta was later discovered in a changing room behind where Elena Lopez had been standing at the time he was shot.
"At this preliminary phase of the investigation, it is believed that [the teenager] was struck by one of the rounds fired by an officer at the suspect," the LAPD said in its Monday release.
LAPD Chief Michel Moore said the LAPD will be conducting "a thorough, complete and transparent investigation" into the events of the day.
In the wake of Orellana-Peralta's death, a Justice for Valentina campaign launched and called for the LAPD to immediately release all security and bodycam footage from the shooting. Justice for Valentina has also called for involuntary manslaughter charges to be filed against the officers involved in the shooting.
At the Tuesday press conference, Crump said his team believes there is footage from the shooting that has not yet been released and called for "complete transparency" in the case.
Newsweek reached out to the LAPD for comment.