Valentine's Day Celebrated in Iran With Gifts, Flowers and House Parties Despite Police Crackdown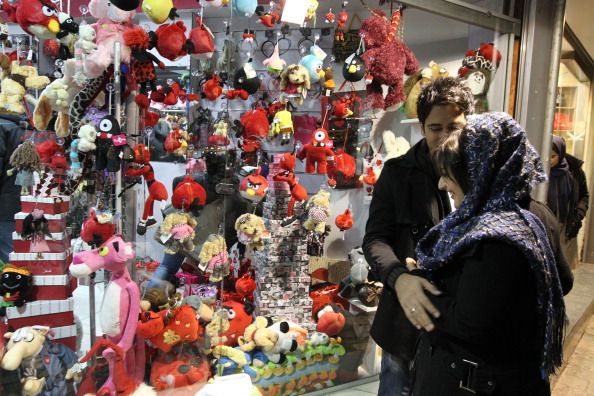 People in Iran are celebrating Valentine's Day despite the fact that the holiday has been banned in the Islamic Republic.
The country's authorities say that Valentine's Day is part of a "decadent Western culture," and in 2011 the government prohibited the sale of any goods related to Valentine's Day. But young people around the country have decided to celebrate anyway.
"You see people selling red balloons in the streets and red roses, and people are wishing other people Happy Valentine's Day. But stores and shopping malls are not allowed to put up posters about Valentine's Day, and restaurants cannot say anything about Valentine's Day either," Reihane Taravati, a photographer based in Iran's capital, Tehran, told Newsweek, adding that a "huge number" of people are celebrating.
"Everyone is celebrating tonight in their houses and partying," she added.
Coffee shops and restaurants are also reportedly filled with young couples exchanging gifts. And many people took to banned social media platforms, accessed through a virtual private network, to wish their peers Happy Valentine's Day in Farsi.
"Whether Valentine's Day is a Western tradition or not, Iranian youth want happiness, want excitement, want love and want to express it," Omid Memarian, an Iran expert based in New York, told Newsweek. "I think Valentine's Day is the excuse to celebrate for many of them in Iran."
Human rights groups said that some local police forces have attempted to stop Valentine's Day celebrations.
"Since any promotion or supply of goods affiliated with Valentine's Day is prohibited, stores such as clothing and cosmetics, bakeries, florists and printing shops will all be closely scrutinized by police forces," said Mohammad Reza Parvaz, the head of the Public Security Police in Kerman Province, according to Iran's Human Rights Monitor.
"In coordination with the Directorate General of Cultural Heritage, Handicrafts and Tourism, and directors of tourism services, holding and dispatching any mixed gender or unauthorized tours are also prohibited, and offenders will be legally dealt with," Parvaz added.
Valentine's Day was named after two Christian martyrs, both of whom were named Valentine, who were allegedly killed by the Roman emperor Claudius II. Other countries like Saudi Arabia, Pakistan and Indonesia have also banned Valentine's Day.