Valentine's Day Deals From Dunkin' Donuts, Baskin-Robbins, Krispy Kreme and More
Treat your loved ones to sweet snacks this Valentine's Day, February 14, by making the most of food deals and limited menu items from brands like Krispy Kreme and Dunkin'.
Brands like Baskin-Robbins and Trader Joe's are marking the romantic holiday with Valentine's Day treats: think heart-shaped donuts, cookies, macarons, and more, with additional deals on ice cream, chocolate, and wine.
Krispy Kreme
Krispy Kreme is selling heart-shaped Valentine's donuts—choose from Sprinkled Heart, Sugar Cookie Heart, Strawberries and Kreme Heart, or a Chocolate Caramel Heart, or get a dozen and mix and match.
Yogurtland
To celebrate Valentine's Day, Yogurtland is giving a $5 bonus card with every purchase of a $25 eGift card before February 13. The bonus $5 card can be used from February 14 until February 21. Customers can receive up to four bonus cards per order, and the cards are only valid on food or beverage purchases made in-store.
Godiva
Valentine's Day would not be the same without chocolate. This year, Godiva is inviting chocolate lovers to send a free Virtual Valentine with any purchase of the Valentine's Day Collection on Godiva.com. The virtual Valentine card can be customized and personalized and will be digitally delivered on February 14.
Baskin-Robbins
Baskin-Robbins is celebrating Valentine's Day all month long with its Flavor of the Month: Love Potion 31, made of white chocolate and raspberry flavored ice creams, a raspberry swirl, chocolate-flavored chips, and raspberry-filled chocolate-flavored hearts.
Alternatively, gift your loved ones the Box of Chocolates Cake, which can be customized to include their favorite flavors.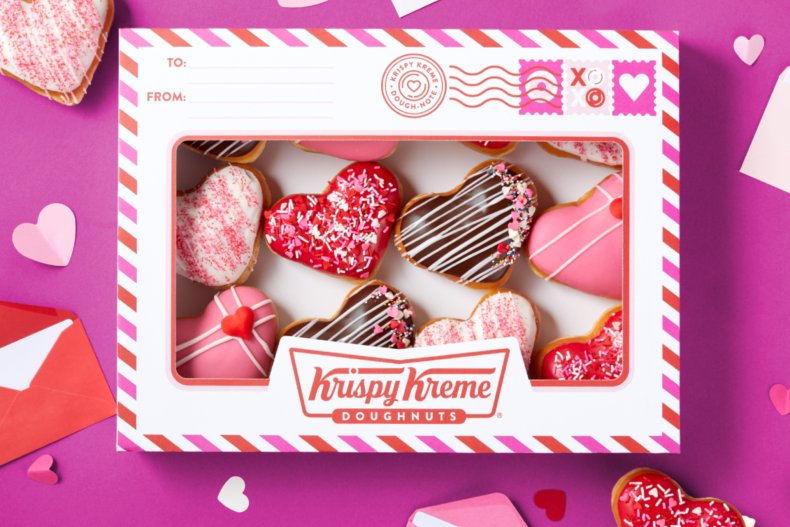 Dunkin' Donuts
Dunkin' is celebrating the romantic holiday with a limited-time menu featuring a Pink Velvet Macchiato and a Mocha Macchiato, as well as the heart-shaped Brownie Batter Donut and Cupid's Choice Donut.
Mrs. Fields
Mrs. Fields is offering customers 30 percent off Valentine's Day gifts with the code VDAY30, but bear in mind that the cookies may not arrive by Valentine's Day.
MOVO Wine Spritzers
MOVO Wine Spritzers is giving away free wine for Valentine's Day, but is also encouraging customers to avoid sending a text they may regret. MOVO is suggesting that instead of texting their ex, fans of wine spritzers should text "U UP?" to 73255 to claim free wine, while supplies last.
Tim Hortons
Tim Hortons is celebrating Valentine's Day by giving customers a free donut when they purchase any size beverage through the app or website on February 13 and February 14.
Trader Joe's
Trader Joe's is selling heart-shaped macarons for Valentine's Day. The treats come in two varieties: the pink hearts are raspberry flavored, while the white hearts taste like vanilla and strawberry.
This graph from Statista demonstrates a drop in Valentine's Day spending in the U.S.