Valentine's Day Traditions: Why Chocolates, Roses and Cards Are Important
Valentine's Day falls on February 14—a day when lovers show their appreciation for each other, through romantic poems, letters, cards, chocolates, roses, or other gifts.
The holiday dates back to 496 AD. It was initially a Christian feast day honoring one or two early Christian martyrs called St. Valentine. Now it is known for showing love for someone you admire—often through buying them gifts.
Elizabeth Nelson, an associate professor of history at the University of Nevada, Las Vegas, told Newsweek: "The practice of exchanging "valentines" seems to go back to the Middle Ages. There is some discussion of it in [English poet Geoffrey] Chaucer, but in that period, the person was the valentine—'Will you be my Valentine'—rather than a card."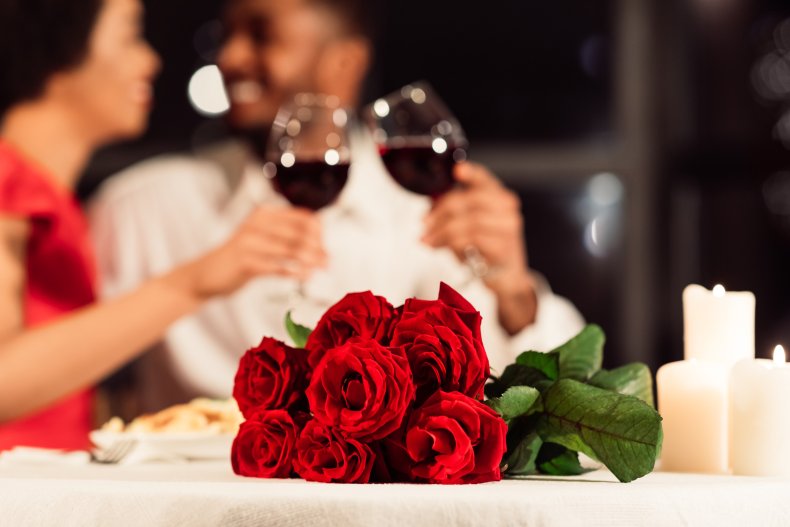 "Gifts were exchanged sometimes; spoons or gloves were considered traditional. In the 18th century, literate lovers began to exchange poems. Since inspiration did not always strike, printers began to publish little books of poems, often with responses, that were appropriate for Valentine's Day, called valentine writers—similar to letter writers from the same period," she added. "Some of these poems were sweet, some were bawdy or cruel. There was a tradition of sending valentines that mocked the failings of the recipient."
By the beginning of the 19th century, these could be bought in cheap printed form, often with an engraved image to accompany the poem. Initially, valentines were only available on a plain sheet of paper that was not heart-shaped. Most of these were produced in the U.K., but the market began to grow in the United States in the 1840s, said Nelson.
"Esther Howland began to produce valentines in Worcester, Massachusetts, in the late 1840s. Her father, a stationer, imported lace paper and other printed images for her, and she assembled valentines that mimicked the imported ones from Britain," the academic said.
Howland's valentines had more of the traditional iconography associated with the day today—such as cupids or flowers—but were still rectangular in shape.
"The heart-shaped card did not become common until the end of the 19th century when changes in technology made die-cut shapes and colored images possible," Nelson said. "Before chromolithography, all images were hand-colored."
Flower bouquets were also popular gifts at that time, and floral dictionaries defined the meaning of each flower, she said.
"The flowers in a bouquet were often chosen to send a particular message that the recipient could "decode" using the knowledge from these floral dictionaries," Nelson said. "The idea that a bouquet of red roses, which means true love, was the quintessential valentine bouquet was popularized by the floral industry in the late 19th or early 20th centuries after the hybrid tea rose was introduced (1867)."
In the late 19th century, confectioners began to include a valentine with boxes of chocolates for those who celebrated the holiday. By the first decade of the 20th century, they were using boxes shaped like a heart, covered in red silk, and decorated with flowers and cupids like a valentine, effectively making the box of candy the valentine itself.
"In the early 20th century, trade associations for both florists and confectioners helped to popularize flowers and candy as a more modern valentine than a paper valentine, which they characterized as less desirable and even tawdry. Candy or flowers presented the suitor in a more favorable light than a simple card," Nelson said.