Valentine's Day Viewing Guide: What To Watch on Netflix, Prime and More
With Valentine's Day being celebrated around the world on Tuesday, there are plenty of options if you are looking for a quiet night in, watching something with your partner, or friends, or on your own.
Here's a rundown of what Valentine's Day-themed programs are available on various streaming services.
Apple TV
There are plenty of options available here, such as the 2010 classic Valentine's Day, starring Jessica Alba, Jessica Biel, Anne Hathaway, Julia Roberts, Jamie Foxx, and Bradley Cooper.
Other films for subscribers include Pride & Prejudice, If Beale Street Could Talk and the animated TV special Be My Valentine, Charlie Brown.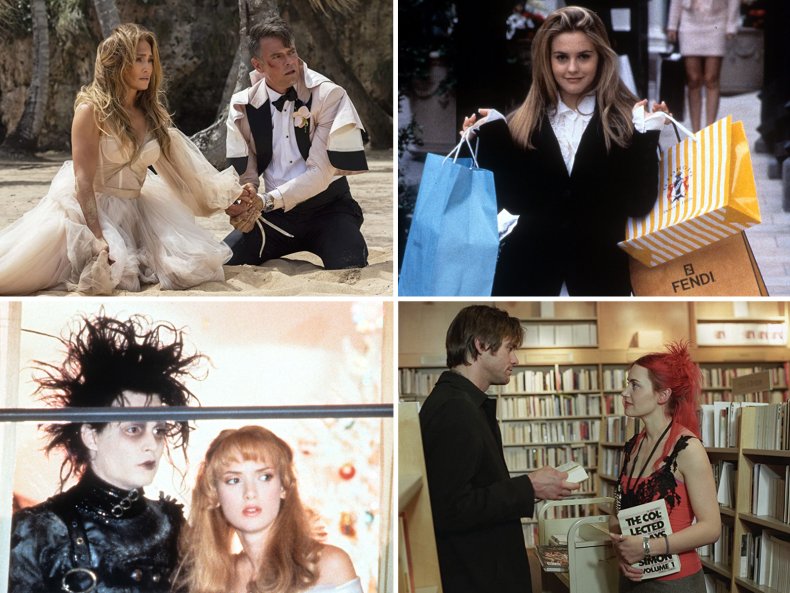 Amazon Prime
The streaming service has a selection of Valentine's Day-themed shows and movies, including the classic experimental love story Eternal Sunshine of the Spotless Mind and the true story rom-com, The Big Sick. Prime also has Shotgun Wedding available to stream, the hilarious new release starring Jennifer Lopez, Josh Duhamel, and of course, Jennifer Coolidge. For someone looking for something more alternative, Amazon Prime also has Lovers Rock, the second film in Steve McQueen's Small Axe series.
These are free to stream for anyone with a Prime subscription, but Amazon has thousands of other movies on offer to rent or buy.
BBC iPlayer
BBC iPlayer has several Valentine's Day-themed episodes, including Sally Rooney's smash hit Normal People, So Awkward, Hot Property and the dating dance show I Like the Way U Move.
See the full selection of V-Day-themed shows on iPlayer's Valentine's page. Please note that you must be U.K.-based to watch iPlayer or have a VPN registered in the U.K.
Disney+
Disney+ has a Valentine's Day collection including hits such as 10 Things I Hate About You, Princess Bride, and WandaVision as well as new additions like Thor: Love and Thunder, Love, Victor, High School Musical 2 and High School Musical 3.
To celebrate the day of love, subscribers can also stream the romantic comedy Rosaline, starring Kaitlyn Dever, Isabela Merced, Kyle Allen, and Sean Teale, with Minnie Driver and Bradley Whitford, for a limited time only from February 10-15.
Hulu
Hulu also has an extensive selection of romantic films to watch on February 14, such as Portrait of a Lady on Fire, Crush, Amour, Brown Sugar and The Proposal.
Netflix
The streaming platform has its own Valentine's Day collection: Watch, Love, Repeat. The collection is divided into three categories: films and television series to watch with your significant other, friends, or family.
The "Significant Other" section, features Ali Wong's Always Be My Maybe, Been So Long and The Lovebirds.
In the "Friends" section, options include the period drama Bridgerton, Love Is Blind, Too Hot To Handle, Ibiza Love Drunk and more.
Under "Family," viewers can watch Tall Girl, Tall Girl 2, Confessions of an Invisible Girl and Family Reunion.
Still uninspired? Netflix subscribers can find the collection by searching Valentine's Day or going to Netflix.com/valentinesday on all devices.
Paramount+
The streaming service has debuted its first-ever Valentine's Day-inspired collection, Peak Romance, which includes over 200 of the best rom-coms and love stories across an assortment of movies and TV series.
The collection includes 10 creative and expertly themed carousels spanning all the romance genres your heart desires, including:
Classic Romance: Iconic love stories such as Grease, Dirty Dancing, Breakfast at Tiffany's, The Great Gatsby (1974), Funny Face, Some Like It Hot and more.
'90s Love or Something Like It: Nostalgic rom-coms including Clueness, Runaway Bride, Shakespeare in Love, Home for the Holidays, Soapdish and more.
Twisted Romance: Movies and shows exploring the darker side of love such as Significant Other, Basic Instinct, House of Gucci, Vanilla Sky and more.
LOL (Lots of Love): Valentine's-themed comedy television including Frasier, Drunk History, Workaholics, I Love Lucy and more.
Valentine's Yay!: Television for Cupid's children such as, Hey Arnold!, Rugrats, Peppa Pig and Spongebob Squarepants and more.
Offbeat Relationships: Quirky love stories such as Edward Scissorhands, The Switch, Love Sick and A Night At The Roxbury and more.
There is also a new Paramount+ original called At Midnight about a forbidden love story between a hotel manager and a movie star.