Valerie Plame Movie 'Fair Game' Opens in Cannes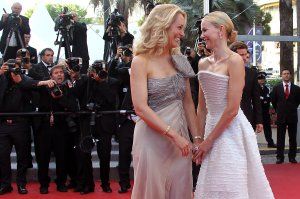 When columnist Robert Novak unveiled Valerie Plame as a CIA undercover operative in his syndicated column in 2003, Plame reportedly confessed to a friend, "I didn't plan for this day." It would be safe to say that she also didn't plan on a red-carpet world premiere for Fair Game, a film based on her story starring Naomi Watts and Sean Penn, at the Cannes Film Festival. Or the standing ovations both she and the film received at the gala black-tie screening on Thursday evening. "What a night!" Plame exclaimed to NEWSWEEK after the event.
And what a movie. In Fair Game, director Doug Liman bravely tackles the now well-known story of how Plame's husband, former career diplomat Joseph Wilson, wrote an op-ed in The New York Times accusing President George W. Bush of knowingly lying in his State of the Union address about the presence of weapons of mass destruction in Iraq, and how, in return, White House officials leaked Plame's true identity to the media. As MSNBC's Chris Matthews reportedly told Wilson, Karl Rove declared, "Wilson's wife is fair game."
But instead of mounting a play-by-play of the political scandal again, Liman and the film's two screenwriters, Jez and John-Henry Butterworth, wisely decided to focus on how the media and political maelstrom affected both Plame and Wilson personally. As a result, the film is a crisp snapshot of Washington players, a rarity for Hollywood; critics in Cannes immediately began to compare it to Alan Pakula's masterful All the President's Men.
This is surprising at first, given that Liman made his international reputation with the glossy thrillers The Bourne Identity and Mr. & Mrs. Smith. But once you know Liman's personal background, his understanding of how Washington really works makes more sense: his father, Arthur L. Liman, was chief counsel for the Senate investigation into the Iran-contra affair. During this period, Liman visited his father in Washington often, and saw how politics and power directly affected people's lives.
Since then, Liman has tried to infuse what he learned during that period in his pictures—mostly without success. "Bourne Identity was supposed to be a retelling of Iran-contra," he said. "I thought I'd couch it in a spy movie and Chris Cooper's going to play Oliver North and nobody got it." When Liman tried to have the television series The O.C., for which he was an executive producer, explore serious social issues such as immigration, he recalled that Fox executives responded, "No, you're not; there's no way you're going to do that."
With Fair Game, Liman finally had all the elements he needed. "I'm a child of politics," he told NEWSWEEK during an interview in Cannes. "I am fascinated by the White House, by the power that is contained in this one place and what can happen when people choose to not use it responsibly … Iran-contra was the last time an administration misused power to this level and got called on it. Here we are 20 years later, a similar kind of thing is happening, and I'm doing the investigation. So I felt that I should do everything in my power to bring the same level of integrity that my father brought to Iran-contra." He has.
Thomas is the author of Deluxe: How Luxury Lost Its Luster.