Valerie Trierweiler: France's Controversial New First Lady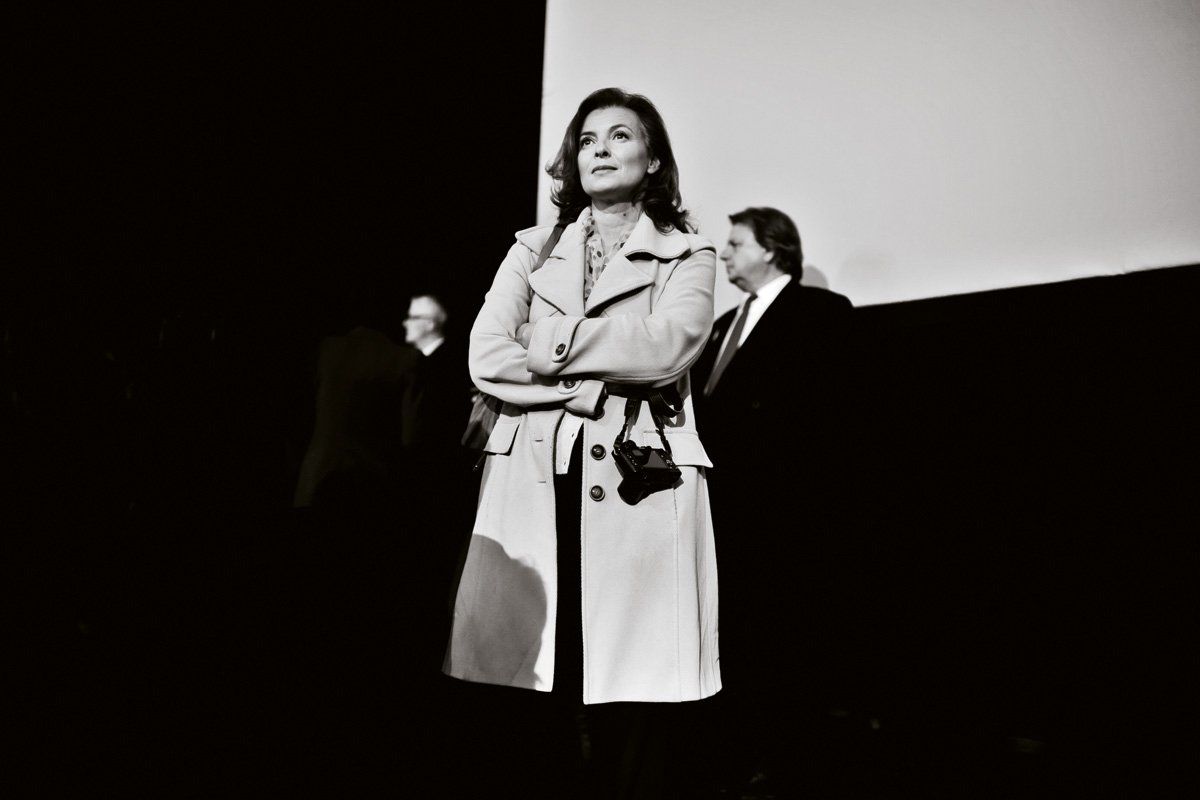 Deep into last spring's campaign to elect Socialist President François Hollande, Valérie Trierweiler could still be seen greeting an old confrère with la bise, a two-cheek kiss, on the edge of a media scrum. France's new first lady still writes for Paris Match, reviewing books for the iconic glossy weekly where she spent most of her career on the political beat, chasing copy in Parliament and covering campaigns from stuffy press buses.
After Hollande won the Elysée Palace in May, Trierweiler devised to keep both roles—president's consort and journalist—apparently presuming her press pass should provide an easy ride. A risky bet at best—and then she crossed the line on Twitter in June. Three new books in France by influential political journalists after le tweet are the quick and damning riposte. They bring to life a story of sex, lies, and ballots. A bedroom farce at the Palace, a very political love triangle starring the never-married Hollande and two indomitable dames: Trierweiler, reporter with a grudge, first lady with a vengeance; and Hollande's ex, Ségolène Royal, the charismatic politician who'd fought to win the Palace for herself in 2007 and lost.
To wit, in France the very term première dame—or, worse, "first lady" in accented English—courts ridicule, blasted in intellectual quarters for giving official stature to an unelected figure, a nefarious Americanization of French public life. Convention speeches like those delivered by Michelle Obama or Ann Romney are simply unthinkable here.
Former president Nicolas Sarkozy—dubbed Sarko l'Américain—was the first modern French politician to flaunt his private life. As interior minister in 2002, he even echoed the Kennedys in a photo of his 5-year-old son Louis playing under his desk for Paris Match. But as president, Sarkozy's flashy lack of discretion—the new divorcé playboy-in-office, tanned, Ray-Banned, with supermodel-turned-pop-star Carla Bruni on a Red Sea holiday in 2007—pursued him well after he tried to stifle it, an enduring image too far out of step with real problems in austere economic times. Hollande's curious (but winning) campaign pledge to be a "normal president" was, in part, a reaction to just that. Bland, maybe, went the pitch. But calm and constant, a steady hand to see France through the alarming European debt crisis.
And so the trouble with Trierweiler.
A twice-divorced mother of three teenage sons from a previous union, Trierweiler, 47, casts a striking figure. With her long auburn swirls from another era, she is likened to Lauren Bacall. And she has the sort of modest beginnings that should elicit popular appeal. Née Massonneau, she was raised with five siblings in the Loire Valley, her mother a cashier at the local skating rink, her father a war amputee out of work. She studied politics and landed a job at Paris Match in 1989, covering the country's left wing. Trierweiler first met Hollande, 11 years her senior, on the job in her 20s. At the time, Hollande and his power-couple partner Royal—a pair of up-and-coming politicians with Elysée connections and three young children—were already the talk of Paris.
Now flash forward to 2012: Hollande, a month into his presidency; Trierweiler, first lady. And the single tweet that breaks open the critical floodgates. One hundred and thirty-seven characters at noon on June 12. By backing Royal's opponent in a legislative race with a social-media missive, a frustrated Trierweiler appeared to publicly punish the president for endorsing a political ally: his ex, the mother of his four grown children, the 2007 presidential runner-up. And a romantic rival Trierweiler had already defeated. One 24-hour news channel's banner headlined "Psychodrama in La Rochelle."
Suddenly, an old lovers' quarrel was an affair of state. Political opponents jeered "Vaudeville!" and "Dallas at the Elysée!" The prime minister publicly demanded more discretion from the first lady. And Royal ultimately lost the election, leaving Hollande owing her a favor; he had allegedly promised speaker of the House to Royal to get her endorsement for the Socialist nomination, but she had to win the seat first. Hollande would assure 9.3 million TV viewers that his inner circle had been told "private affairs are resolved in private." But with one tweet, Trierweiler gave political cover for top reporters to pick over years of rumor, to delve deeper into a long sordid affair at the highest rungs of power.
In their new book Entre Deux Feux (Between Two Fires), Anna Cabana and Anne Rosencher argue the June 12 tweet "changed the face of [Hollande's] five-year term." "It isn't a transgression," they write. "It's a multi-transgressive cluster bomb." That book and a second new title—L'Ex, by Sylvain Courage—document 20 years of the Hollande-Royal-Trierweiler trio. Their couple trouble has done no less, the authors suggest, than shape France's last two presidential elections.
Both books claim Royal initially sought the 2007 Socialist nomination to spite Hollande, then Socialist Party chief, after he had secretly taken up with Trierweiler in 2005. And they blame Hollande in part for Royal's crushing defeat to Sarkozy, suggesting the party chief campaigned only meekly. Cherchez la femme. The couple's split wasn't official until June 2007, after Royal's loss. But on the trail, Sarkozy's well-oiled campaign machine exploited the rumor behind the scenes, floating Trierweiler's name to Newsweek as early as October 2006.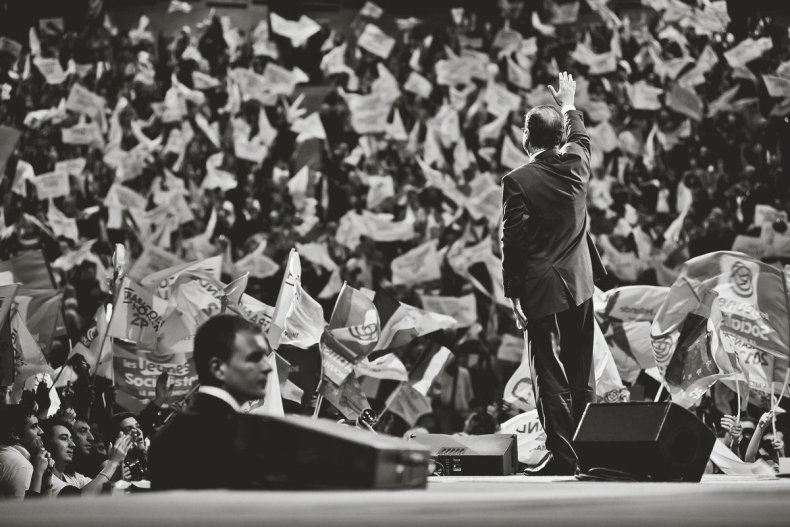 Royal had already confronted Trierweiler, the books say, in the halls of the National Assembly by 2003, warning the reporter to back off Hollande. Royal also pushed to get Trierweiler yanked off the Socialist beat at Paris Match. Royal tells Courage, "In the United States, it wouldn't have happened that way. That woman has no professional ethics!"
In the 2012 campaign, the accounts describe a mercurial, insecure, deeply possessive Trierweiler still puzzlingly jealous of Royal, exercising a disquieting influence on Hollande and his staff. (Courage quotes Royal, meanwhile, resisting her part in the drama. "It's horrible! I'm a politician, I'm battling, and I'm reduced to a soap opera, boulevard theater, a thingy à trois, a trio!") Cabana and Rosencher cite Hollande's biographer as saying Trierweiler would only help if, absurdly, he promised not to include Royal. (The biographer refused.)
Most absurd is the ugly story last April of the former couple's only joint campaign rally, requiring long negotiations over whether the politicians should actually cross paths—in order to, the authors argue, coddle Trierweiler's sensitivities. In the end, Royal subverts protocol, joining Hollande onstage for 18 unscheduled seconds. A Royal staffer tells Cabana and Rosencher about nearly coming to blows with Manuel Valls, Hollande's communications director, to allow a press photo of the pair embracing. Minutes later, Trierweiler gets her revenge with Valls's help, breaking protocol to corner Royal in a handshake for summoned cameras. Valls is now interior minister; Between Two Fires suggests he can thank Trierweiler for the job. In a review, Le Monde calls the incident "second-rate, vaguely sad and, in a word, scary."
A third new book, Laurent Greilsamer's La Favorite, is an angry pamphlet addressing Trierweiler directly, ripping her journalistic sins through her first 100 days at the palace. Appearing together on a popular talk show, the authors of all three new books seemed to finish one another's sentences. But Greilsamer was merciless: "[Hollande] is the reasonable one; [Trierweiler], the hot-tempered. He is the moderate; she, the excessive. He is the normal one; she—shh!—is the crazy one."
To be clear, for the political press trouncing Trierweiler, one of their own pairing off with a politician isn't the sin. At least three cabinet ministers in France's new government have journalist wives or girlfriends. But Trierweiler has fired up the media by playing both sides, without admitting she's crossed the Rubicon. In a tweet days after Hollande's election, she asked her "colleagues," photographers stationed outside their Paris apartment, to go away. "Thank you for not camping in front of our home." Greilsamer replies, "You sadden me ... What journalist are you? You react as if you understand nothing of the trade you practiced for two decades."
Trierweiler this month won damages from one glossy weekly—and sued three more—for publishing bikini photos of her on holiday with Hollande. "That a journalist who has been nourished by the celebrity press today attacks the celebrity press bowls me over," opined Le Nouvel Observateur's Claude Soula in his "Open Letter to Valérie Trierweiler." "It's pushing the hypocrisy very far." The photos are "not even topless," Soula writes, recalling that Paris Match published a sneaked snap of Socialist President François Mitterrand on his death bed in 1996.
Indeed, in the cruel light of excerpts from Trierweiler's old articles on Hollande—before and after she now admits they secretly began dating—the sanctimony wears thin. When a talk-show host last year asked Hollande how he approached facing Royal (among others) in the Socialist primary, Trierweiler sounded off. She tweeted "Political journalist, it's a craft ..." as if the interviewer were doing it wrong.
But some of the first lady's old material documented in the new books plainly cheerleads for her champ. Some articles dissect Hollande and Royal as a couple in disturbing detail with hindsight. Cabana and Rosencher excerpt an old four-page Paris Match piece on the pair. "During the campaign, [Hollande] arrived home more than once from a rally on the other end of France after 2 a.m. only to leave again before 7 a.m. To have at least the sentiment of not neglecting the four children," Trierweiler wrote in 2004. "Their mother sometimes stayed away 10 days without going home."
Trierweiler's own new book of annotated campaign photos by the Elysée's photographer is similarly jolting. Alongside a rare photo of Royal, Trierweiler—who, critics snipe, is pictured 50 times—captions: "?'Will they embrace, hold hands?' Such are the crucial questions my confrères are asking themselves. Yes, the man I love had a woman before me. And it so happens she was a presidential candidate. I deal with it."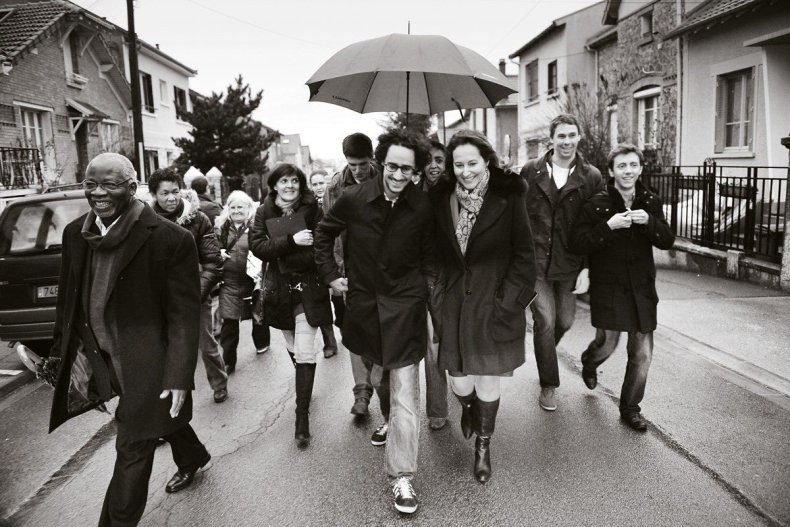 As Mr. Normal, Hollande used a long campaign to push two ideas about his character. First, the consensus-builder had to bury the impression he lacked authority (nicknames included "Marshmallow the Conqueror"). Second, he pledged to be the anti-Sarkozy. A discreet Scandinavian-style social democrat who takes trains and spurns bling. A pro, without the histrionics. As recession threatens and Hollande's approval ratings flag, Trierweiler's fateful tweet put both back on the table. Le Monde said the conflict between the first lady and his ex-lady "in one swoop sapped his authority, his dignity, and perhaps his tranquility of spirit just when he must face one of the gravest crises of the past 50 years."
Under Sarkozy, Carla Bruni, too, became a literary subgenre. But the later books documented her repackaging: how the Elysée's PR machine made a leftist, foreign-born aristocrat, a self-styled libertine once linked to Mick Jagger, more palatable to Sarkozy's aging conservative base. A pop star, she recorded but quit giving concerts. And the public was led to believe the feline Bruni had a soothing influence on her high-strung husband. Not to say French presidential spouses are condemned to languish. A poll for Elle before the election showed 70 percent approved of Trierweiler keeping her day job. But in June, 69 percent panned her extracurricular tweet.
(In fact, Carla was Sarkozy's second first lady. Cécilia, his wife of 11 years, famously said the role would "bore her stiff." In July 2007, the new president did send Cécilia to Libya to help rescue imprisoned Bulgarian nurses. But the controversial initiative sparked a parliamentary inquiry and, anyway, they had divorced by October.)
Since Hollande's election, critics have made a game of skimming Trierweiler's book columns for coded messages. One she reviewed was called Why Be Happy When You Could Be Normal? But her most telling piece was hardly subliminal. Her June review of Eléonore Roosevelt: First Lady et Rebelle, a biography, applauds the American, who "refused to be reduced to silence," and emphasizes Eleanor's journalism. Trierweiler writes, "Not only does the entirety of the American press [of the time] see no cause for debate but, on the contrary, Eleanor Roosevelt becomes, thanks to the column she would write until her death, extremely popular." Wishful thinking? Or shall we call her Trierweiler l'Américaine?