Is Valérie Trierweiler the Next First Lady of France?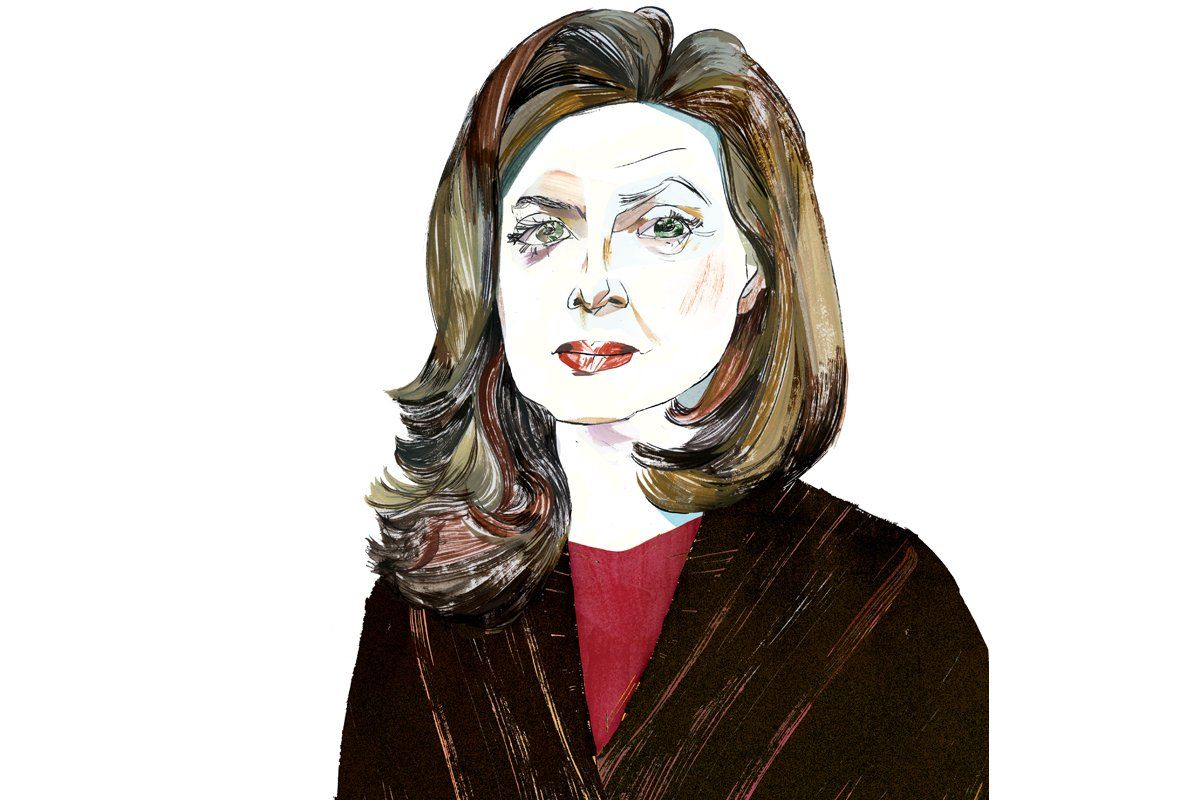 Whoever wins the French presidential election in May—struggling incumbent Nicolas Sarkozy or his Socialist challenger, François Hollande—trust the air of glamour and soupçon of intrigue we've come to expect of France's first lady to remain. Carla Bruni-Sarkozy, you already know. Now meet Valérie Trierweiler, Hollande's partner, whose path to the Élysée Palace has hardly been less extraordinary.
Bright and elegant, with a Katharine Hepburn coolness, all striking cheekbones and twirling waves of auburn, Trierweiler, 46, is a journalist and mother of three teenage boys from a previous union. Unlike Bruni, she had an upbringing that has been described as modest, a term she rejects. ("I'm not Cinderella," she told French Elle.) She was raised in the Loire Valley, one of six children; her father struggled as a war amputee, her mother was a cashier at the local skating rink. And unlike Bruni, she is no stranger to politics. A political reporter for two decades at the glossy weekly Paris Match (she's known Hollande professionally since she was 23) and a respected TV interviewer, Trierweiler knows campaigns.
But now, supporting Hollande on the trail, she has an office at campaign headquarters. She's quit political reporting, reluctantly, instead debuting a celebrity-interview TV show last weekend. And she tweets, sometimes in acerbic defense of her candidate beau. Yet when Trierweiler's old confrères on the press bus sketch profiles of her "coming out of the shadows," the phrase is heavy with meaning. Journalist-and-politician couples aren't exotic in France; see Mrs. Dominique Strauss-Kahn, Anne Sinclair, who launched Le Huffington Post last week. But in an unusual, clandestine way, Trierweiler was at the heart of France's last presidential election, too.
Then, candidate Ségolène Royal, with her people's touch and iconic white skirt suits, rode a wave of grassroots fervor to win the Socialist primary and became the first French woman to reach a presidential runoff. The party's chief was Hollande, Royal's partner of nearly 30 years and father of their four children. But rumors flew that the ultimate power couple had secretly split—even that (bonjour, sexism!) Royal's candidacy was her vengeance. Behind the scenes, Sarkozy's center-right UMP party exploited the tattle that Hollande was living with a mistress to discredit Royal. The name floated: Valérie Trierweiler. "It's a well-known fact," one UMP operative told Newsweek in October 2006, weeks before Royal won the nomination. "But you didn't hear it from me."
After her defeat to Sarkozy—partly blamed on anemic support from Socialist brass—Royal revealed she had thrown Hollande out, free to pursue his rumored romance. Hollande made the relationship official only in 2010, when, slimmed down and mounting his own bid, he called Trierweiler "the woman of my life" to a tabloid.
Flash forward to 2012. With 100 days to go, Hollande is crushing Sarkozy in head-to-head polling, and Trierweiler is out of the shadows. At his kickoff rally last week, the fact that she was placed next to Mazarine Pingeot, the late president François Mitterrand's long-secret daughter, was curious, if surely inadvertent. But it was deemed gauche that Hollande left Royal's 2007 candidacy out of his 80-minute speech, and Hollande was compelled to atone. A sign that the task is, alas, delicate.
Indeed, this time the watchword is "normal." Sarkozy suffered politically from his so-called bling period, as the playboy in Ray-Bans courting a supermodel. And so Hollande pledges to be a "normal president"—shorthand, in part, for "bling-free." Trierweiler, for her part, claims to cope with campaign stresses by doing laundry. But it all seems a French-cinema sort of normal, n'est-ce pas?