Patrick Taylor was a kid playing tennis with his brother in Santa Barbara, California, when one of them hit the ball out of the court. It rolled into a muddy ravine, in a shaded stretch of the mesa. After retrieving it, he recalls, his shoes were caked in muck, and the ball was covered in it. "There was a sweetness to that smell, of nutrients being recycled into the earth," he remembers. "A rich, damp smell I found really intriguing."
Thirty years later, Taylor was browsing the Herb Shoppe in Portland, Oregon, an hour's drive from where he makes wine at Cana's Feast, a winery just outside the city. He picked up a jar of kola nut and took a big whiff. The dank, earthy smell reminded him of something. He grabbed another jar, of turmeric, and "it just solidified"—that Santa Barbara tennis ball memory. "I'm going to make that," he decided.
But Taylor didn't plan to turn that sensory memory into a wine—at least not a traditional pinot noir or merlot. Being a winemaker is a profession Taylor finds rewarding but limiting, in a way, because "with wine, you're making the flavors nature gives you," he says, "but at the end of the day, it's always fruit."
In 2009, Taylor was at a trade tasting, sampling a collection of Piedmont wines—nebbiolo, barbera, arneis and finally a Barolo Chinato, a spicy Italian red vermouth. He decided to try making the Chinato. "It was the most amazing thing. I fell down a rabbit hole," he says. "It was probably the most cathartic turning point in my career."
Vermouth, that stepchild of cocktail ingredients, has been relegated to the backs of bar shelves and the tops of refrigerators ever since it became less available during World War II. Neglected by anti-European baby boomers and classic-cocktail-spurning hippies, it's too often mass-produced from cheap white wine stock, mistaken for hard alcohol (because it's fortified with brandy) and abandoned on a shelf to rot (because it's still wine).
In taking on vermouth, Taylor joined a new class of do-it-yourselfers who've recently rediscovered all manner of craft spirits, from herb-infused gin to pot-distilled vodka. Vermouth, in particular, is in the midst of a remarkable renaissance, at home and abroad. I met Taylor at Coopers Hall, a winery, restaurant and taproom in southeast Portland that devotes half of its cocktail menu to 18 fortified aromatized wines and vermouths. (Vermouth is a fortified aromatized wine too. It starts as wine, and then it is sweetened with sugar or honey and fortified with brandy, then macerated—aromatized—with whatever wacky blend of herbs and spices the mad scientist creating it chooses, before being aged for one to six months. That fortification makes vermouth slightly shelf-stable, although it should still be refrigerated after opening.)
That menu includes Punt e Mes, a "sweet vermouth with additional bitter botanicals for complexity" and an "off-dry, herbaceous" Spanish vermouth called Perucchi. The most expensive 3-ounce pours on that menu are Taylor's inventions: Hammer and Tongs's L'Afrique—described as having earthy depth, kola nut and syrah—and Sac'resine, which is said to have notes of tree resin, pinot blanc and myrrh. For $13, patrons can nurse a 3-ounce pour of a Taylor creation, served on the rocks, with a side of soda.
Both of Hammer and Tongs's herb-infused offerings—the dry Sac'resine and the sweet L'Afrique—retail for $35 a bottle. Taylor started selling vermouths in 2013 in Oregon, Chicago and Washington, where buyers snapped up all 200 of the cases he produced. The next year, he doubled his production. This year, he'll sell more than 600 cases of vermouth. "The first few times I went to consumer events, I'd have to twist people's arms just to get them to try it," Taylor says. "Now I have more calls from distributors than I have production capacity."
It's a story being repeated from coast to coast, and continent to continent. Spain's Catalonia region has for decades produced high-end vermouth in the town of Reus, near Barcelona, but only in the past 10 years or so has a new collection of vermuterias begun popping up around the city, says Eric Seed, owner of the Minnesota-based wine importer and distributor Haus Alpenz. Sandwich boards outside cafés and restaurants in Spain now routinely advertise platas with a side of sweet red vermouth over a tumbler of ice, served with olives. In France and Italy, vermouth was never really forgotten, but it's become increasingly popular in recent years, in part because those countries have stepped up both enforcement of drunk driving and taxes on alcohol. Vermouth has a lower alcohol content and is, as a result, less expensive.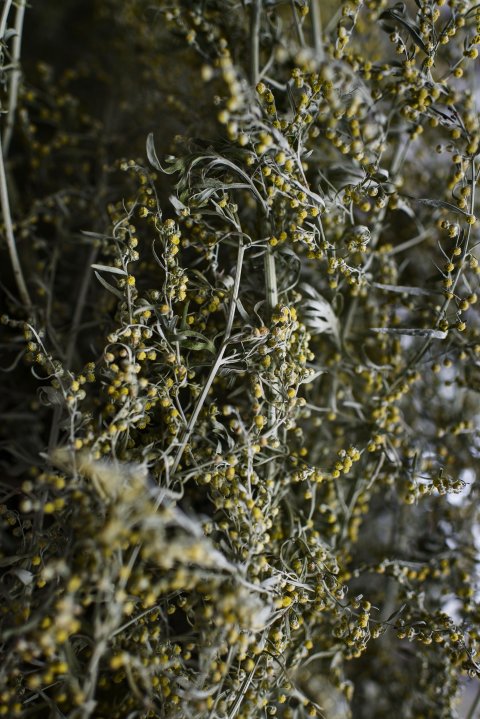 In the U.S., surprising innovations have helped people rediscover the spirit. A half hour to the south of Portland, winemaker Tad Seestedt found himself in a creative rut when his friend, a cocktail historian, suggested someone make an Old Tom gin, a recipe for the spirit from 18th-century England that had all but disappeared. Once Seestedt set up the apparatus to make wine and distill spirits, his bartender friends urged him to make vermouth, a natural evolution because it is essentially a wine and a spirit. After beginning with a 200-gallon batch, Seestedt turned out three 500-gallon batches in 2015 and sold them all. His Ransom Spirits in Sheridan, Oregon, now makes a dry and a sweet vermouth.
"It's kind of like being a dark lord of winemaking," says Julia Cattrall, the company's assistant winemaker. "With vermouth, you can use all these flowers, change the balance of sweetness and create this great palate exercise. I love making vermouth."
The Italians made the first vermouth, way back in the 18th century, infusing the wine with wormwood (vermouth comes from wermut, the German word for the herb). This ingredient is still required in Europe but not in the U.S.
By the late 19th century, vermouth was a staple cocktail ingredient, found in the Sazerac, the Manhattan, the Negroni and the martini, but somewhere along the way it fell out of favor. World War II played a role, because the war halted European imports. And in Europe, vermouth became the butt of jokes. Winston Churchill liked to say he preferred for a bartender to "wave the bottle of vermouth" over his martini (and pour none of it in his glass). The 1960s didn't treat the wine any better, as the era embraced weed and psychedelics more than classic cocktails. Gen Xers didn't come flocking back to vermouth either, and those who mass-produced it began using increasingly cheap wine to make their underappreciated mixer. (Ever tried to sip Martini and Rossi straight?)
Then came a revival. The Great Recession helped (we buy more booze in hard times), as did Americans' love affair with all things craft: beer, wine and spirits among them. "Vermouth became an ingredient of interest again in cocktails, but there really weren't a lot of choices out there, and the choices that were out there weren't super awesome," Taylor says. "At the same time, there was a huge groundswell in the DIY movement."
Even if you blame millennials for the downfall of American civilization, you can thank them for this comeback. "The most resistant demographic is boomers," Taylor says, "and we get sideways glances from Gen Xers. But millennials are like, 'Dude, yeah, sure. I'll try a vermouth.'"
Growth in the vermouth business has been on a slow incline, says Neil Kopplin, who started making his brand, Imbue, after 22 years in the restaurant industry (12 as a bartender). At a birthday dinner with friends in 2010, the group was "nerding out about cocktails," he says, and they started "fantasizing about what an Oregon vermouth would look like." The next morning, a few of them decided to make it happen. Marketing Imbue has been a long process, Kopplin says, because good vermouth is time-consuming and therefore somewhat expensive to make, and consumers are accustomed to paying $8 a bottle for the mass-produced stuff. "We're still embryonic," he says.
Still, during the past three years, at least nine new concoctions have come from Oregon. Imbue was the first vermouth-maker in the Pacific Northwest and uses Willamette Valley pinot gris grapes, macerating its brandy in American oak to infuse "wonderfully subtle hints of vanilla and clove."
Taylor hopes vermouth can lead to a new understanding of the aperitif (vermouth is an aperitif wine) whose bitterness is designed to make us salivate, stimulating the production of gastric juices and promoting appetite. Happy hour in America has devolved into the hawking of cheap, stiff drinks and discounted burgers, when what it should be is a refined occasion of aperitifs and small, salty snacks that warm us up for dinner.
The proper path to happy hour bliss, contend Taylor and others, is to start with something light and bitter, not a stiff whiskey soda and a $5 cheeseburger. Champagne, cava or vermouth would do the trick, paired with a salty snack, he says. So ditch the Martini and Rossi that's been sitting in your liquor cabinet for two years and replace it with something—anything—interesting. Once you open a vermouth, store it in the refrigerator and don't open a new bottle until you finish the old one. Before tossing it into a Manhattan or martini, try your fancy vermouth neat, on the rocks, with a splash of soda and a twist of orange, lemon or fresh cilantro. Experience the stuff in its virgin form first before burying it. And please, Taylor implores, for the love of God, "stop ordering your martinis bone dry." You're missing out on the most interesting part.