Raging California Wildfires Kill One Woman, Force Thousands to Flee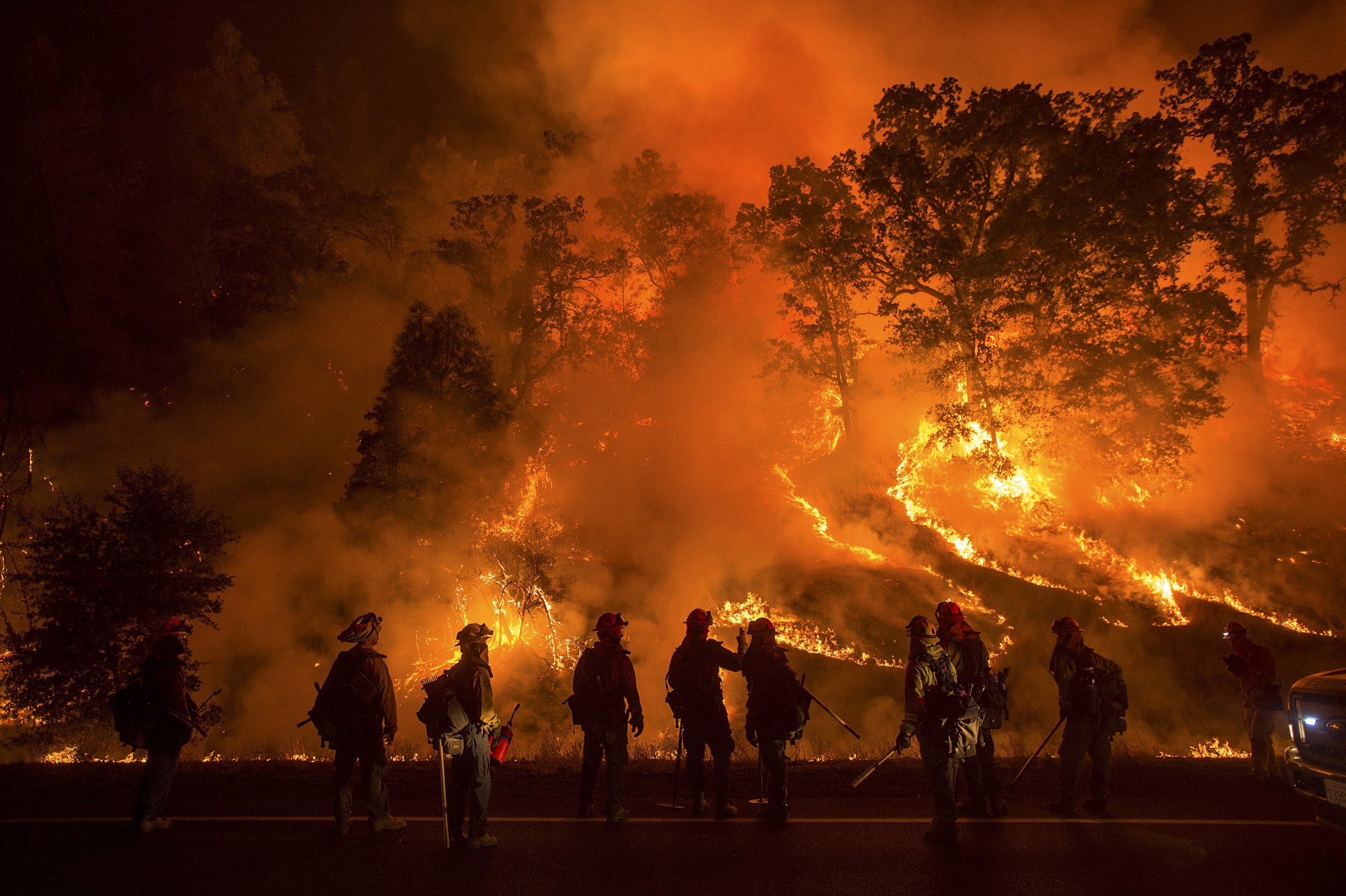 A Northern California wildfire ranked as the most destructive to hit the drought-stricken U.S. West this year has killed one woman and burned some 400 homes to the ground, fire officials said on Monday, and they expect the property toll to climb.
The so-called Valley Fire erupted on Saturday and spread quickly to a cluster of small communities in the hills and valleys north of Napa County's wine-producing region, forcing the evacuation of thousands of residents.
An elderly, disabled woman who was unable to flee her home as flames bore down on Saturday evening died as it burned to the ground.
"The resident was apparently unable to self-evacuate and responders were unable to make it to her home before the fire engulfed the structure," said Lake County Sheriff's spokesman Lieutenant Steve Brooks.
Evacuated residents recounted chaotic ordeals of having to flee their homes through gauntlets of flame.
"That whole place was ablaze. It was like Armageddon," said Steve Johnson, a 37-year-old construction worker from Southern California who was visiting his mother in the fire-ravaged community of Hidden Valley Lake. "We were literally driving through the flames."
Johnson and his mother safely escaped and spent Sunday night at a high school gymnasium converted into an evacuation center.
By Monday afternoon, the blaze had devoured about 61,000 acres (24,690 hectares) of tinder-dry forests, brush and grasslands, and was only about 5 percent contained, according to the California Department of Forestry and Fire Protection (Cal Fire).
About 40,000 acres (16,190 hectares) of the landscape were consumed in the first 12 hours of the fire at the peak of its intensity on Saturday and early Sunday, stoked by high winds.
Fire officials described the rapid initial rate of spread as nearly unprecedented, a consequence of vegetation desiccated by four years of drought and weeks of extreme summer heat.
Four firefighters were hospitalized with second-degree burns in the early hours of the blaze on Saturday.
Cal Fire field battalion chief Mike Smith said the blaze was still progressing, though its intensity was diminished by a weather phenomenon known as an inversion layer that had settled over the area.
THICK SMOKE HAMPERS CREWS
Still, efforts to combat the blaze remained hampered by thick smoke which has grounded water-dropping helicopters and airplane tankers, he said. More than 1,400 firefighters have been assigned to the blaze.
The communities of Cobb, Middletown, Hidden Valley Lake and the Harbin Hot Springs resort - located about 50 miles (80 km) west of Sacramento, the state capital - were reported to be hardest hit by the fire. Many residents were chased from their homes with little or no warning.
Reuters video footage from Middletown, a village of about 1,500 residents, showed a smoking, devastated scene of burned-out vehicles, twisted, blackened debris and charred foundations of buildings that had been reduced to ash. Roughly half of the town was leveled.
The carcass of a horse was seen lying on the shoulder of the road between Cobb and Middletown, a stretch of highway where miles of houses were laid to waste on both sides.
Cal Fire on Monday reported that some 1,000 structures had been lost, at least 400 of them homes. The bulk of the destruction is believed to have occurred on Saturday.
That tally ranks as the greatest loss of property from a single blaze this season in California, or among the scores of wildfires that have ravaged the drought-stricken western United States so far this summer, according to the National Interagency Fire Center in Boise.
The property toll is expected to rise as damage-assessment teams reach areas of the fire zone yet to have been surveyed, but no additional communities were under immediate threat on Monday, Smith said.
A separate blaze raging since Wednesday in the western Sierras has destroyed 135 homes and 79 outbuildings and was threatening about 6,400 structures, with thousands of residents under evacuation orders there, too, Cal Fire reported on Monday.