The Vampire's Wife Confessional Dress Featured in Martin Shkreli Story Has People Obsessed
On Sunday, an Elle article about a journalist's love affair with Martin Shkreli, the "Pharma Bro," took the internet by storm. Christie Smythe, a former Bloomberg reporter, revealed how she upended her entire life for Shkreli. She resigned from her job and divorced her husband. "These are incremental decisions, where you're, like, slowly boiling yourself to death in the bathtub," she said, as she continued to involve herself in Shkreli's life.
Shkreli came under scrutiny for buying and increasing the price of the HIV drug Daraprim over 5,000 percent. He is now serving prison time after being convicted for securities fraud and "scamming investors in hedge funds he ran before entering the pharmaceuticals industry." He is currently not speaking to her, and wished her the best when asked for comment on the article.
However, Smythe told Elle that she would try to wait for the Pharma Bro.
Perhaps one of the most noteworthy parts of the piece wasn't the article itself, but the dress Smythe wore in the pictures accompanying it. The dress, named the Confessional Dress from the Vampire's Wife collection has captured the attention of many, and some see the garment's name and collection name as a subtle yet cheeky play on words.
"Okay, I know this isn't the point but the Vampire's Wife Dress from the Elle article is the CONFESSIONAL dress. Which. *Slow clap*" one user wrote.
"Ok, I could only get halfway through this before quitting with a fried brain. But, kudos to the stylist who put Smythe in Vampire's Wife designer dresses. Now that's sartorial satire at its best," another added.
"Shout out to the stylist at Elle who dressed Martin Shkreli's ghosted girlfriend in The Vampire's Wife for the accompanying photoshoot," a third chided. "We love a subtle fashion burn." Someone else called picking the dress "inspired" for the story.
It's safe to say everyone is obsessed and on the hunt for the dress.
For those curious, the Confessional Ruffled Floral Silk Maxi Dress is currently on sale on Moda Operandi. For $688, you too could be the stylish owner of the silk Confessional Dress.
The description for the dress reads: "Designer Susie Cave crafts hyper-feminine silhouettes with Gothic overtones for her label, The Vampire's Wife (named after husband Nick Cave's unfinished novel). Case in point, this 'Confessional' dress is tailored from luxe silk crepe de chine printed with a falling poppy print and trimmed with hand-cut ruffles around the puffed sleeves and hips."
Vampire's Wife recommends wearing the floor length dress with a pair of Mary Janes.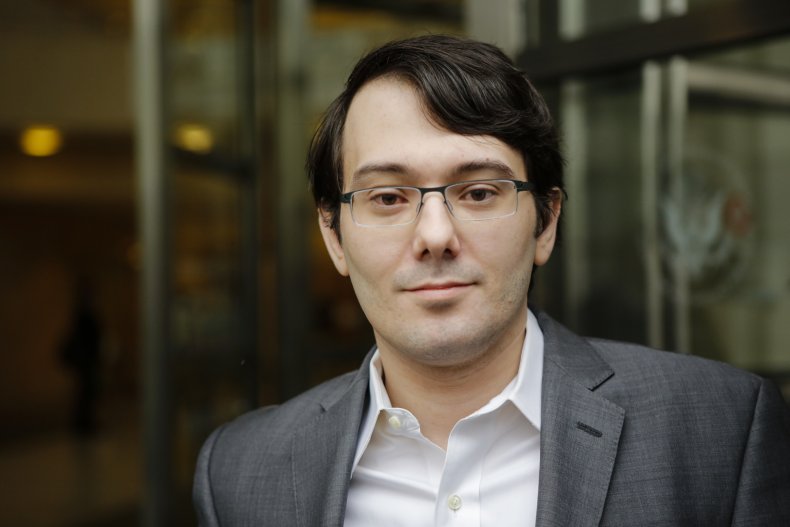 Newsweek contacted the Vampire's Wife brand and designer Susie Cave for comment about the dress' newfound fame but did not hear back at the time of publication.