Van Gogh Painting Once Sold for $5 in Farmhouse Auction Now Set to Fetch up to $16 Million
A Vincent Van Gogh painting once sold for just $5 by an auctioneer unaware of its true creator is expected to fetch up to $16 million when it is sold next month.
The painting, titled Paysanne devant une Chaumière, or Peasant Woman in Front of a Farmhouse, will be sold for between $13 and $16 million by its American owner through the London-based Dickinson fine art gallery at The European Fine Art Fair in Maastricht, Netherlands, reported The Art Newspaper.
The artwork by Van Gogh is dated to July 1885, around the time the Dutch artist composed a series of other cottage scenes. The landscape painting shows a woman in blue, presumably at work, hunched over in front of a brown cottage with thatched roofs. The cottage is set against a backdrop of blue skies and trees in the near and far distance.
According to Van Gogh expert Martin Bailey, writing in the Art Newspaper, Peasant Woman was not authenticated until the late 1960s after it ended up in a farmhouse in Staffordshire, England. It was owned by farm supplier John Holme, whose grandchildren said he accepted the painting in 1929 in lieu of payment for supplies from a customer.
The painting was first displayed in the nursery at Holme's house and later left to collect dust in an attic. It was only sold in 1967 when John Holme's son Charles Holme retired from the family business and an auction was held at Billington Farm. It was bought for just $5.
Later, in 1968, the painting was discovered in an antique shop in Hampstead, London, and purchased by BBC journalist Luigi Grosso for just $58, according to Dickinson gallery.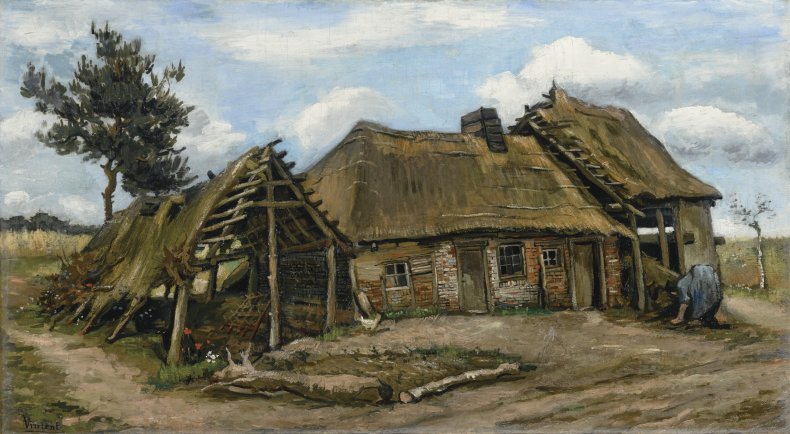 The piece was then authenticated by Alan Bowness, an art historian who later became director of the Tate Gallery. X-ray scans commissioned by Bowness showed an earlier composition under the painting which corresponded closely with a Van Gogh work already in existence.
Since its authentication, Peasant Woman has been sold numerous times for various values. In 1970, Sotheby's auction house sold it in New York to film producer Jordan Levine for $110,000, reports Bailey.
In 1983, Levine reportedly sold it for $390,000 via Sotheby's to the Cuban-American collector Roberto Polo. It's claimed Polo sold it for around $342,000 via Sotheby's in London to a Montreal collector in 1985. The current owner then bought it for $1.7 million in 2001 in a sale at Sotheby's New York.
Peasant Woman has remained with its current American owner since then and has only been shown in public once, in 2010, said the Dickinson gallery. This makes its display and sale at TEFAF next month all the more noteworthy for art hounds.
"We are delighted to once more bring a Van Gogh painting to TEFAF Maastricht," said Dickinson's managing director Emma Ward. "It is particularly fitting that one of the largest and most important Van Gogh landscapes from the Dutch period, rarely seen in public, and carrying a fascinating English provenance, will be exhibited in the Netherlands by an English gallery."