Van Gogh's Sunflowers Are Changing Color
New tests have revealed that one of Vincent van Gogh's most valuable paintings has been changing color because of a newly-found sensitivity in its paint.
The Van Gogh Museum in Amsterdam—home of the world's largest collection of Van Gogh works—carried out extensive x-ray study of some pieces, only to discover the Dutchman's famous Sunflowers was in the process of losing its color, the Belga news agency reported.
The scan, carried out by Dutch and Belgian experts, showed that Van Gogh used two different types of chrome yellow paint, including a lemon yellow color in the flowers' petals and stems, which was slowly turning brown because of light exposure.
Read More: Facebook is going to court for a classic painting of a woman's crotch in France
"We were able to see where Van Gogh used the more light-sensitive chrome yellow, the areas that the restorers should look out for over time for discolouration," Frederik Vanmeert, an expert at the University of Antwerp in neighboring Belgium told The Guardian, after taking part in the investigation. "We were also able to see that he used emerald green and a red lead paint in very small areas of the painting which will become more white, more light, over time."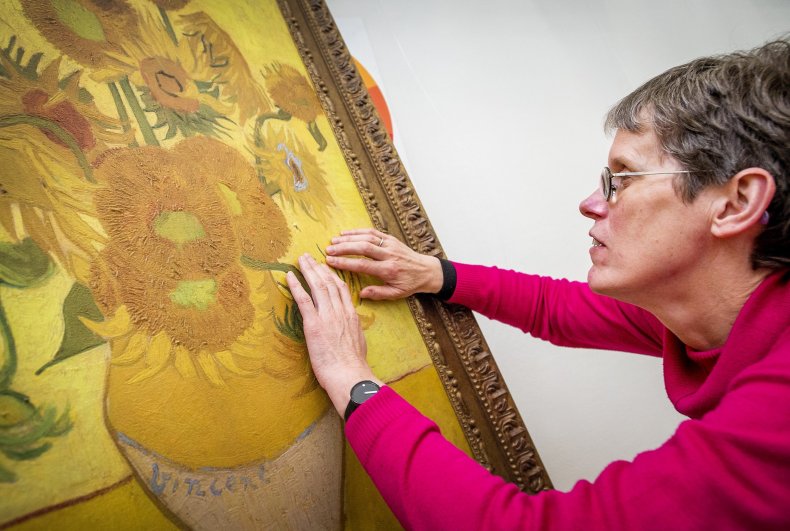 The discoloration in the work, which Van Gogh painted as part of a series in 1889, is not visible to the naked eye yet but it is still unclear when and if the yellows of the canvas will darken soon.
"It is very difficult to say how long it would take for the change to be obvious and it would depend a lot on the external factors," Vanmeert said.
The sunflower is one of Van Gogh's most famous subjects. He found his muse in the flowers during the summer of 1886, before deciding to dedicate a series of sunflower paintings as a gift to fellow artist Paul Gauguin, two years later. The Dutchman made four original Sunflower-themed pieces, three of which survive today, and three variations, according to the BBC.
The implications of the Amsterdam museum's discovery could have a wider significance, as Van Gogh could have used the same pigment in the other Sunflowers or even in paintings with other subjects.
"Discolouration of pigments is a topic of research that is of great interest to us since Van Gogh, as did his contemporaries, used several pigments that discolor over time," Marije Vellekoop, head of the collection and research at the museum said. "At the moment, we are processing all the research results of this iconic painting, after which we determine how we will pay further attention to discoloration in our museum. We know that the discolored pigment chrome yellow has been used a lot by Van Gogh, we assume that this has also been discolored in other paintings."
Related: $70 million Picasso work damaged and pulled from auction right before it exhibit
Of the surviving original Sunflowers, London's National Gallery has one and Munich's Neue Pinakothek exhibits the other, while a third has remained in private collections since 1948.
The discovery in one of the variations could lead to changes in how Van Gogh's work is stored and shown internationally. The Van Gogh Museum is perpetually exploring ways to preserve and restore the prolific painter's works, lowering the lighting around its 200 paintings and 400 drawings five years ago.