Van Jefferson's Wife Wouldn't Tell Him She Went Into Labor at Super Bowl
Hot off the success of winning Super Bowl LVI on Sunday, Los Angeles Rams receiver Van Jefferson has welcomed his second child, a son.
During the game, Jefferson's wife, Samaria Jefferson, went into labor and had to be escorted out of SoFi Stadium on a stretcher. However, she had made one request to the Rams before the Super Bowl: if she goes into labor during the game, do not tell her husband until afterward. The team kept their promise.
Minutes after defeating the Cincinnati Bengals in the biggest game of the NFL season, Jefferson reportedly rushed out of the stadium to the hospital where his wife had been transported. A video posted by NFL GameDay on Twitter showed him racing through the arena with his daughter and stopping to shake a staff member's hand.
Hours later, Jefferson welcomed his newborn son and posted a photo of the baby to his Instagram story. "It was a great day, bro," Jefferson said on an Instagram Live, according to ESPN. "I got three prizes today—my wife, my son and the Super Bowl."
Van and Samaria have been together since high school and have one daughter together, who was born in 2016. In an interview with The Athletic that was published on February 12, Samaria was both excited and nervous about being at the game while expecting.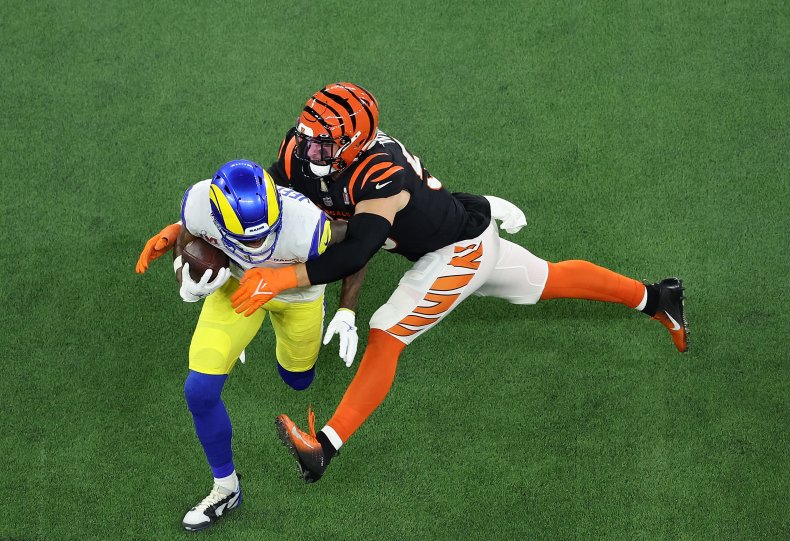 "Just like any other game, I'm going to be there this Sunday and I'm going to stay calm...and pray to God my water doesn't break," she said. I am 100 percent going to be there. I would not miss this moment for anything. I will be 40 weeks pregnant at the Super Bowl, supporting my husband 100 percent."
It was an eventful day, to say the least, for Jefferson, who had four receptions for 23 yards. The Rams' win was a close one at 23-20 against the Bengals in the historic game. Newsweek previously reported that it was the first Super Bowl in history to be held where both teams were seeded 4th place or lower, with the Rams beating the San Francisco 49ers and the Bengals beating the Kansas City Chiefs. The win was also historic for 36-year-old head coach Sean McVay, who is the youngest head coach to win a Super Bowl title.
With just one minute and 25 seconds left of the game, the Rams solidified their victory when Quarterback Matthew Stafford threw a 79-yard drive to Cooper Kupp, who ran an additional one yard to the game-winning touchdown.
Update 02/14/2022, 4:48 p.m. ET: This story has been updated to include more information about Van and Samaria Jefferson.
Update 02/14/2022, 3:25 p.m. ET: This story has been updated to include more information about the birth of Van Jefferson's son and Super Bowl LVI.