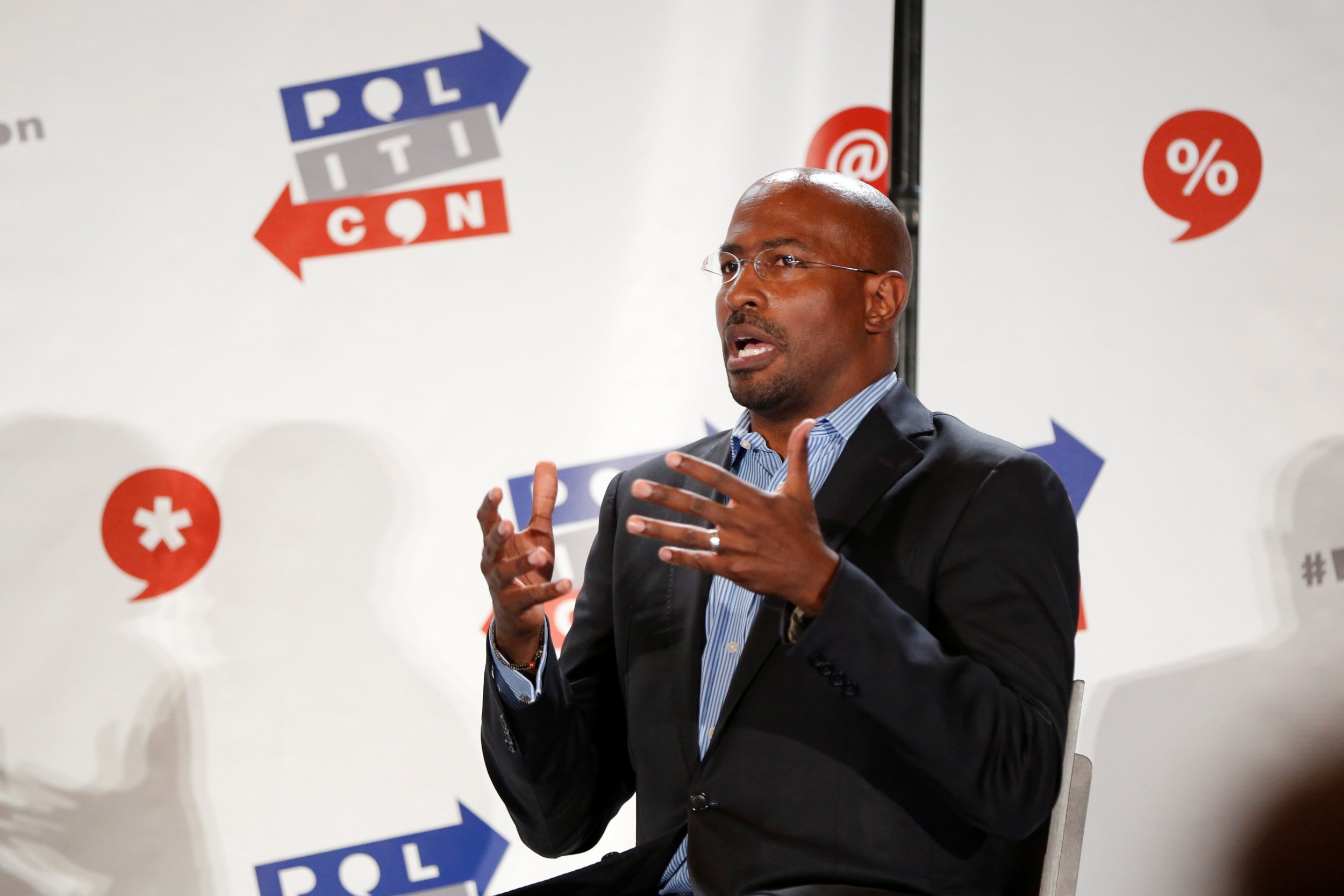 CNN political commentator and host Van Jones called the widely reported investigations and allegations of collusion between President Donald Trump and Russia a "nothing burger" in a secretly recorded video, according to The Hill.
It's the second time in two weeks Jones has spoken publicly about the Russia investigations in similar language. CNN has been under the hot lights lately after three journalists resigned for botching a story linking a Trump transition team member to the Russian government.
The newest video, filmed by conservative outlet Project Veritas, comes a day after another video of CNN employee, producer John Bonifield, called the Trump-Russia saga "bullsh*t" and that the cable news network was continuing to cover the story only because it was good for ratings.
During the latest clip, which Project Veritas' James O'Keefe blasts mainstream media organizations for running stories of Trump-Russia, Jones is approached by a person who says the two had previously met three years ago in Palm Beach.
The two shake hands and Jones is asked: "What do you think is going to happen this week with the whole Russia thing?"
Jones responds: "The Russia thing is just a big nothing burger."
Another person comes into the clip's frame and no other footage of Jones or his interaction with the unnamed person is shown in the almost four-minute video.
A CNN spokesman responded to Newsweek's request for comment by email saying: "LOL."
Van Jones has been open about his views of the investigation. "I am glad there is a Russia investigation and I hope they get to the bottom of it," Jones said on June 23 in a video he posted on Twitter. "I think Democrats are fooling ourselves if we think that something is going to come out of this investigation that is somehow going to end the Trump Presidency and make everything better. Unless there is a real smoking gun which there is probably not, it's just going to be a big old mess. Meanwhile, we are not talking about jobs, not talking about poverty, not talking about solutions, not talking about the addiction crisis. Let's talk about our stuff ."
The video is the second part of Project Veritas' "American Pravda," and O'Keefe is perhaps best known for his releasing of audio clips from CNN's newsroom recorded in 2009 back in February. The recordings, O'Keefe claims, showed CNN had a more left-leaning political bias.
CNN issued a statement regarding Bonifeld and defended his positions.
"CNN stands by our medical producer John Bonifield," CNN said. "Diversity of personal opinion is what makes CNN strong, we welcome it and embrace it."
Among other assertions, Bonifeld claimed CNN CEO Jeff Zucker praised the channel's coverage of Trump's pull out of the Paris climate accord last month, but then instructed the network to shift focus back to coverage of the Trump-Russia story.
O'Keefe and his site received a significant boost publicly Tuesday after White House Deputy Press Secretary Sarah Huckabee Sanders seemingly alluded to the tape but at the same time questioned its veracity.
"There's a video out there circulating right now, whether it's accurate or not, I don't know, but I would encourage everybody in this room, and frankly, everybody across the country to take a look at it," Sanders said during an on-camera press briefing Tuesday.
"If it is accurate, I think it's a disgrace to all of media, to all of journalism. I think we have gone to a place where if the media can't be trusted to report the news, then that's a dangerous place for America, and if that's the place where certain outlets are going, particularly for the purpose of spiking ratings, and if that's coming from the top, that's even more scary, and that's even more disgraceful."