Van Morrison Sued by Health Minister After Criticizing Northern Ireland's COVID Response
Singer Van Morrison is being sued for defamation by Northern Ireland's health minister after he called the official "very dangerous" and a "fraud" over his handling of COVID-19 restrictions.
Health minister Robin Swann alleges that Morrison's criticisms harmed his reputation by implying he was unfit for his position and that he misguided the public during the pandemic, according to Northern Ireland's Sunday Life newspaper.
Morrison, 76, has long been a fervent critic of coronavirus lockdowns and has even penned a series of protest songs claiming that the restrictions are "taking our freedom" or working to "enslave" the public. Swann's lawsuit centers around three instances in which Morrison is accused of publicly defaming him for implementing such health measures.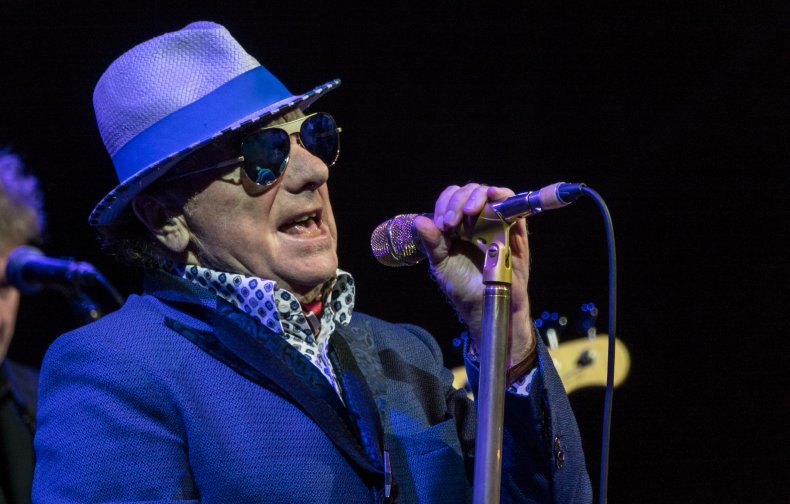 The first incident occurred during a show at Belfast's Europa Hotel in June when Morrison encouraged his fans to chant "Robin Swann is very dangerous." The event took place after several of Morrison's performances were canceled due to lockdowns, and later resulted in political outcry across Northern Ireland, according to Sunday Life.
Days later at the Europa Hotel, Morrison was asked if he regretted making the comments. "No, no I don't regret it," the singer said. "Of course he's dangerous."
"He's a fraud, I believe he's a fraud. Why should I regret it? He called me dangerous and I'm calling him dangerous," Morrison said, in reference to an op-ed Swann wrote criticizing the singer in Rolling Stone last September.
"His words will give great comfort to the conspiracy theorists — the tin foil hat brigade who crusade against masks and vaccines," the health minister said at the time.
The third alleged incident of defamation related to content on Morrison's YouTube channel. Shortly after his Belfast show, Morrison posted a video to clarify why he thought Swann was "dangerous."
In the video, Morrison incorrectly referred to the health minister as "Robert Swann" and said Swann "decided he wanted to get mixed up in my business." The 76-year-old claimed that most of his protests against lockdowns were directed against the U.K. government, and not the health minister specifically.
Morrison also said that he contacted Swann a year earlier to request "scientific evidence" to explain why live music was banned during the pandemic. The singer added that he would not "lie down and accept" being unable to do his job, according to Sunday Life.
Swann's defamation lawsuit against the singer is currently "at an advanced stage with an anticipated hearing date early in 2022," his lawyer said, according to the Associated Press. Morrison's lawyer, Joe Rice, told the news outlet that the singer would contest the claim by arguing "that the words used by him related to a matter of public interest and constituted fair comment."
Morrison, a six-time Grammy award winner, is known for classic rock hits "Brown Eyed Girl," and "Into the Mystic."
Newsweek attempted to contact a representative for Morrison through his website.