Van Slams Into Newspaper's Headquarters, Driver Then Lights It on Fire
A van slammed into the headquarters of one of the largest daily newspapers in the Netherlands early Tuesday morning before it was set on fire.
The van hit the front entrance of the building that houses De Telegraaf around 4 a.m. No one was injured, according to Dutch News.
Police are considering the incident a deliberate attack and are searching for the man who drove the van. He fled the scene in a separate car with another driver, according to Reuters.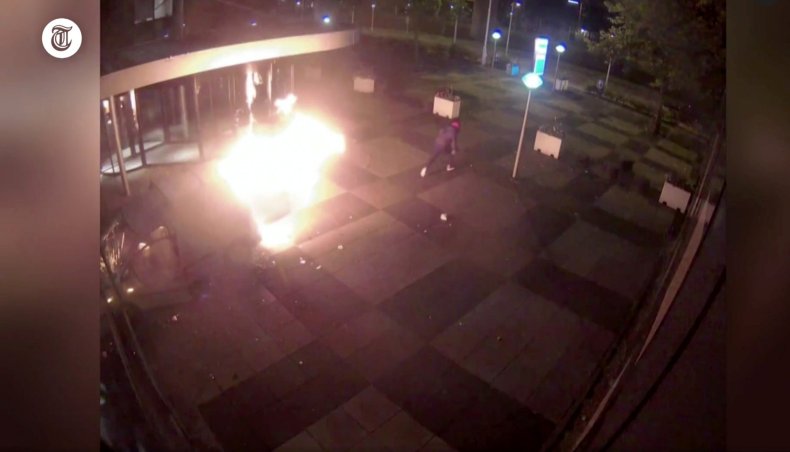 Surveillance footage released by the paper showed the van slamming into the building twice before the driver lit the vehicle on fire. The tall flames damaged the building's exterior.
"The flames came up to 14 meters (45 feet) high out of the van, badly damaging the building. A window in the facade was destroyed by the vehicle, the rest were blown out by the heat of the fire," said a police spokesperson, according to NLTimes.
The paper's editor-in-chief discussed the incident in a local radio interview Tuesday.
"Unfortunately, journalism has been a target for attacks more than once," said Paul Jansen. "This is a cause of great concern, but we will not be intimidated."
He also called the attack "deliberate," according to German public broadcaster Deutsche Welle. Police have not yet determined a motive.
The country's prime minister, Mark Rutte, took to Twitter Tuesday to call the attack "a slap in the face for the free press and Dutch democracy."
Last week a 41-year-old man attacked a nearby building that housed several news outlets in the early morning with an anti-tank rocket launcher. The man was apprehended and no one was injured in the incident. It was unclear if the two incidents were related.
De Telegraaf and Panorama, a weekly housed in the building hit by a rocket, both regularly report on organized crime, according to the Associated Press. Authorities have offered increased security to the news outlets.
The Organization for Security and Co-operation in Europe condemned what they called an "attack" Tuesday.
"I strongly condemn this deliberate attack against the largest daily newspaper in the Netherlands," Harlem Désir, the group's media freedom representative, said in a statement. "I express my full solidarity with the newspaper. This is a heinous crime which strikes at the core of press freedom and democracy in the country."