Vancouver Professor Sits in Tree 82 Feet From the Ground to Protest Pipeline Expansion
Vancouver physician and university professor Tim Takaro is staging a treetop sit-in to protest the expansion of Canada's Trans Mountain Pipeline, which carries oil from the country's Alberta province to the coast in British Columbia. The government-backed expansion project calls for trees along New Westminster's Burnett River, where Takaro is stationed 82 feet from the ground, to be cut down before mid-September.
Takaro is a health sciences professor at British Columbia's Simon Fraser University. He specializes in planetary health and the health impacts of climate change. In a video recently recorded amid his demonstration, Takaro emphasized the environmental consequences of expanding the existing pipeline.
"We are in a climate emergency. This emergency is even more dire, in fact, than the COVID-19 pandemic that we have been so responsive to," Takaro said in the video, published by The Seattle Times on Saturday. He has documented the demonstration, now in its sixth day, in several additional videos shared on social media.
"COVID-19 has changed everything. And it must also change the way we use energy in the future," Takaro continued. "We need renewable energy and an energy supply that is not planet-destroying, as our current fossil energy supply is. The Trans Mountain Pipeline, pushed now by the Trudeau government because it was abandoned by Texas oil companies, must not be built. This is a climate imperative."
The Trans Mountain Pipeline transports crude and refined oil from a reserve in central Alberta to Burnaby, a city located along the west coast of British Columbia. It became functional almost 70 years ago, and was described as "the world's most destructive oil operation" by National Geographic last year. Trans Mountain reported more than 80 oil spills to the Canada Energy Regulator between 1961 and 2019.
"We understand there are a variety of views regarding the Trans Mountain Expansion Project and respect the right to peaceful, lawful expressions of opinion," a Trans Mountain spokesperson said in comments to The Seattle Times on Friday, responding to Takaro's sit-in as well as ongoing push back from community members.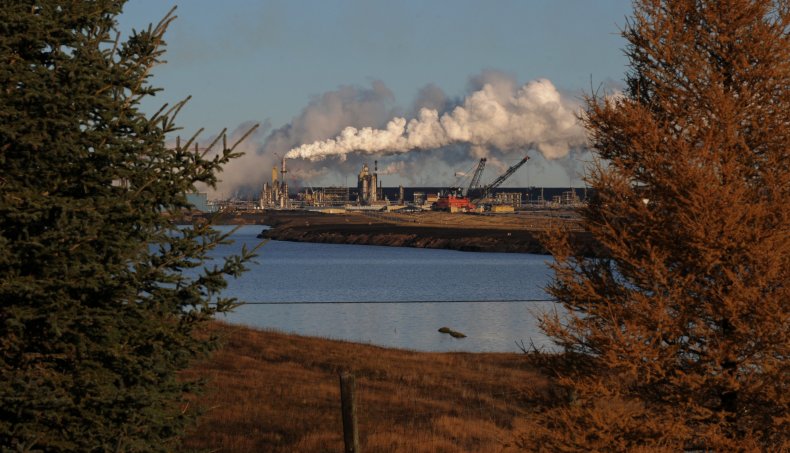 Previously owned by Houston-based energy company Kinder Morgan, the Canadian government purchased the pipeline in 2018. Prime Minister Justin Trudeau and his cabinet formally approved its expansion, which will increase the pipeline's current capacity to carry oil, roughly six months later.
Trudeau claims an expanded pipeline will benefit the Canadian economy and environment. When he announced the project's authorization in June 2019, the prime minister said revenues from the pipeline expansion's construction, and ultimate sale, would help fund alternative energy initiatives in Canada.
"We are a government that cares deeply about the environment, and we care just as deeply about the economic success of Canadians," Trudeau said during the announcement, according to The New York Times. "It is in Canada's national interest to protect our environment and invest in tomorrow...while making sure people can feed their families today."
Newsweek reached out to Takaro, Trans Mountain and Trudeau's office for additional comments, but did not receive replies in time for publication.