Vancouver Records More Than 130 Deaths in Three Day Span Tied To West Coast Heat Wave
The Vancouver area on Canada's west coast has recorded more than 130 heatwave-related deaths in a three-day span.
At least 134 people have died suddenly since Friday, according to figures released by the city police department and the Royal Canadian Mounted Police (RCMP).
The Vancouver Police Departments said the agency alone had responded to 65 deaths since Friday, with the vast majority "related to the heat." On Monday, the RCMP responded to another 25 sudden-death calls during the 24-hour period.
More than 230 deaths have been reported in the province since Friday. The British Columbia Coroners service normally receives roughly 130 deaths—the same number recorded in the province's capital alone—over a four-day span and officials expect numbers to increase as data continues to be updated.
"Since the onset of the heat wave late last week, the BC Coroners Service has experienced a significant increase in deaths reported where it is suspected that extreme heat has been contributory," Chief Coroner Lisa Lapointe said in a Tuesday statement.
The "unprecedented" number of deaths come as British Columbia reached all-time high temperature records for the third day in a row on Tuesday, reaching just over 121 degrees Fahrenheit (49.5 degrees Celsius) in Lytton, which is located just 155 miles east of Vancouver, according to Environment Canada. It is the highest temperature ever recorded in the country.
Canada's weather service has issued alerts in four provinces and two territories that "prolonged dangerous and historic heatwave will persist through this week." The alert has been issued for British Columbia, Alberta and parts of Saskatchewan, Manitoba, Yukon and the Northwest Territories.
Vancouver's schools and COVID-19 vaccination centers were also been forced to close on Monday as scorching temperatures continued.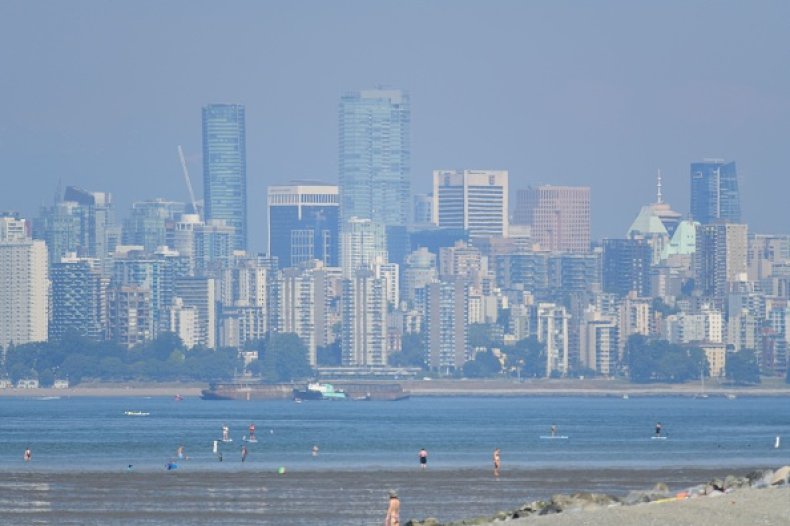 "We are in the midst of the hottest week British Columbians have ever experienced, and there are consequences to that, disastrous consequences for families and for communities," British Columbia Premier John Horgan said at a press conference.
"We are seeing this weather can be deadly for vulnerable members of our community, especially the elderly and those with underlying health issues. It is imperative we check on one another during this extreme heat," RCMP Corporal Mike Kalanaj added.
Many of the deceased have been senior citizens and officials are urging people to check in on one another as the extreme weather continues. Authorities said people have arrived at the homes of their loved ones and are "finding them deceased."
The heat wave has also hit cities in the U.S. Pacific Northwest in areas like Portland and Seattle, which saw temperatures in the 100s on Monday, the National Weather Service reported.
Cities across the western United States and Canada have opened emergency cooling centers to help residents survive the heat.
Stores in the Vancouver area have quickly sold out of portable air conditioners and fans as many homes in British Columbia do not typically have air conditioning. City officials have set up temporary water fountains and misting stations in public spaces at this time.
Newsweek reached out to the Vancouver Police Department for further comment but did not hear back before publication.