Sexist, Pro-Trump Vandalism Condemned By Montana GOP, Democratic Candidates in Bipartisan Statement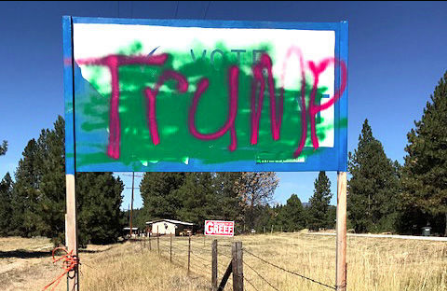 Both a Republican and a Democrat running for Montana's House District 88 seat said they were "horrified" by vandalism targeting women and touting President Donald Trump.
Republican Sharon Greef issued a statement alongside Democrat Margaret Gorski denouncing vandalism of a "Vote Democrat" roadside sign that replaced the message with pro-Trump, misogynistic phrases that "assault the limits of human decency." The two state House candidates, who are both women, collaborated on a statement and set aside politics ahead of the November election in Ravalli County, Montana. The sheriff's office told The Ravalli Republic they are investigating the vandalism likely done over the weekend.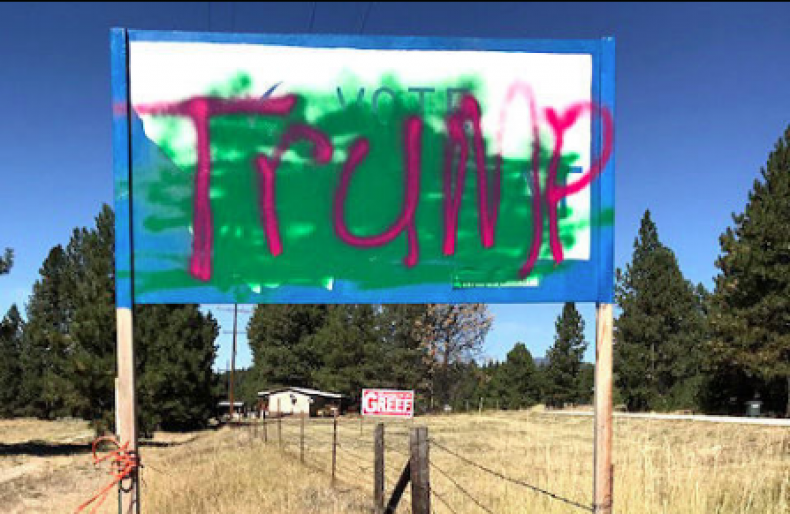 "We're both good Christian people who have values and support civil discourse," Gorski told The Ravalli Republic. "Neither one of us condone this kind of activity."
The "Vote Democrat" sign east of Florence was set up by a former state representative and was spray painted over with the word "TRUMP" in green and pink. The other side of the sign was defaced with words Greef described as "horrible and directed at women."
"It is with sadness that we write this letter," the joint statement from the bipartisan House candidates said. "When you put your name on a ballot, you know you are subjecting yourself to things that you might otherwise not encounter. And up to this point, those things have been positive and educational. But now an event has happened that assaults the limits of human decency. A campaign sign, not for an individual candidate but for a party, has been vandalized and covered in vulgar graffiti. I would hate to think that here in Ravalli County, feelings run so deep that actions like this can occur."
"I think it's appalling and also a little bit scary," Greef added to Ravalli Republic, noting it was right next to one of her personal campaign signs. "I think there is some division in politics today and this was so offensive to both of us that we felt it was important that we stand together and show our displeasure."
Both candidates demanded civility during the election process, a conversation being echoed throughout the country. The two said "we may have differences, but we are all Americans."
"Regardless of whether the offender was an adult or juvenile, there is no place in our culture today for offensive behavior of this nature," their statement continued. "This is not a reflection of the values of our county. We stand together in condemning this kind of behavior