Vandals Apparently Hotwire Backhoe and Destroy Brand-New House a Month Before Owners Move In
In what seems to be a senseless act of vandalism, several individuals apparently broke into a New Zealand construction site on Thursday night, hotwired a 20-ton backhoe, and proceeded to demolish a newly built townhouse mere weeks before the owners were due to move in, according to The New Zealand Herald.

This morning, construction workers arrived at the site, which is located in the Auckland suburb of Flat Bush, to find that much of their hard work had been for naught. The owner, Baljit Dheil, estimates that the repairs on the townhouse alone, which had a price tag of $675,000, will cost between $200,000 and $300,000.
"We feel shocked and really don't know why someone would do that," she told the Herald. The officers who are investigating the crime are baffled, too, she added. "Even police were saying this morning they've never had a case like this where someone came in and demolished a whole brand-new house," she said.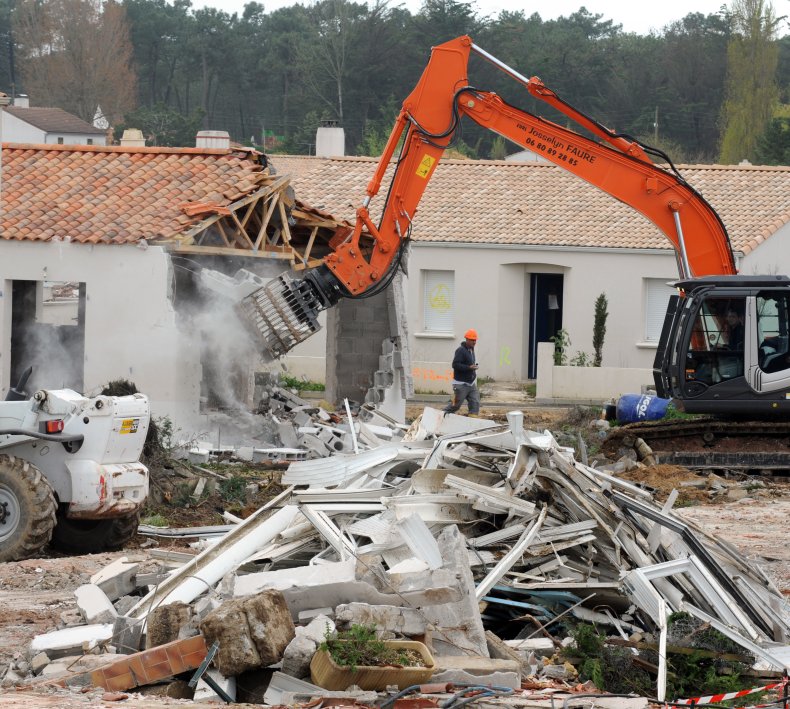 Nor was that residence the only structure that was damaged in the attack. Concrete foundations that had been laid for an 80-unit apartment complex were, as well. The seven townhouses that neighbor the demolished property could potentially have sustained damage, though they appear to be intact so far, Dheil said.
Her company, DDL Homes, is in the process of installing security cameras and filing an insurance claim. The repairs will cost not only a huge amount of money but also a great deal of time. Obtaining new materials, including a pre-nailed frame, and hiring new workers to assemble them will take two to three months, to say nothing of rebuilding the actual house.
On the bright side, the buyer has taken the news in stride. He or she is of the view that "what has happened has happened," Dheil said.
While she says that she is in the dark with regard to the perpetrators' identities, the police were apparently able to reconstruct their movements. By consulting GPS data, they found that the perpetrators had started up a small backhoe at 1 a.m. on Friday and repeatedly driven it over the foundations.
"They didn't have any key...they just wired it," she said.
The resulting damage was so severe that the foundations would need to be pulled up and relaid, Dheil said. Two and a half hours later, the perpetrators had started up the large, 20-ton backhoe and repeatedly smashed the bucket into the roof and walls of the townhouse.
The workers had been so close to completing construction on the property that they had already installed the kitchen and bathroom furnishings, according to Dheil. They were only waiting for carpeting and flooring to arrive.