Vanderbilt No Longer Just 'Little Brother' in Tennessee Rivalry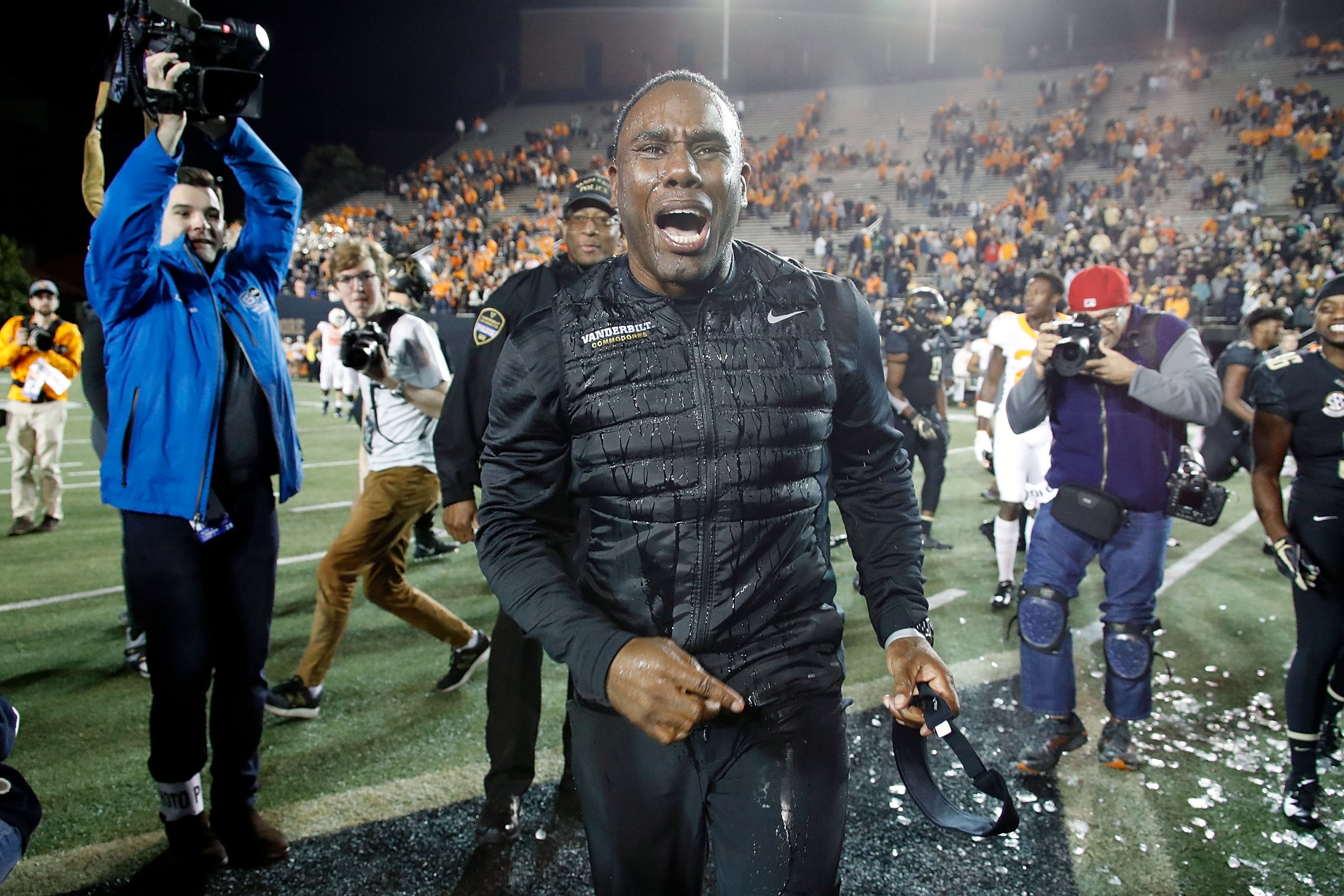 NASHVILLE -- For years, Vanderbilt was on the losing end of its in-state rivalry with Tennessee, but that isn't the case anymore.
The Commodores defeated the Volunteers for the third consecutive year during Saturday night's 38-13 rout in Nashville. The win secured bowl eligibility for Vanderbilt, while spoiling it for the Vols.
Head coach Derek Mason extended his career record against Tennessee to 3-2, with Vandy now having won five of its last seven games against "the team from the East."
After the game, Mason reiterated that Nashville was "our city," which he's preached throughout his tenure at Vanderbilt since being hired in 2014 as a rallying cry to grow the team's fanbase in its hometown.
"Nashville is our city," Mason said. "I said that time and time again and I've about been laughed at. People didn't necessarily get on board, but now I think people have gotten on board. I think they understand. This isn't just about Commodore Nation. We live in one of the best cities in the country. And with that being said, we represent this city. We're vibrant, we're intelligent, we stand up and stand out in this city. I truly believe that when it's all said and done, this city has given a lot to Vanderbilt University.

"Vanderbilt University's just now starting to give a lot back. And I definitely appreciate everybody who is come out to support us tonight. It was a great crowd. I loved seeing black and gold out there. And I've been out there many times where I saw more orange than I did black and gold, but not tonight. So it's just fantastic. Nashville's our city. Vanderbilt University's who we represent, so anchor down.
Historically, Tennessee has not only dominated the rivalry, but also fan support in the Middle Tennessee area. Typically, a UT game at Vanderbilt Stadium will have fans wearing mostly orange and white and fan support for the Vols is undoubtedly stronger than any other team in the Volunteer State, including the Tennessee Titans, Nashville Predators, Memphis Grizzlies and, of course, Vanderbilt athletics.
That's why the rivarly game is extra important to the players who decided to stay local despite being recruited by a program like Tennessee, which is within a three-hour drive from the Nashville area.
Vanderbilt junior defensive back Joejuan Williams, a Hendersonville native, yelled "they said I'd never beat Tennessee but I'm 3-0" while walking through the tunnel toward the locker room after the game.
Senior linebacker Josh Smith, a native of Murfreesboro, said it was "amazing" to be part of the first Commodore team since 1926 to beat Tennessee three consecutive times.
"It's an unbelievable feeling just to be able to share it with our brothers on the team," Smith said. "Blood, sweat and tears, we've been working for this all season week in and week out. We continued to execute and grind even if things didn't go our way so just to have this reward, it's unbelievable."
Mason has successfully picked up where former head coach James Franklin and the previous regime left off, providing a winning culture to a program in desperate need of it.
During Franklin's tenure (2011-13), the Commodores made three consecutive bowl games after having only made two appearances during their previous 30 seasons, won nine games in back-to-back seasons (2012-13) and defeated Tennessee twice after having only won once in 28 annual matchups.
Mason's managed to put together back-to-back bowl seasons after inheriting an inexperienced roster and depleted recruiting class following Franklin's departure to Penn State. Vanderbilt has made steady progress during each of the last two seasons and -- although far from a contender -- has managed to be a competitive SEC East team.
But it's worth noting that while Vanderbilt's had recent success, the Vols have suffered through their worst run in program history. While the Commodores have made successful coaching hires like Franklin and Mason, Tennessee has had blunders such as Lane Kiffin (based solely on his decision to leave after just one season), Derek Dooley and Butch Jones.
When Vanderbilt has put together uncharacteristic winning seasons and made consecutive bowl appearances, the Vols have had multiple stretches of bowl droughts, as well as a winless season in conference play and the worst overall record in program history in 2017.
It's a perfect storm of Vanderbilt at it's best and Tennessee at its worst. But that shouldn't discredit the Commodores' achievements as they've made the most of a great opportunity.
It's not to say that the rivalry has or will totally change long-term. Tennessee should eventually find its way through its rebuilding project and restore glory as a competent SEC team, let alone the powerhouse in its own state.
But Mason and the Commodores deserve credit for changing the perception of the rivalry, at least for the short-term. While the Vols will always be perceived as the bigger football program in their home state, Vandy has emerged as more than just the "little brother" and put together an impressive winning streak, making the rivalry a legitimate one for both teams.