Vanessa Bryant Settles Lawsuit Against Owners of Helicopter That Killed Kobe Bryant
Vanessa Bryant, along with other plaintiffs, has reached a settlement agreement with the company that operated the helicopter involved in the fatal crash that killed famed Los Angeles Lakers star Kobe Bryant, 13-year-old Gianna Bryant, and seven others.
The terms of the settlement have not been disclosed, and will still need to be approved by a court, though the parties filed "joint notice of settlement and joint request to vacate discovery deadlines" documents on Tuesday.
Vanessa Bryant filed a wrongful-death lawsuit against Island Express Helicopters after the January 26, 2020 crash in Calabasas that killed her husband and daughter, claiming that the pilot, Ara Zobayan, who also died in the crash, had shown poor judgment that day and that his employer should be held responsible.
In the 72-page complaint, Bryant's representation alleged that her husband "was killed as a direct result of the negligent conduct of Zobayan, for which Defendant Island Express Helicopters is vicariously liable in all respects."
The deceased pilot's estate was also named as a defendant in the wrongful-death suit. Zobayan's family filed court documents in response saying the passengers knew the risk and chose to fly anyway.
The families of the others who died in the crash, Alyssa Altobelli, John Altobelli, Keri Altobelli; Payton Chester, Sarah Chester and Christina Mauser, were also involved in legal actions against Island Express Helicopters. Court documents filed by Vanessa Bryant's legal team connote that the other aggrieved families are also part of the settlement agreement.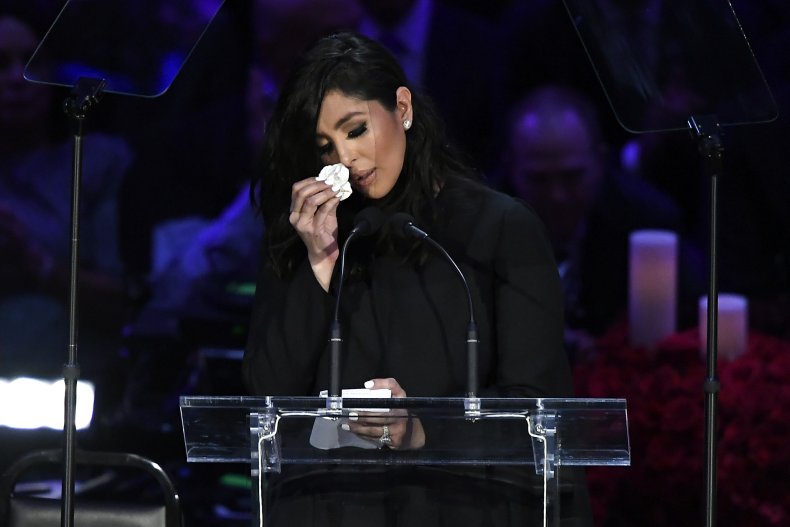 Back in August, USA Today reported that Island Express Helicopters had filed a cross-complaint against two air traffic controllers. The complaint alleged that the crash was due to "a series of erroneous acts and/or omissions" by two air traffic controllers in Southern California.

Vanessa Bryant also sued Los Angeles County and the Los Angeles County Sheriff's Department over photos they allegedly took at the crash site. "At the moment the deputies snapped photos of Kobe and Gianna's remains, they created a harm that cannot be undone, and the Department's response has only exacerbated that harm," the lawsuit says.
Bryant has also reportedly been sued separately by her mother, Sofia Laine, who claims that prior to Kobe Bryant's death, he promised to "take care of" the 68-year-old for the "rest of her life." Vanessa Bryant accused her mother of trying to "extort a financial windfall" from her through a "frivolous" and "disgraceful" lawsuit following the death of a husband and daughter.
Newsweek has reached out to Vanessa Bryant's representation for comment.