Vanessa Guillen Proves the Military's #MeToo Movement Is Long Overdue | Opinion
Army Specialist Vanessa Guillen's murder and the Army's callous disregard of her family's claims that she was sexually harassed have energized hundreds of survivors of military sexual assault and harassment to speak out using the hashtag #IAmVanessaGuillen. Their heartbreaking stories share a consistent thread of enduring sexual abuse followed by fear of reporting or suffering retaliation.
The military's own data confirms the extent of the crisis at hand. In the 2018 fiscal year alone, an estimated 20,500 service members were sexually assaulted or raped—an increase of almost 40 percent from 2016. To put it bluntly: There is a sexual abuse epidemic within the military, but accountability for offenders and support for survivors are an illusion.
By the military's own admission, "sexual harassment is a leading factor affecting unit climate on sexual assault." One would think, then, that the military would do all it could to quickly act on allegations of harassment. Yet when Guillen's family members reported that she was a victim months ago, the Army downplayed their concerns and was slow to investigate.
Even after the recent discovery of Guillen's remains, the Army still seems unwilling to believe she was harassed. Instead, the service has repeatedly pushed the narrative that there is "no credible evidence" of harassment.
Is leadership claiming Guillen lied or that her family made up the allegations? The totality of the circumstances at her workplace, including her murder, make her claims all the more credible, not less. Guillen and her family deserve justice.
Although Guillen went missing from Fort Hood in April, her remains weren't found until late June. Federal and military investigators say a fellow soldier killed Guillen, hitting her with a hammer and then dismembering and dumping her body with the help of a civilian. The Army announced this month that the accused soldier, Army Specialist Aaron Robinson, had killed himself as police approached.
If, even when taking into account Guillen's brutal and sadistic death, the military is still dubious of her claims of abuse, what chance do other survivors have for justice when they come forward?
Not much. In the military, commanders, not prosecutors, decide whether suspected sex offenders will be prosecuted, and the answer is almost always that they won't be. That system has utterly failed both the survivors of this epidemic and the American people. The vast majority of survivors never report due a lack of faith that their boss will take their allegations seriously or protect them from retaliation. When a survivor does come forward, there is only a 2.4 percent rate of conviction. And military sex offenders know there is virtually no chance they will ever be held accountable.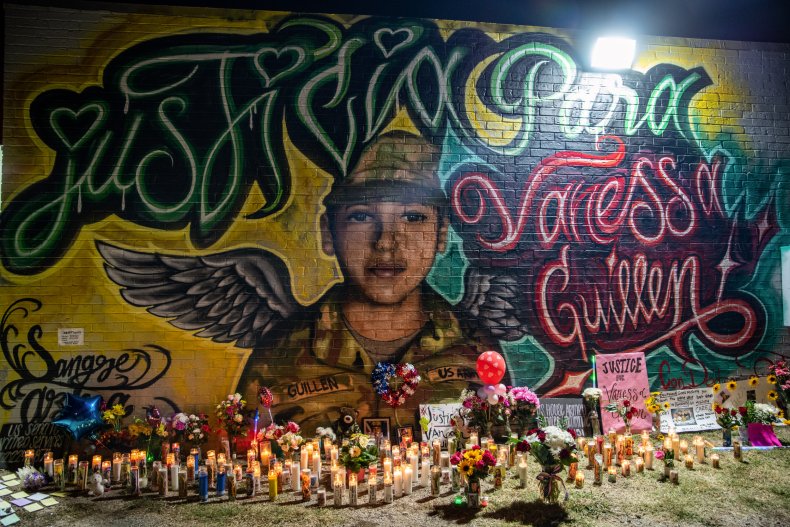 What's much more likely than a conviction is retaliation. Over 60 percent of women who report sexual assault are subjected to retaliation with significant career consequences. One-third of survivors are forced out of the military within a year of reporting.
So is it any wonder than that someone like Guillen would be afraid to report being yet another survivor of military sexual harassment or assault?
This is why the #IAmVanessaGuillen movement is so important. Survivors' voices must be a wake-up call to leadership, which must finally commit to doing everything in its power to protect the brave women and men who serve, hold offenders accountable and work with Congress to reform the failing justice system.
Will this be the moment when generals and admirals come to grips with their decades-long failure to protect service members? Or will they continue to dismiss the tens of thousands of women and men being harassed and abused every year, just as they have dismissed Guillen?
Colonel Don Christensen is president of Protect Our Defenders, which provides pro bono legal support to help those in need, and former chief prosecutor of the Air Force.
The views expressed in this article are the author's own.