'ER' Actress Vanessa Marquez's Mother Feels 'Violated' By Release of Bodycam Footage of Fatal Shooting
The release of body camera footage earlier this week depicting the moment former ER actress Vanessa Marquez was shot and killed by South Pasadena, California, police has horrified the late star's family.
In a statement to Newsweek, an attorney from Marquez's mother said the South Pasadena Police Department did not contact the actress's family before releasing the graphic clip on Monday, and her mother feels "violated."
"Vanessa's family was not informed that video would be published," said attorney Vicki Sarmiento, who is representing Marquez's family in a wrongful death lawsuit against the city of South Pasadena stemming from the actress's death in August 2018.
"Vanessa's mother feels it was irresponsible for video to be published without any pre-advisement to her. She is a grieving mother, and the city has never once contacted her to meet with her to explain the circumstances of her daughter's death. She feels further violated by the way she has been treated and disregarded."
Joe Ortiz, the South Pasadena Police Department chief of police, could not immediately be reached for comment.
In a Monday press conference, the police department announced that the Los Angeles County District Attorney's Office will not press charges against two officers involved in Marquez's fatal shooting. The case has now been closed.
Officers Gilberto Carrillo and Christopher Perez acted in "lawful self-defense," the district attorney's office said in a memo that was released by the police department along with the body camera footage.
Carrillo and Perez were among the law enforcement and emergency medical personnel to attend a welfare check at Marquez's home in South Pasadena on August 30, 2018. "Marquez brandished a black BB handgun and a fatal officer involved shooting occurred," said the memo.
The officers fired multiple rounds at Marquez, believing her to be in possession of a handgun. The weapon was later determined to be an "all-black BB gun resembling a Beretta 92FS firearm."
The body camera footage shows one of the officers spot Marquez with the weapon in the bedroom of her upstairs apartment and promptly evacuates the apartment of other emergency responders.
The two officers then retreat to the bottom of the stairs and one of them says, "Vanessa, drop whatever is in your hand right now." Marquez then appears to descend the stairs pointing the weapon, at which point Carrillo and Perez fire multiple rounds.
The footage shows Marquez's unconscious body on the stairs with the gun beside her.
The district attorney ruled that "from the perspective of Carrillo and Perez, Marquez was armed with a firearm and acting erratically. Despite efforts to communicate in conjunction with fire commands, Marquez remained silent. She held the handgun in a manner that conveyed a readiness to use it and descended the stairs with that apparent purpose. Carrillo saw the gun pointed in the direction of the officers and Perez described a situation in which Marquez could have 'opened fire' on them in an instant."
The officers were "justified" in their response, fearing their lives to be in "imminent danger."
Last year, Marquez's family filed a $20 million wrongful death lawsuit against the city of South Pasadena, alleging, among other things, battery, unlawful entry, false arrest and imprisonment.
Marquez played nurse Wendy Goldman in three seasons of ER, the hit NBC medical drama that aired between 1994 and 2009.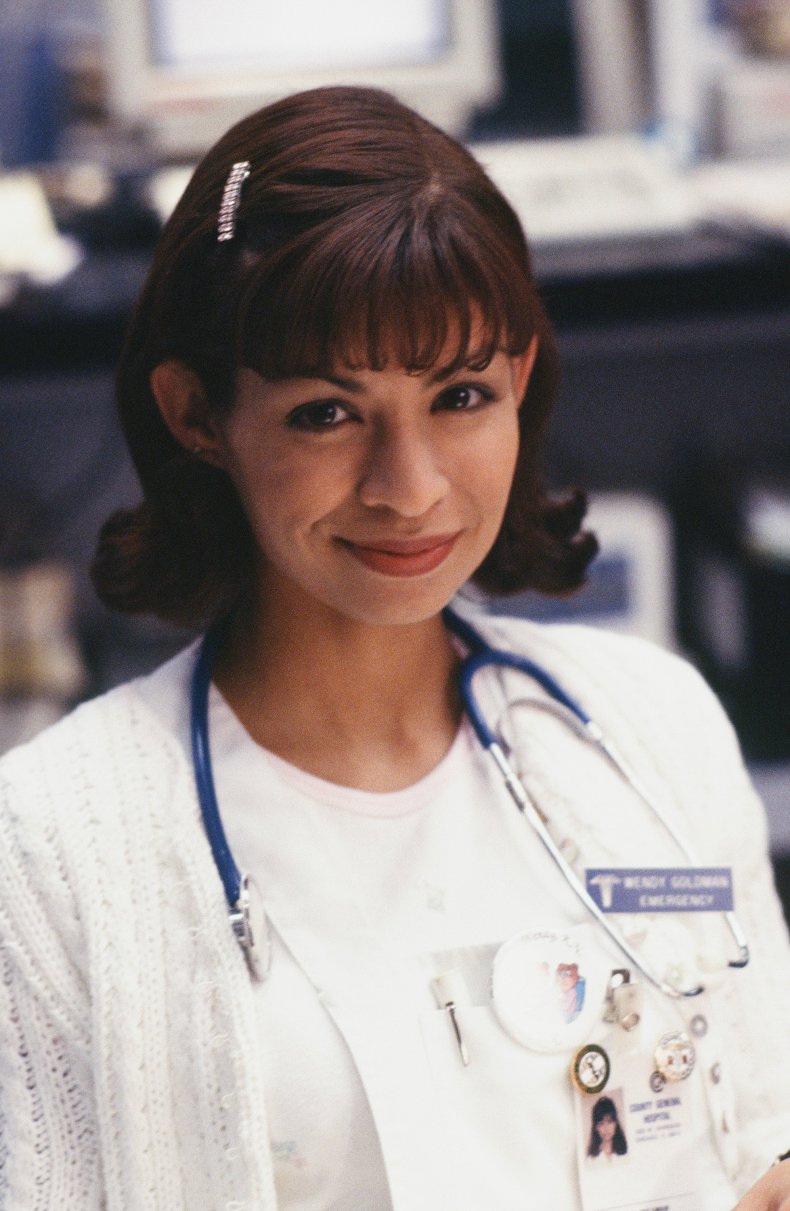 'ER' Actress Vanessa Marquez's Mother Feels 'Violated' By Release of Bodycam Footage of Fatal Shooting | U.S.