Vanilla Ice to Hold July 4 Concert in Texas Despite Surge in COVID-19 Cases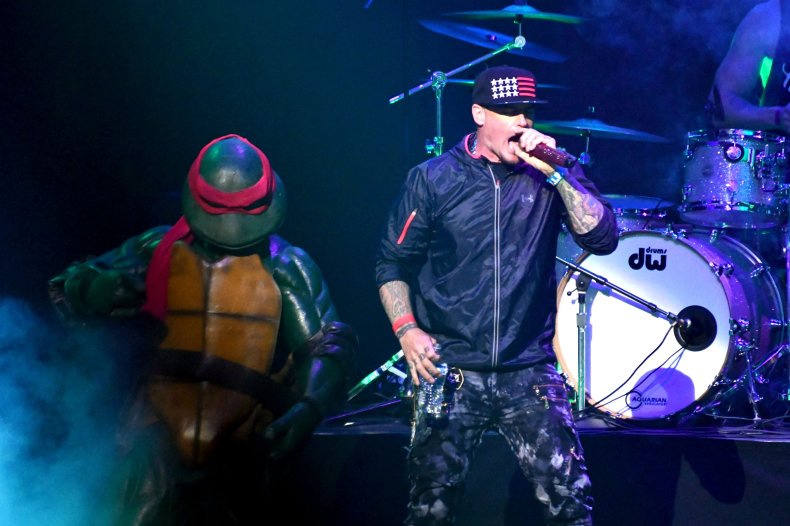 Vanilla Ice is set to perform a "throwback beach party" concert in Austin, Texas on Friday, despite COVID-19 cases continuing to soar in the Lone Star State.
Texas reported its biggest single-day increase on Wednesday, adding more than 8,000 new cases. Regardless of the possible public health concerns, the "Ice Ice Baby" star has been promoting his upcoming concert on social media, while reminding fans that the coronavirus did not exist in his heyday of the 1990s.
"I can't wait to get back to this," Vanilla Ice wrote in an Instagram post, accompanied by a video featuring a packed concert crowd. "The 90s were the best. We didn't have coronavirus, or cell phones, or computers. we had 5.0's, blockbuster, Beavis and Butthead, Wayne's world, Chris Tucker and Jackie Chan."
"And Mortal Kombat is still better than fortnight but we got out of the house, We danced, we invented house parties in the 90s," he added. "The last of the great decades #IMissThenineties."
The surge in COVID-19 cases recently resulted in Texas Governor Greg Abbott reversing course on the state's reopening plans. Bars were again shut down last Friday, closing doors to many of the state's entertainment venues.
Public health experts have repeatedly warned against large gatherings taking place amid the pandemic, cautioning that people coming into close contact with each other can easily lead to an increased spread of the virus.
However, the concert can move forward due to a loophole that allows restaurants that serve alcohol to continue operating at 50 percent capacity.
The venue, Emerald Point Bar & Grill, is technically classified as a restaurant despite having a large outdoor concert area, with a capacity said to be between 4,000 and 5,000. Up to 2,500 tickets are being sold for the concert, although only 84 had been sold as of Wednesday night, according to Texas Tribune.
"We're not trying to buck the system — we're going within the guidelines we've been given," Emerald Point's owner Barret Brannam told the news outlet. "Music is part of Emerald Point — and it will always be part of us going forward."
"[Vanilla Ice] has already been paid," Brannam added. "If I cancel the show ... I'm just flushing money down the toilet. ... If only a couple hundred people come out, at least those people got to see a cool show."
The venue will reportedly request that attendees wear masks and maintain social distancing, without any plans to enforce the preventative measures.
"I'm not their mom and dad, [and] I can't make them do it," said Brannam.
On Saturday, fellow 90s act Color Me Badd, known for the hit "I Want to Sex You Up," are set to hold an all-day Fourth of July concert with two other groups at the same venue.
Newsweek reached out to Vanilla Ice's manager for comment but did not receive a response in time for publication.