Meet Dario Calmese, the First Black Photographer to Shoot a Vanity Fair Cover
In its more than 100 years of existence, Vanity Fair had not published the works of a Black photographer on the cover of its magazines. However, that all changed on Tuesday with the release of its July/August 2020 issue, featuring a photo of Viola Davis captured by Dario Calmese, a Black photographer from Missouri.
Calmese told the New York Times that he suspected he may be the first Black photographer to score a Vanity Fair cover but he wasn't absolutely certain when he was initially approached for the job. His assumptions were confirmed in Radhika Jones' editor's letter, which noted, "To the best of our knowledge, it is the first Vanity Fair cover made by a Black photographer."
On the dark-hued magazine cover, a statuesque Davis sits with one hand on her hip with her back exposed. The inspiration behind the pose came from an image the 38-year-old Calmese has long admired, the 1863 portrait titled "The Scourged Back," which depicts the maimed back of an enslaved Black man.
"When you look at it, it is gruesome and harsh," Calmese said of the original photo. "He pushes back more toward the camera. His hand is at his waist—you know that line, with his profile going down the arm and coming back. And so I was like: I can recreate this."
While Calmese told the Times that he felt his image of Davis told a story "not only around slavery, but also the white gaze on Black bodies, and transmuting that into something of elegance and beauty and power," he wasn't expecting it to be chosen as the cover among the dozens of photos he shot for Davis' summertime spread. However, the artist has a penchant for snapping defining pictures of Black people.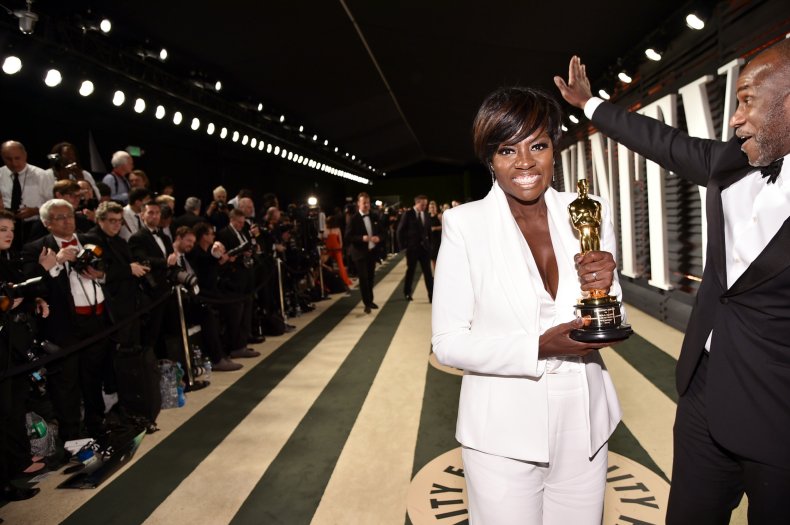 Calmese originally had aspirations of being a clinical psychologist and attended a Jesuit college in Kansas City before he decided to pursue a career as a performer upon receiving his bachelor's degree. So he uprooted to New York City, and years later decided to obtain his graduate degree in fashion photography at Manhattan's School of Visual Arts. It was there, in 2012, when Calmese first began capturing portraits of Black subjects. His portraits of Black creatives including Beyoncé Knowles Carter, playwright Matthew Lopez, activist DeRay McKesson and dancer Courtney Celeste Spears have appeared in magazines and exhibitions across the globe. A portrait of actor Billy Porter was one of the first photos Calmese ever shot for Vanity Fair, according to his website.
His artistry expands beyond photography, though. A classically trained singer and dancer, Calmese moonlights as a writer, curates art shows and is the host of the podcast, "Institute of Black Imagination," in which he interviews other Black visionaries and thought-leaders.
Calmese also serves as the casting director for Kerby Jean-Raymond's fashion label, Pyer Moss. Last year he directed Pyer Moss' critically acclaimed fashion show, held at Brooklyn's Kings Theater, that was inspired by musician and singer, Sister Rosetta Tharpe. Calmese has worked with designer Phillip Lim, and partnered with the label and six other photographers for the launch of the 3.1 Phillip Lim "take time off" campaign in 2018.
Calmese's cover appointment at Vanity Fair comes after Tyler Mitchell made history as the first black photographer to shoot a Vogue cover in 2018. Dana Scruggs also reached a milestone for Black photographers with her 2018 cover photo of Travis Scott for Rolling Stone magazine.