'C0VID69' and Other Vanity License Plates That Didn't Make the Cut
Seven Canadians in the province of Alberta have had custom license plates rejected for referencing the ongoing COVID-19 pandemic.
Selecting from the 135 applications for vanity plates that have been rejected since January 2019, the Edmonton Journal published custom names the provincial government has refused to allow on license plates, including "COVID69," "COVID19," "THE VID" and "RONASZN."
Typically, about 7,000 custom plate names are approved each year in Alberta. Rules for personalized plates includes a ban on offensive language, but also prohibit lookalikes, according to the Journal, with professional titles and acronyms disallowed. One rejected plate was for "DR BS."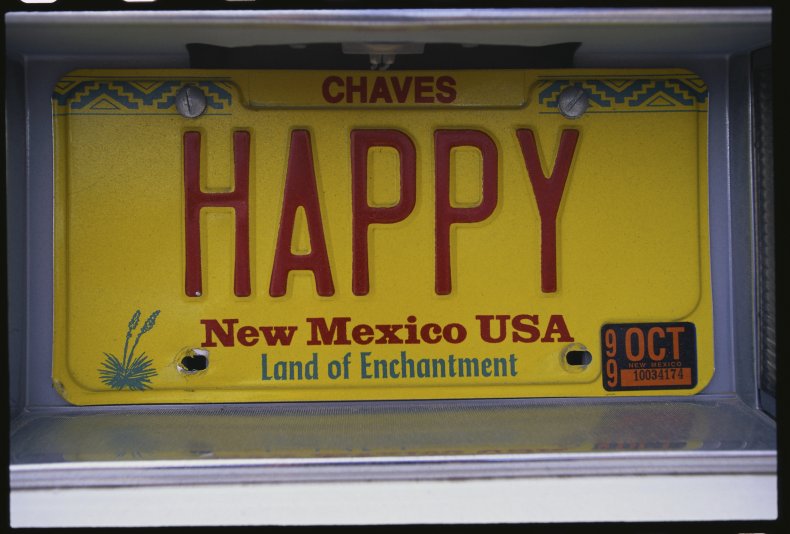 But while the proliferation of custom license plates named for a deadly virus are unique, most of the plates rejected by the provincial government were turned down for other reasons, most commonly (about one in five rejected plates) for referencing "political and social sensitivities." Examples include "QAN0N" and "QSENTME"—references to the popular American conspiracy theory whose right-wing adherents fantasize about the suspension of democracy and the mass arrest of politicians, journalists and other public figures.
Others reflect more home grown politics, like the "WEXIT" and "51STATE" plates expressing separatist intentions for one or more provinces to secede from Canada. Other rejected political sentiments include the Black Lives Matter plate "BLM4LIF," the pro-Hong Kong protest plate "FREE HK" and the "angry at Greta Thunberg" plate "FUGRETA."
Applications for plates were also turned down because of references to drugs, alcohol, sex and all-purpose profanities. Cannabis plates like "KUSHMAN," "PRPLEHZ" and "CANABUS" were rejected, alongside liquor plates like "MOHITJO," "RUMBROS," "WASTED," "YAGER" and "FIREBLL."
"DZZNUTS," "OLDBALZ," "F4NNY," "BZ NUTZ," "GIRTHY," "SUG DAD" and "HMWREKR" were also declined in custom plate application rejections. Another? "0K800MR" ("Okay, Boomer").
Thousands of custom license plate applications are also rejected in the United States each year.
From January through June, the Texas Department of Motor Vehicles rejected 2,425 vanity plate applications, San Antonio ABC affiliate KSAT reports. Vanity plates rejected in Texas include "FU COVID," "NOPENIS," "MUD BUTT," "L8TR POPO," "CNN LIES" and "BEERMEE."
Plates rejected by the Ohio Bureau of Motor Vehicles include "FKCOVID," "FK2020," "IPULOUT" and "TIREDAF."
Custom plates have sometimes become a battleground for free speech debates, such as in a 2014 New Hampshire state Supreme Court case which ruled that a man had a free speech right to a "COPSLIE" custom plate.
Only the state of Maine doesn't reject profanity on custom license plates, in a policy begun in 2015, with a new law that deleted the Bureau of Motor Vehicles' prohibition on "obscene, contemptuous, profane or prejudicial" vanity plates. Maine currently screens only for threats of violence, but otherwise allows for almost anything to appear on vanity plates.