Precision Medicine: Creating Value for Everyone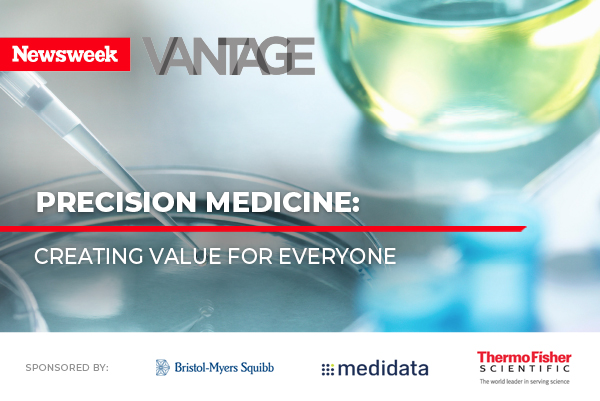 In the race to transform customer value through technology, the healthcare sector has traditionally been an also-ran. Precision medicine may be changing the game. Its visionaries hope that it will bring us ever closer to a world where you can take one pill for all your customized medications, and control it with your smartphone; where an app that integrates everything from your molecular makeup to your sleep patterns to your postcode can show you exactly what diseases you face, when they will occur and how you can avert them; and where gene editing is making serious diseases with no known cures a thing of the past.
Click here to download the full Vantage report
Precision medicine has the potential to upend our very conception of healthcare. It's changing the focus from treating disease to maintaining health, and from episodic care to continuous vigilance. It's turning passive patients into proactive participants in their own healthcare. And it's replacing trial-and-error approaches based on population averages with more accurate diagnoses and targeted therapies.
But such transformative outcomes require profound changes. We often hear about the impact that precision medicine will have on healthcare systems and how we personally manage our health. But what about those tasked with bringing precision medicine tests and treatments to the market? What are they doing, what challenges do they face, and how are they working with stakeholders within the wider healthcare ecosystem?
In order to find out more about industry approaches, Bristol-Myers Squibb, Medidata Solutions and Thermo Fisher Scientific sponsored research by Newsweek Vantage to survey diagnostics developers and biotechnology and pharmaceutical (biopharma) organizations involved in drug discovery and development, in the US, UK, Germany and France. We supplemented survey insights with in-depth interviews offering different perspectives on the role of precision medicine in healthcare.