Vanuatu President and Disaster Officials Left For Conference as Cyclone Bore Down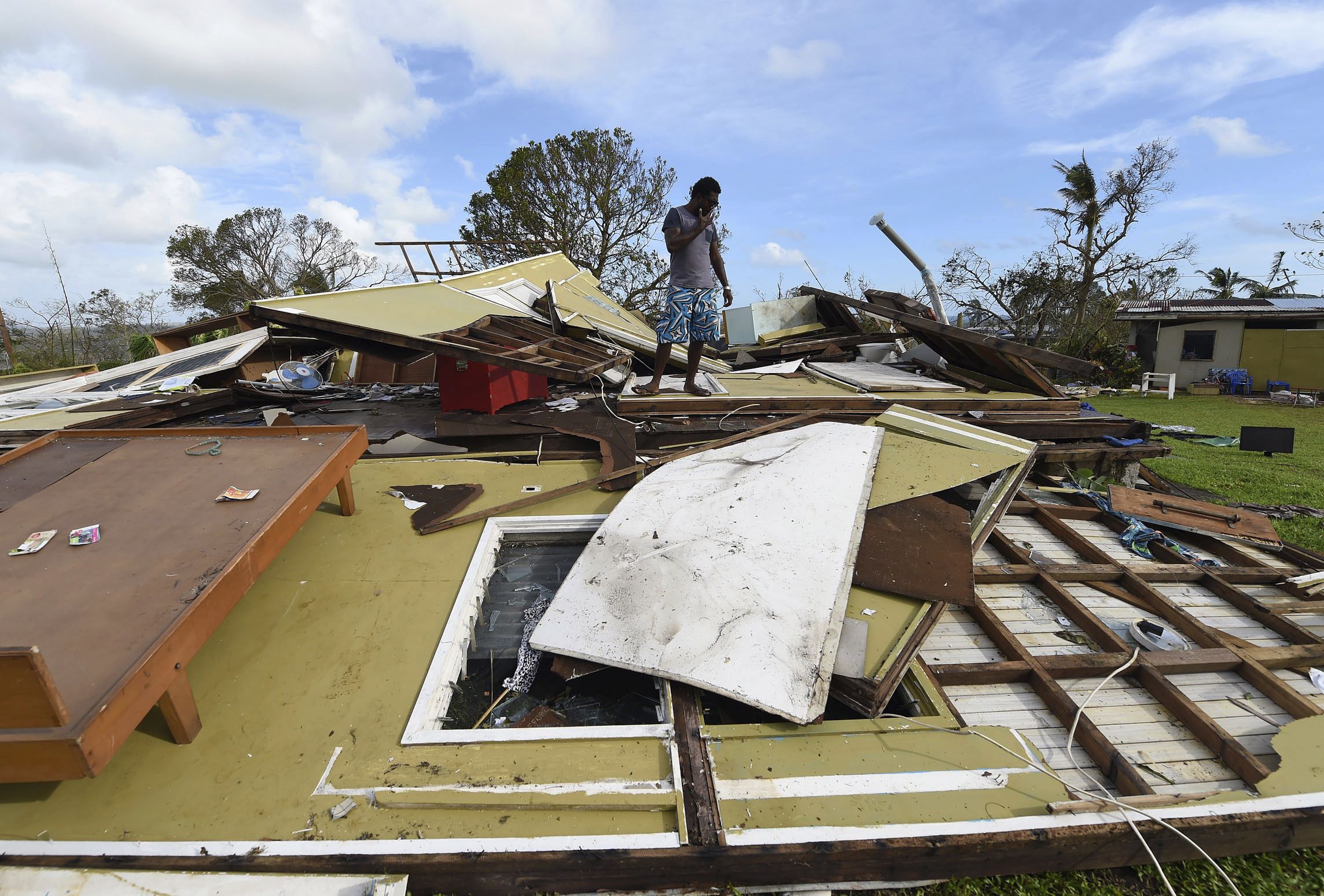 When Vanuatu President Baldwin Lonsdale and top disaster officials left their South Pacific island home on March 10, heading to a U.N. summit in Japan, Cyclone Pam was gathering strength and dumping heavy rain to the north.
By the time he addressed the World Conference on Disaster Risk Reduction in Sendai on Saturday, asking for assistance in a quavering voice, Pam had strengthened into one of the most powerful Pacific storms on record.
"We have not been sleeping," Lonsdale told the Thomson Reuters Foundation in an interview in Sendai on Sunday, as he recounted helpless, worried nights watching cable news in a hotel room as the storm steamrolled his country, causing widespread destruction and killing at least eight people.
Ranked as the country most vulnerable to natural disasters globally, Vanuatu's presence at the conference was undoubtedly warranted. But its unfortunate accident of timing meant key officials were overseas just as the storm hit.
With the president, whose role as head of state of the nation of around 260,000 people is mostly ceremonial, were the director of the National Disaster Management Office (NDMO), Shadrack Rubart Welegtabit, and Climate Change Minister James Bule.
"We had a warning before we left, but the wind was still developing, it had not intensified," Lonsdale said. "When it developed to become a cyclone, we had already left the country. We did not realize how bad it was going to be."
Part of the problem was a late change in direction that put Pam on a collision course for Vanuatu, but meteorologists said the severity of the storm was widely expected.
"Cyclone Pam before it formed was well picked up by weather models ... and most people were aware that this will be a massive cyclone," Stephen Meke, from the forecasting division of the Fiji Meteorological Service, told Reuters.
Devastating Storm
While weather sites had been warning as early as March 9 that the cyclone could develop into top ranked category 5 storm, few were prepared for the devastation it would bring.
"They knew a category 5 was predicted but nobody here knew what a ­category 5 felt like," CARE International program manager Charlie Damon said from Vanuatu's capital, Port Vila.
With winds of 300 kph (185 mph), flooding rains and a storm surge of up to 8 metres (26 feet), Pam flattened buildings, smashed boats and washed away roads and bridges around the capital.
Communications with most of Vanuatu's 80-odd outlying islands was impossible days after the storm and early reports described widespread destruction.
Colin Collett van Rooyen, the country manager for Oxfam, which coordinates the NGO efforts with the Vanuatu government, said the response had been excellent despite the absence of key personnel from the NDMO.
"It has been good to see that despite that, things have continued as well as could be under the circumstances," he said from Port Vila. "There is an incredible spirit of cooperation, there was before the cyclone and I have seen that continue."
In Sendai, ground zero for Japan's March 2011 earthquake and tsunami disaster, communications with Port Vila were patchy at best, but members of Vanuatu's stranded delegation were making the best of their access to a deep pool of global disaster experts.
"This is God's plan that we are here (in Japan)...it makes it much easier for us... we can very easily talk to the government officials, the UN agencies and international organizations," said Lonsdale. "We trust that our government is taking care of the people."