Vanuatu: Volcanic Ash May Force 10,000 People From Pacific Island
Some 10,000 residents of Ambae, a volcanic island in the archipelago of Vanuatu in the Pacific Ocean, are preparing to leave their homes permanently in the face of ongoing torrents of volcanic ash, the Associated Press reported.
Falling ash from Ambae's volcanic cone has choked the island, flattening traditional thatch roofs and contaminating crops, water and air. The proposed evacuation follows a temporary exodus last September.
Ash—which can affect lung function—has destroyed homes and gardens. Heavy ash fall, the government warns, can even alter the flow of streams, causing floods. Residents are also facing volcanic gas and acid rain, the Vanuatu Government's Meteorology and Geohazards Department reported.
Jet-powered turbine engines have stopped flying to Ambae, the Vanuatu Daily Post reported, to prevent ash-related damage.
In spite of this oppressive downpour, not everyone is happy with the government's plan, which the Council of Ministers could approve by next week. Under the proposal, residents will be offered relocation to one of two nearby islands.
"There has been significant pushback in the community," New Zealand volcanologist Brad Scott told the AP. "Some people, suffering from significant ash fall, would love to be anywhere else on the planet. Others have strong cultural associations."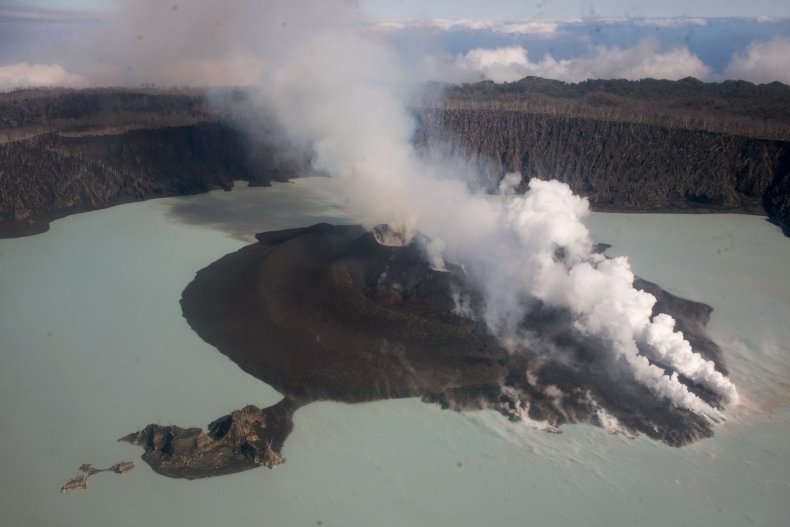 Evacuation is "not an easy decision," government spokesperson Hilaire Bule told the AP on Thursday. Officials are working on land, new homes and schools for residents on other islands, the news agency reported. Hundreds are already in temporary shelters in parts of Ambae less polluted by ash.
Volcanic activity has been recorded on the island since the sixteenth century. Ambae is the tip of the large Lombenben volcano, also known as Manaro Voui and Aoba. The summit cone, which rises from the waters of the island's Lake Voui, formed in a huge eruption some 400 years ago.
Ambae's current eruption episode began in 1991 and has erupted in 1995, 2005, 2016 and 2017. At present, Ambae is at alert level three for "minor eruption," signaling danger for a two-mile radius of Lake Voui's vent. Ash billowing from the cone, however, can fall anywhere across the island.
Vanuatu's archipelago rises from the Pacific "Ring of Fire," a huge area of the Pacific Ocean that experiences most of the world's earthquakes.
Activity seems to have settled down over the last two weeks, Scott told the AP, but nobody can predict what the future holds for Ambae. The question of residents one day returning home, Bule told the AP, was not for him.
"We don't know," he said. "You'll have to ask the volcano."