The FDA Wants 10 Vape Companies to Ban Flavored E-Liquids, Is Your Brand on the List?
On Monday, the U.S. Food and Drug Administration's Center for Tobacco Products sent warning letters to 10 companies, calling for the removal of specific e-cigarettes and e-liquids from the market for not having the required "premarket authorization."
The FDA warning letters describe three companies as "illegally marketing disposable e-cigarettes," while a further seven were issued letters for apparently selling or distributing "unauthorized electronic nicotine delivery system (ENDS) products targeted to youth or likely to promote use by youth." The FDA called out in particular e-liquid products that enticed minors by emulating snack food packaging, including products that parodied Twinkies, Cherry Coke and Cinnamon Toast Crunch cereal.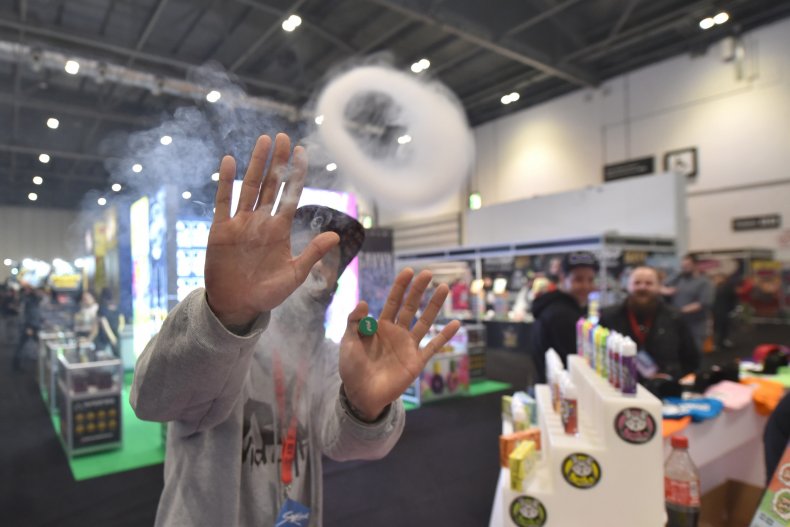 Below are the 10 companies named by the FDA, and the specific vape products and e-liquid flavors subject to enforcement and likely to be removed, at least temporarily, from market.
Some of the companies were warned against selling tobacco products without premarket authorization, which makes the products "adulterated" under the Federal Food, Drug and Cosmetic Act. Seven of the companies were additionally warned for "misbranded" product packaging. Others made statements on their website, according to the FDA, portraying vaping products as having a lower risk of tobacco-related diseases, including unfounded claims regarding carcinogens.
1. Cool Clouds Distribution, Inc., doing business as Puff Bar:
Puff Bar Plus - Mixed Berries
Puff Bar Plus - Cool Mint
Puff Bar - Cucumber
Puff Bar - Mango
Puff Bar - Blue Razz
Puff Bar - Banana Ice
Puff Bar - Sour Apple
2. HQD Tech USA, LLC:
HQD Cuvie - Orange Soda
HQD Cuvie - Strawberry
HQD Cuvie - Pineapple
HQD Rosy - Green Apple
HQD Rosy - Peach Nectar
HQD Rosy - Lemonade
3. Myle Vape, Inc.
Mylé Mini - Iced Lychee Disposable Device
Mylé Mini - Lemon Mint Disposable Device
Mylé Mini - Peach Disposable Device
Mylé Mini - Pink Lemonade Disposable Device
Mylé Mini 2 - Cubano Disposable Device
Mylé Mini 2 - Iced Apple Mango Disposable Device
Mylé Mini 2 - Iced Watermelon Disposable device
Mylé Mini 2 - Menthol Disposable Device
Mylé Mini 2 - Peach Disposable Device
Mylé Mini 2 - Red Apple Disposable Device
4. E Cigarette Empire LLC
Strawberry Milk and Drip Fried Cream Cakes E Juice By Fryd
Drip Fried Cream Cakes E Juice By Fryd
5. Eleaf USA
Remit Orange Cream Pod Packs
Remit Orange Dream Nic Salt Pod Packs
Remit Tropical Blend Pod Packs
Remit Tropical Oasis Nic Salt Pod Packs
Yami Vapor Ninja Man
6. Ohm City Vapes Inc.
Puff Bar Pods Juul Compatible - Strawberry
Skol Pods Juul Compatible - Double Apple
Skol Pods Juul Compatible - Mango
Original Cinnaroo by Cloud Thieves
7. Hina Singh Enterprises, Inc., doing business as Just Eliquids Distro Inc.
Salteez Pods - Blue Razz Gummy
Juice Man USA E-Juice - Cherry Lime Cola
8. Breazy Inc.
Baset Thor Multi-Flavor Pod Cartridges Gods of Egypt E Liquid (Strawberry, Watermelon and Spearmint)
Osiris Thor Pod Cartridges Gods of Egypt E Liquid (Orange and Candy)
Raa Thor Pod Cartridges Gods of Egypt E Liquid (Lime, Cucumber and Mojito)
Unicorn Frappe - Juice Man E Liquid
9. Majestic Vapors, LLC
The FITT by Envii Starter Kit - Fruit
The FITT by Envii Starter Kit - Cream
Steep Vapors - Pop Deez
10. Vape Deal, LLC
Naked 100 E-Liquid Pods - Amazing Mang
Strawberry Churrios by The Milkman

Newsweek has reached out to all 10 companies who received a letter from the FDA, but did not receive immediate comment in time for publication. At least one vendor who received a letter—Puff Bar—has halted all sales and distribution in the United States.
"The FDA continues to prioritize enforcement against e-cigarette products, specifically those most appealing and accessible to youth," FDA Commissioner Stephen M. Hahn said in a press release announcing the enforcement efforts. "We are concerned about the popularity of these products among youth and want to make clear to all tobacco product manufacturers and retailers that, even during the ongoing pandemic, the FDA is keeping a close watch on the marketplace and will hold companies accountable."
The FDA characterizes the letters as part of an "ongoing, aggressive effort to act against illegally marketed tobacco products amid the public health crisis of youth e-cigarette use in America." Flavored and disposable products have been a particular focus.
Companies who received a warning letter will have 15 working days to respond with a description of their "corrective actions, including the dates on which you discontinued the violative labeling, advertising, sale, and/or distribution of these tobacco products and your plan for maintaining compliance with the FD&C Act."
Further enforcement could result in injunctions, seizures and cash penalties.