Is Vaping CBD Safe? Trump's Flavored E-Cig Ban Leaves Out Marijuana Despite Illnesses Linked to Cannabis Products
The Trump administration is preparing a complete ban on flavored e-cigarettes amid a rising number of vaping-related illnesses and deaths, but officials are leaving out a key part of the problem: marijuana products.
Health and Human Services Secretary Alex Azar told reporters on Wednesday that the Food and Drug Administration is finalizing regulations to remove all non-tobacco flavors of e-cigarettes from the U.S. market within 30 days. Companies will be able to reintroduce flavored products, but only after they submit a formal application and receive approval from the FDA.
"We will not stand idly by as these products become an on-ramp to combustible cigarettes or nicotine addiction for a generation of youth," Azar said in a statement.
But the White House made no mention of marijuana Wednesday, despite the fact that cannabis products have been linked to the recent surge of vaping-related illnesses. One person who died recently of a severe respiratory illness had used a device containing marijuana oil purchased at a legal dispensary.
Marijuana is illegal under federal law, which makes it impossible for Congress or the FDA to pass any regulations around its use or sale, as they have with e-cigarettes and tobacco products. This means that there is no federal oversight when it comes to the manufacturing and sale of CBD and other cannabis derivatives.
As a result, Trump administration's ban is not expected to have a huge impact on the current marijuana industry, but it could push lawmakers to consider legalizing marijuana so as to ensure consumer safety.
"It is unlikely this pending FDA action will have a significant impact on the cannabis vapor market," Paul Armentano, the deputy director at the National Organization for the Reform of Marijuana Laws, told Newsweek. "The administration cannot make them any 'more illegal,' though theoretically the Justice Department or DEA could prioritize efforts to crack down on the manufacturing and sale of said products, particularly those produced by manufacturers that are out of compliance with state laws or regulations," he added.
The states that have moved away from the federal prohibition and legalized marijuana are responsible for setting their own regulations when it comes to the purity of state-licensed products. Armentano noted that it is likely that several states will revisit their regulations in the wake of the surge in vaping-related illnesses.
Matthew Schweich, the deputy director for the Marijuana Policy Project, told Newsweek that these illnesses should be another motivator for lawmakers to move forward on marijuana reform.
"We support efforts to reduce teen vaping. The recent issues with marijuana vaping show why we need to legalize and regulate marijuana. Unregulated markets produce unregulated products," Schweich said.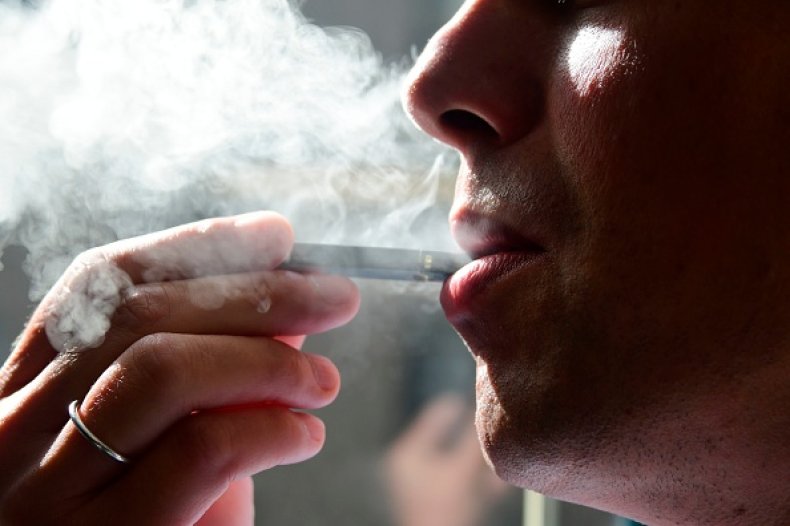 Former FDA Commissioner Scott Gottlieb has also called on the government to regulate cannabis products. In an interview with CNBC earlier this week, Gottlieb said the country needed a "federal reckoning."
"People who are vaping nicotine and having these reactions probably are vaping illegal products that are counterfeit," Gottlieb said. He lamented that cannabis vaping products are "falling within a regulatory gap."
Senator Ron Wyden, a Democrat from Oregon, said this week that there's no way to "protect consumers if research is essentially banned and there are no federal regulations."
The Centers for Disease Control and Prevention is urging people to stop vaping as reports of severe lung illnesses have risen to more than 450 cases. Officials say that a majority of the vape products involved in these medical issues have a primary ingredient of THC.
The FDA recently said in a statement that "consumers are urged to avoid buying vaping products on the street and to refrain from using THC oil or modifying [or] adding any substances to products purchased in stores."