37 Vaping Related Deaths Confirmed While Nearly 2,000 Report Lung Injuries, New CDC Report Says
More than 1,800 people have sustained a lung injury related to the use of e-cigarettes, according to a new report issued by the Centers for Disease Control and Prevention (CDC). Thirty-seven deaths have also been confirmed.
The injuries and deaths spanned every state except Alaska, according to the CDC's updated report. At this time, the CDC, together with the Food and Drug Administration (FDA), can't determine the exact cause of the mysterious lung illnesses—only that they share a commonality in the use of e-cigarettes.
Once embraced as an off-ramp for people trying to wean themselves off traditional cigarettes, vaping has become controversial as of late amid reports of related health complications. Following a regulatory crackdown, the CDC is recommending that people stop using e-cigarettes altogether as the injury count climbed from 530 just a month ago.
Among a sample of 867 lung injury cases reported to the CDC, the vast majority (86 percent) reported using products containing tetrahydrocannabinol (THC) in the three months leading up to their symptoms, suggesting a potential link with the deadly lung condition. Only 64 percent of injured vapers used products with nicotine, according to the CDC.
Most of the patients appear to be less than 35 years old, with the highest concentration between years 18 and 24, though it's older users who seem more likely to perish from the vaping illnesses.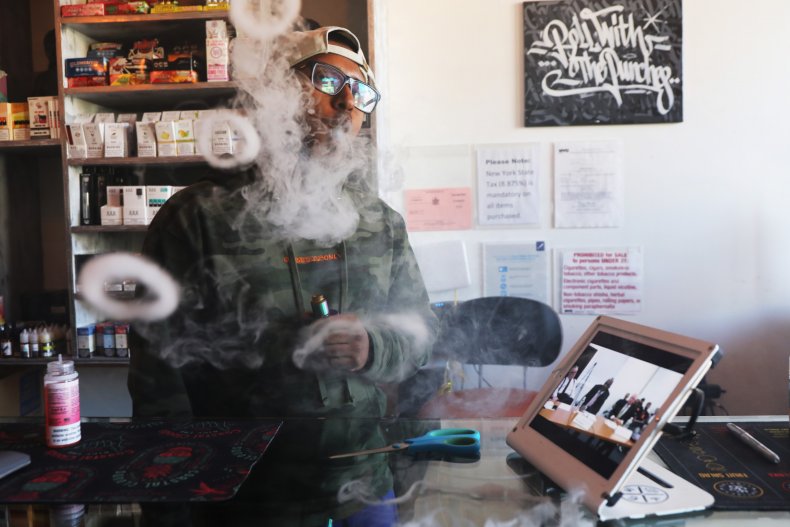 Besides providing technical assistance to states on surveillance and health alerts, the CDC is working with local groups to classify the lung cases more consistently. It's also expanding its laboratory testing of lung biopsies and fluid samples to better characterize e-liquid and its effects on people's respiratory systems.
President Donald Trump's administration has been discussing new rules that could limit or ban e-cigarette flavors, which seem to attract younger users. The FDA has also been cracking down on illegal marketing tactics by vaping companies, such as unsubstantiated claims that they help people quit traditional cigarettes.
Patients who have fallen ill to the vaping-related lung injuries may not recover fully, according to reporting by National Public Radio. One doctor told his 18-year-old patient, Adam Hergenreder, that, besides a severe respiratory sickness, vaping gave him the lungs of 70-year-old.
The Mayo Clinic reported earlier this month that some of the vaping-related lung damage resembles that of chemical burns or otherwise toxic chemical exposure.
"It looks like the kind of injury that we normally see when a person is exposed to a spilled drum of toxic chemicals at their workplace," Brandon Larsen, one of the authors of the study, told NBC News.
While previous investigations indicated an accumulation of oil could be responsible for the deaths and injuries, the study at Mayo found no evidence to suggest such buildups. Instead, the burns themselves were enough cause for concern in their sample of seventeen patients—but the researchers couldn't pinpoint a single ingredient that explains the chemical injuries.