Vaping from Flavored E-cigarettes May Worsen Asthma, Study Suggests
Vaping could make conditions like asthma worse, scientists have warned, following a study on mice.
Certain flavors appear to change how the airways function, according to the authors of a study published in the journal Scientific Reports.
Tobacco smoke is known to aggravate asthma, but there is less evidence on how vaping affects those with the condition.
To find out more, researchers exposed mice to various flavors of e-cigarette vapor: black licorice, cola, banana pudding, and "cinnacide," both with and without nicotine. Some mice were exposed to regular room air, to act as the control.
Black licorice was found to increase airway inflammation. Cinnacide, meanwhile, suppressed inflammation, and increased the sensitivity of airways. Banana pudding exaggerated the level of tissue scarring.
The authors wrote: "Our findings suggest that flavored e-cigarettes without nicotine can alter allergic airways disease but that the effect is dependent upon the specific flavor." Allergic airways diseases include asthma and rhinitis.
"These findings highlight the potential for flavored e-cigarettes, in the absence of nicotine, to negatively contribute to asthma outcomes and warrant caution in promoting their use to patients with asthma," the authors wrote.
Future studies could look at the specific chemicals in e-cigarettes that might trigger these toxic effects, with the research potentially forming the basis of regulations.
David Chapman, a translational physiologist at University of Technology Sydney who led the study, commented in a statement: "The majority of e-cigarette smokers use flavored liquids but there is some evidence that flavor additives can be toxic when inhaled.
"The exact effects on features of asthma were dependent upon the specific flavor, suggesting not all flavored e-cigarettes will have the same consequences on lung health," he said.
In recent years, the use of e-cigarettes has spiked: from 1.5 percent of high school students in 2011 to 15 percent in 2015. Around 9 percent of 18-to-24-year-olds use e-cigarettes, according to research cited by the authors. The chart below, provided by Statista, shows the e-cigarette use rates in various major nations.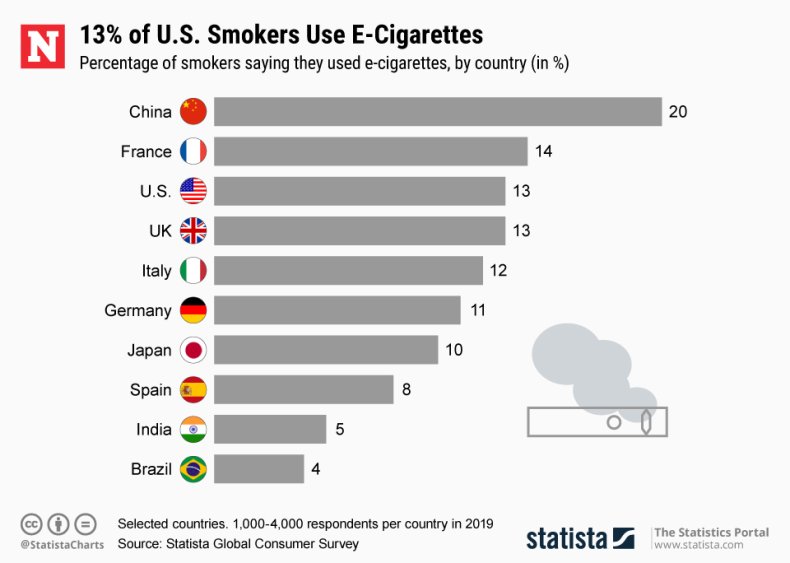 The study comes amid what the Centers for Disease Control and Prevention has described as an "outbreak" of lung injuries linked to e-cigarettes. The agency has launched an investigation after seven people with a history of using e-cigarettes died, across six states. A total of 530 injuries have been reported across 38 states and one U.S. territory. Most victims used e-cigarettes containing THC products—a combination of the ingredients and nicotine—while some only contained nicotine.
Despite the fears surrounding e-cigarettes, the CDC has advised adults who have quit regular cigarettes and turned to vaping not to return to smoking tobacco due to the proven health problems associated with the habit.
"If you have recently used an e-cigarette or vaping product and you have symptoms like those reported in this outbreak see a healthcare provider," the agency states on its website.
The Trump administration has responded by unveiling plans to ban flavored e-cigarettes.