CDC Identifies 'Toxin of Concern' in Vaping Lung Injuries and Deaths
Health officials say they have found a link between e-cigarette injuries and an additive sometimes used in vaping products, after conducting a breakthrough study.
Tissue samples from 29 patients who had suffered adverse effects from vaping were analyzed in Centers for Disease Control and Prevention labs. Researchers found injuries possibly caused by vitamin E acetate, which is sometimes used as a thickener in vaping fluid, particularly in black market vape cartridges. It is also sometimes used as a cutting agent in illicit products containing THC, which is the main psychoactive component of the cannabis plant.
Vitamin E is safe as a nutritional supplement or on the skin but inhaling it in droplet form can be dangerous. There have been 2,051 cases of vaping-associated illnesses, reported in 49 states, according to the CDC. At least 39 people have died and nearly 85 percent of lung injuries were from patients who used products containing THC.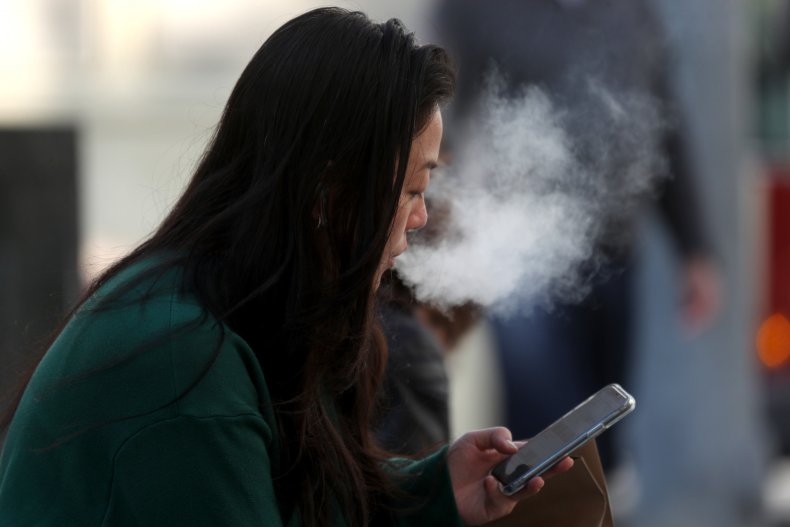 Anne Schuchet, CDC principal deputy director, said in a telephone briefing on Friday its research was "significant, because for the first time, we have detected a potential toxin of concern."
She said it backed up findings of previous research and was able to "provide direct evidence of vitamin E acetate at the primary site of injury within the lungs."
Schuchet pointed out there may be other compounds, or more than one cause, that could be behind the lung injuries and further study was needed, but issued a warning.
"Until the relationship between vitamin E acetate and lung health is better characterized, it's important that vitamin E acetate not be added to e-cigarette or vaping products," she said.
Schuchet said that data shows that THC products bought from "informal sources" instead of licensed dispensaries "point to a much greater risk."
"The results reinforced previous CDC recommendations to not use e-cigarette or vaping products that contain THC, particularly from informal sources like friends or family, online dealers or the illicit market."
Meanwhile, CDC's Dr. James Pirkle said the substance was "enormously sticky" when it entered the lungs, adding, "you can think of it to be just like honey. When it goes into the lung, it does hang around."
The CDC's conclusions are in keeping with findings by New York health officials, who in September linked cases of severe lung illness to vitamin E acetate in cannabis-containing vaping products.
New York governor Andrew Cuomo said in a statement on Friday: "The CDC's reporting…reinforces the importance of the role that Vitamin E acetate may play in the current outbreak of vaping related illnesses.
"While no definitive cause has been found, as I've said from the very beginning: if you don't know what you are smoking, don't smoke it," he said according to CNN.