Is Vaping Dangerous? Does It Have Nicotine? Surgeon General Warning Calls for Restrictions After Rise in Teen Use
The surgeon general issued an advisory on Tuesday calling for "aggressive steps" to prevent youth from using e-cigarettes, the Associated Press reported.
"Nicotine is dangerous, and it can have negative health effects," Surgeon General Jerome Adams said. "It can impact learning, attention and memory, and it can prime the youth brain for addiction."
The government's top doctor urged officials to think about prohibiting vaping indoors at public venues and taxing e-cigarettes, according to USA Today.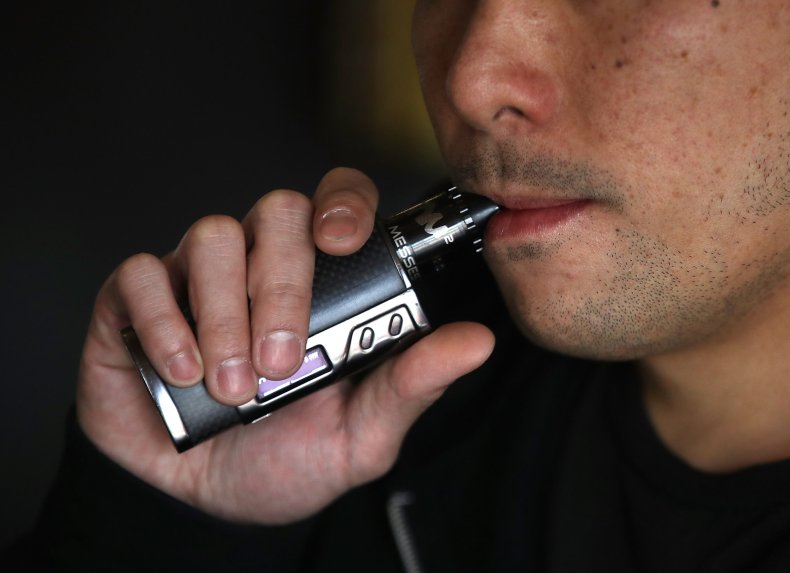 The warning from Adams came a day after a study sponsored by the National Institute on Drug Abuse revealed a precipitous rise in the number of teens vaping.
There are 1.3 million more high schoolers now using e-cigarettes than in 2017, an increase that represents the largest rise in measured year-to-year substance use in the survey's 44-year history.
More than 37 percent of high school seniors said they had vaped nicotine in the past year. More than one in 10 eighth-graders said they had as well.
The graphic below by Statista illustrates the survey results.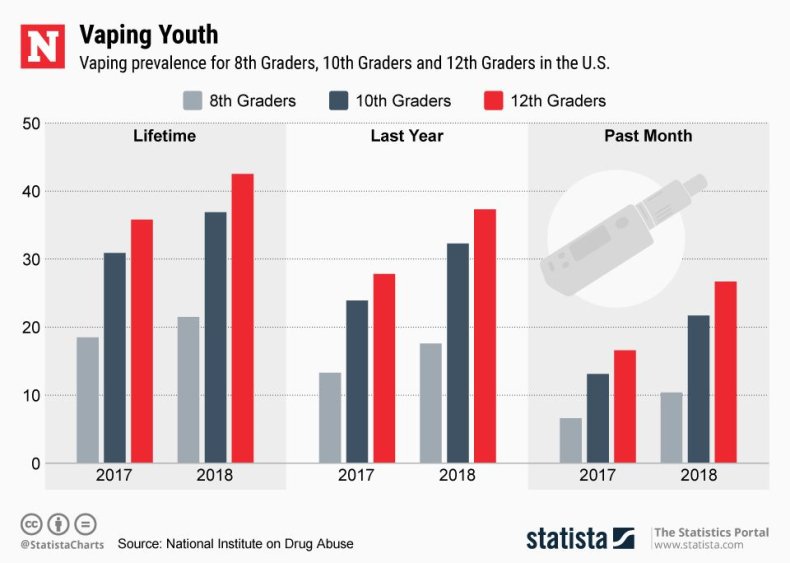 Yet many of those vaping were unaware that the devices they used contained nicotine. More than one-quarter of seniors thought they were just inhaling flavoring.
The historic rise in vape use contrasted with cigarette smoking rates, which have been declining steadily. Only 3.6 percent of high school seniors said they smoked cigarettes daily, a drop from 22 percent 20 years ago.
Adams specifically criticized Juul, a company that sells flavored pods and now controls about 75 percent of the domestic e-cigarette market. He noted that each Juul cartridge has a nicotine quantity equal to that in a pack of cigarettes.
His comments reiterated past concerns voiced by other health experts.
"Not only are teen users of popular vaping devices like Juul re-glamorizing a smoking-like behavior that years of prevention campaigns had effectively stigmatized, they might be paving the way for a transition to conventional cigarettes as well as other substances," the director of the National Institute of Drug Abuse, Dr. Nora Volkow, wrote in Scientific American.
Juul said the company is "committed to preventing youth access of Juul products."
A January study from the National Academy of Sciences said that while e-cigarettes are far less harmful than conventional cigarettes, "there is substantial evidence that e-cigarette use increases the risk of transitioning to smoking conventional cigarettes."
In September, the Food and Drug Administration rolled out a campaign to alert youth about the harms of e-cigarette use. During the summer, the agency issued "more than 1,300 warning letters and civil money penalty complaints (fines) to retailers who illegally sold JUUL and other e-cigarette products to minors."
This article was updated to include an infographic.