'Vast Majority' of Vaccinated COVID Patients in Hospitals Didn't Have Booster Dose
Few hospitalized COVID-19 patients have received a booster dose, indicating that an additional shot of the disease's vaccines helps protect people against the Omicron variant.
Ahead of the expected winter surge in cases, experts predicted there could be an influx of vaccinated patients in hospitals because few Americans had received their booster doses. Months later, less than 40 percent of vaccinated individuals have gotten a third dose, according to the U.S. Centers for Disease Control and Prevention. As Omicron spreads, hospitalizations among vaccinated individuals could continue to climb.
Dr. Scott Roberts, associate medical director at the Yale School of Medicine, told Newsweek that about 20 percent of COVID-19 patients at Yale New Haven Hospital involve vaccinated individuals, almost all of whom did not receive their booster dose.
Of the "very few" COVID-19 patients who received a booster, Roberts said, nearly every patient was considered high risk or was on medications that suppress the immune system. Medications that suppress the immune system mean people who get vaccinated may not mount an adequate immune response to COVID-19, putting them at a greater risk.
"More commonly in boosted patients, we are seeing them get admitted for something unrelated, such as a broken arm, and they are incidentally found to be COVID-19 positive but symptoms are absent or mild," Roberts said.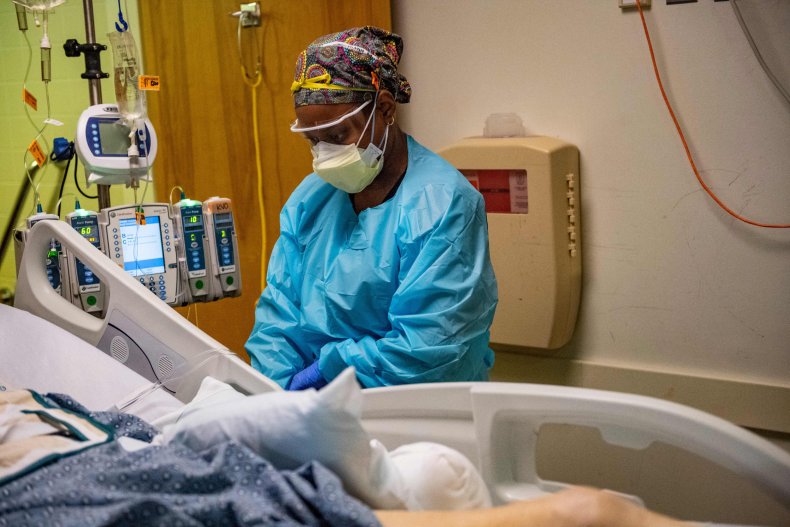 Only 4 percent of patients hospitalized in Georgia in the first week of January received a booster dose, according to the Georgia Department of Health. Only 8 percent of Beaumont Health's patients in Michigan had a third dose. About 30 percent of Beaumont's patients and 25 percent of Georgia's patients were vaccinated but not boosted.
New York City, once the epicenter of the nation's coronavirus outbreak, is once again leading the country in cases, with an increase in breakthrough infections. Dr. Fritz Francois, chief of hospital operations at NYU Langone Health, told Newsweek about 45 percent of patients admitted specifically for COVID-19 pneumonia were vaccinated.
However, that number was significantly less for intensive care admissions. Only 25 percent of patients who had severe COVID and needed to be admitted to the ICU were vaccinated. Francois said the limited number of vaccinated patients in the hospital is likely due to the vaccine protecting people from the disease progressing to the point of needing ICU care.
As with Yale, the "vast majority" of vaccinated patients at NYU Langone either didn't receive a booster or were unable to mount an adequate immune response to COVID-19, according to Francois. Some protection is better than no protection, so officials are urging people to get vaccinated if they haven't already.
Studies have found a person's protection from COVID-19 significantly increases with a booster dose, but Americans aren't rushing out to get their third dose. Only 36 percent of fully vaccinated Americans have received a booster, including 60 percent of those over 65.
Older people remain the most at risk for being hospitalized with COVID-19, and across the board, hospitalizations predominantly involve unvaccinated people despite the rising number of vaccinated patients. While some have used stories or data about vaccinated people getting seriously ill to discredit the vaccine, Roberts attributed the rising hospitalizations to waning immunity in those who haven't received a booster and to surging caseloads.
Omicron, now the dominant variant in the United States, is known to generally cause milder cases of COVID-19, compared with the Delta variant. For most, it means the infection will mimic a cold or the flu, but global health experts have cautioned against brushing it off.
A highly infectious variant should always be taken seriously, experts say, because significant increases in cases will lead to increases in hospitalizations. At a time when hospitals were already reaching their breaking point, an influx in patients could have deadly consequences.