American Jesuit priest and Vatican consultant, Father James J. Martin, urged fellow Catholics and clergy against claiming a vote for Democratic presidential candidate Joe Biden is a "mortal sin" on Thursday.
Martin, who Pope Francis appointed as a Vatican communications consultant in 2017, warned other Catholic priests against intertwining secular politics and their faith in God. Posting to social media, Martin said he has overheard an increasing number of priests and U.S. Catholic leaders making the claim that a vote for Biden—who is Catholic—amounts to one of the most grave offenses against God. Father Martin told Newsweek Thursday that he and fellow Catholics feel compelled to help on "any issues where life is endangered," which he said should include caring for the poor, the homeless and LGBTQ community - not just abortion.
Martin offered followers and fellow Catholics guidance on how to separate one's faith from divisive political topics including abortion or euthanasia.
"Dear friends: I'm seeing more priests saying that voting for Joe Biden is a mortal sin. It is not. It is not a sin to vote for either Mr. Biden or Mr. Trump. Nor is it a sin to be Democrat or Republican. Listen instead to what the United States Conference of Catholic Bishops says in their helpful document Faithful Citizenship about the role of conscience," Martin wrote, before quoting the USCCB guidance on "forming consciences" in the modern, secular political world.
"[We] bishops do not intend to tell Catholics for whom or against whom to vote. Our purpose is to help Catholics form their consciences in accordance with God's truth. We recognize that the responsibility to make choices in political life rests with each individual in light of a properly formed conscience, and that participation goes well beyond casting a vote in a particular election."
According to the Saint Aquinas website, Catholic theology states that mortal sins cannot be done "accidentally," and a person who commits a sin of this level knew it was wrong beforehand, thus making their rejection of God's law and love "premeditated."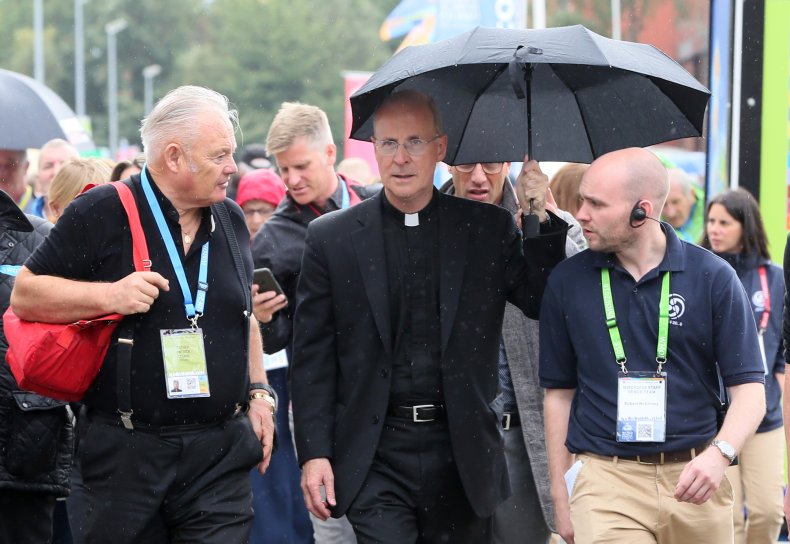 As Newsweek reported in June, both white Catholics and white evangelicals overwhelmingly support President Donald Trump's re-election effort this November. A large percentage of U.S. conservatives in Christian churches from all denominations have historically tied their Republican Party votes to the topic of abortion. A 2018 survey found a slight majority of GOP voters support the 1973 Roe v. Wade Supreme Court decision which legalized abortions, compared to nearly 90 percent of Democrats.
Martin told Newsweek Thursday that trying to talk politics at church or at home is clearly a daunting task—but one made easier by truly listening.
"Sometimes it's best to avoid those conversations in families. If you know it's just going to rile people up and cause division then I would avoid it. But if you do talk about it, frame it as a conversation where you're really listening, not simply waiting to pounce on the other person, to correct them or convince them. Also, it's always important to give the other person the benefit of the doubt," Father Martin said via email.
Biden is a practicing Catholic and surveys show more Americans believe he is religious in comparison to his GOP rival, Donald Trump. But despite this, a South Carolina church denied Biden communion over his stance on abortion last year. "Holy Communion signifies we are one with God, each other and the Church. Our actions should reflect that," said Rev. Robert E. Morey of Saint Anthony Catholic Church. "Any public figure who advocates for abortion places himself or herself outside of Church teaching."
Martin is also an author of several books on Jesus' life and the Jesuit Guide to (Almost) Everything: A Spirituality for Real Life. In videos he posted across social media last week, Martin urged those of the Christian faith to support ongoing protests over racial injustice across the country. He said that to be truly "pro-life" one must have "reverence for all human life."
The New York-based priest quoted former Pope Benedict XVI (when he was Cardinal Joseph Ratzinger), in helping Catholic congregants to not conflate religious and political issues.
"When a Catholic does not share a candidate's stand in favor of abortion and/or euthanasia, but votes for that candidate for other reasons, it is considered remote material cooperation, which can be permitted in the presence of proportionate reasons," Ratzinger wrote.
Martin was invited to offer the prayer at this year's Democratic National Convention, where he led the Benediction on the last night of the political event. He described it as a "prayer for a nation where every life is sacred, all people are loved and all are welcome."
Update (9/3/2020, 4:30 p.m.): This article has been updated to include comment from Father Martin.