New Book Claims Catholic Church Will Default by 2023 as Vatican Begins 'Spending Review'
On Monday, as Vatican officials prepared to meet to assess the Roman Catholic Church's finances, a new book by investigative journalist Gianluigi Nuzzi appeared in Italian bookstores claiming that the church will run out of funds by 2023.
The book, Universal Judgment, is the latest in a string of revelatory dispatches by Nuzzi, an Italian reporter with a long history of unearthing financial crises within the church. His 2012 book His Holiness revealed financial corruption under Pope Benedict XVI. Merchants in the Temple, his 2015 follow up, highlighted opposition to fixing the Holy See's finances based on tapes and documents leaked by the Vatican. That effort led to Nuzzi's involvement in the "Vatileaks 2" trial, in which Vatican officials were found guilty of conspiring to leak confidential documents and information, according to The New York Times. As a journalist, Nuzzi was not charged due to the Vatican law protecting freedom of the press.
Nuzzi's latest assertion of pending financial doom came just ahead of the Italian Bishops' Conference, where church officials will discuss the health of church accounts. The book—as the conference likely will—touches on the fact that the Vatican has not shared its budget publicly since 2015, and explores a new financial scandal involving charitable donations that were surreptitiously invested in luxury London real estate, as The Associated Press reports. Despite the dismal optics, Vatican officials have denied the claims that the church is on the brink.
Archbishop Nunzio Galantino has dismissed Nuzzi's claims, telling Reuters: "There is no threat of default here. There only the need for a spending review." Galantino further disparaged the book, saying that aspects of it "sound a lot like the Da Vinci Code."
Still, the Holy See faces a major threat in falling donations, according to Nuzzi, who reports that donations to the church have declined in countries that have seen sex abuse scandals come to light.
Catholic outlet Crux Now reports that many church officials have offered statements that also reject the book's claims of financial ruin amid scandal. Honduran Cardinal Oscar Rodriguez Maradiaga told Crux Now, "To me, it seems that what's going on more than anything else is a precise strategy to discredit us."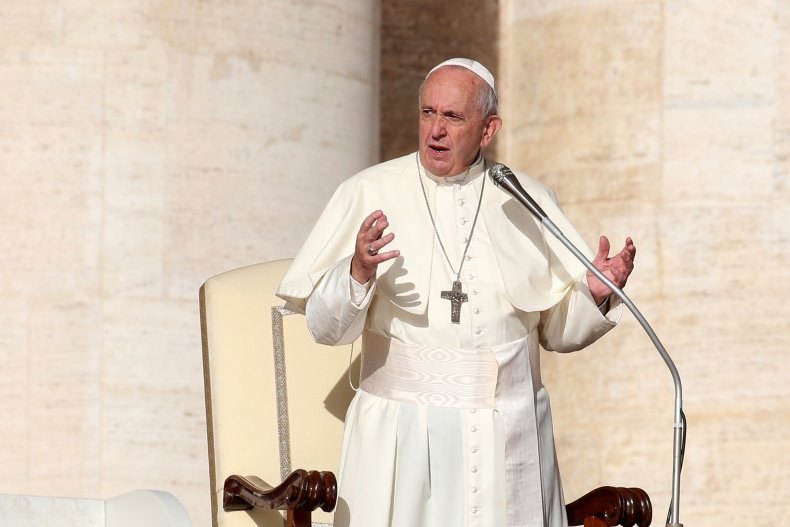 Declining contributions are not the only cause for alarm in the church's finances. An investigation into the Vatican's Financial Information Authority has shown financial crimes executed by Pope Francis' Secretariat of State. Italian outlet L'Espresso reports that the vast majority of the money embezzled by church officials was gathered through donations. Among the documents published by L'Espresso, Vatican investigators found that 200 million euros that had been intended for Papal charities had been invested in an Angolan oil company with Italian financier Raffaele Mincione. According to Catholic News Service Nuzzi estimated 58 percent of the donations intended for charity were used "to fill in the (financial) gaps of the (Roman) Curia."
After the oil company deal was overruled, the money was reallocated to a 2012 investment in luxury London apartments with Mincione. Catholic Herald reports that the Vatican purchased 45 percent of the property in 2012, but purchased the remaining 55 percent when the London real estate market declined in 2018. These investments were what lead Vatican officials to open the investigation.
Holy See economic counsel German Cardinal Reinhard Marx has stated that the Pope has instructed him to lower costs, but he has also said that any financial issues the Vatican is facing may be solved in within two years.
Marx assured reporters, "We have to go forward otherwise I cannot see how to sign a budget with a structural deficit." He also said, "But that is a way we can go in several years. That is not a catastrophe."